Tecogen Chiller Sale Further Extends Market Presence in Mexico
Earlier this week Tecogen (TGEN – $4.38) announced the sale of two Tecochill RT Series 50-ton air-cooled chillers to Gas Natural Fenosa. Gas Natural is a global supplier of natural gas and electricity with more than 23 million customers. It's headquartered in Barcelona, Spain, but these chillers will be installed at its corporate offices in Mexico City. The sale was handled by Tecogen's Mexican representative, HVAC Ambiental, a/k/a Calfrost.
Natural gas chillers are a popular option in Mexico, where the electric grid is not very reliable. In addition, gas is a less expensive energy option. For this installation, the air-cooled Tecochill chillers offered an added benefit over water-cooled chillers, namely water supply is limited in the area.
Arturo Cantu, General Manager of HVAC Ambiental, said: "The chillers are being installed as part of a major building renovation that includes a green roof as well as other energy saving features. The selection of Tecochill chillers for the company's office space is an excellent solution that will save them lots of money while using a reliable and sustainable energy source."
Continued Growth in Mexico
Although Tecogen is a relatively recent entrant to the Mexican market, it has already sold a significant number of chillers. Growing concerns for greener environments amid rising energy costs and the greater reliability of natural gas over electric energy are all fueling an increase in demand.
For example, at Spellman de Mexico, a division of Spellman High Voltage Electronics Corporation, a Tecochill was installed to help fulfill the company's goal to significantly reduce CO2 emissions and energy, water, and other resource usage. Thanks to the installation, the plant saves over $150,000 per year in operating costs, and permanently reduces its peak electrical demand by 35%.
Also at the Mexican plant of a major US-headquartered manufacturer of home fixtures two Tecochill chillers are helping to relieve the local grid during times of peak demand. And more recently, Tecogen sold a second chiller to the Mexican manufacturing facility of Stanley Black & Decker.
"The factories located along the US-Mexico border, commonly referred to as maquiladoras, are an excellent market for the Tecochill gas cooling product line," commented Arturo Cantu. "Natural gas is plentiful and inexpensive as in the United States, and the factory operators are very sophisticated relative to managing their operating costs. They are particularly aware that, to meet essential cooling needs, the annual cost can be dramatically reduced by switching from electricity to gas."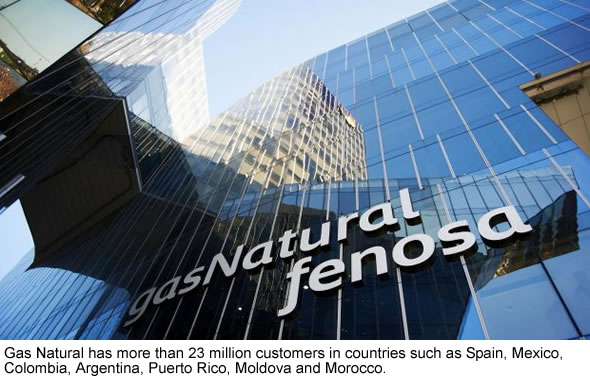 Potential Partnership
Another benefit of selling a chiller to Gas Natural Fenosa is that potentially this may lead to a partnership between Tecogen and the gas supplier. Earlier this year, Tecogen already closed a similar deal with a gas company in the United States.
Gas companies after all, are natural partners for Tecogen as its equipment offers significant value to gas company customers while ensuring a steady demand of gas for the gas partner. Tecogen equipment can also help gas companies grow their customer base by offering customers a gas powered solution for their energy needs, reducing their demand on the electric grid.
Conclusion
Tecochill is the leading gas engine-driven chiller on the market and can cut costs by as much as 30-60 percent when compared to conventional electric chillers. Recovering waste heat from engines for heating needs such as domestic hot water or space heat provide additional savings and added benefit.
Mexico is clearly developing as an excellent market for Tecogen's chillers. Demand is strong and likely to continue to grow as Mexican companies take advantage of clean, lower-cost and more reliable natural gas. Buy recommendation.