Tecogen Increases Backlog to $14 Million
Tecogen Inc. (TGEN – $5.10), which designs, manufactures and installs industrial and commercial Combined Heat and Power (CHP) systems, ended its second quarter with a record backlog of $14 million. This represents more than 20% growth over the $11.5 million backlog at the end of the prior quarter, and is even up 50% compared with the backlog reported at the same time last year.
Moreover, the backlog does not include service contract revenues, which were more than one third of the Company's revenues in fiscal year 2015.
All in all, the $14 million mark number is significantly above Tecogen's goal of delivering quarter-end product backlog greater than $10 million.
Many New Project Wins
The strong backlog increase was bound to occur, thanks to an impressive number of projects wins in the past quarter. The Company sold an InVerde e+ 100kW CHP unit to Silver Towers, a luxury 277-unit residential building in Queens, New York late June. In addition, it sold a chiller to Stanley Black & Decker for use in their manufacturing plant in Reynosa, Mexico; two CM-75 CHP systems to a new multi-family residential building in Jersey City, NJ; and another CM-75 CHP to a state university in New England.
And in April, Tecogen was awarded an approximately $2 million contract for the sale of multiple CHPs to a school district in Long Island, NY. The order included a mix of InVerde 100 kW and CM-75 kW CHP units, as well as load modules, factory engineered accessories, and long-term service agreements.
Northeast Buildings & Facilities Management Show
And it doesn't stop there. Tecogen does everything in its power to increase sales and to demonstrate potential customers its technologies and capabilities. For example, it recently attended the 11th annual Northeast Buildings & Facilities Management Show & Conference.
Held in Massachusetts at the Boston Convention & Exhibition Center, the event featured about 300 exhibitors displaying products and services necessary for the operation, management, maintenance and renovation of buildings and facilities in the greater New England region. Tecogen's portfolio of clean power solutions obviously fitted right in.
This was also one of the first events that featured the TTcogen joint venture equipment. In fact, the booth had a banner that exhibited the Micro T35 35kW CHP unit, which is suited for a smaller apartment or commercial building. We heard that the technology attracted lots of interest.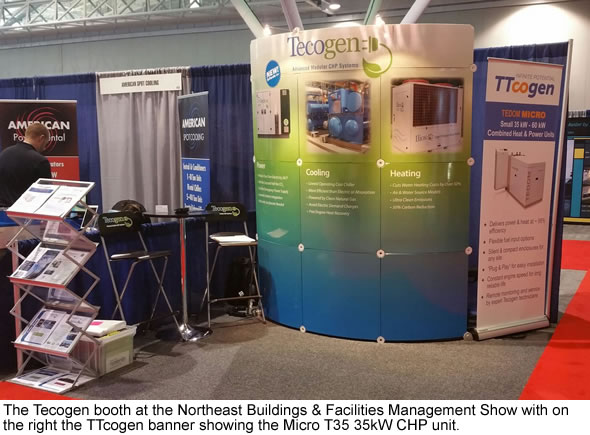 The Company didn't announce if the show resulted in any orders, but since it was held right at the end of the second quarter, any additional sales resulting from the show ended up on top of the $14 million backlog.
Conclusion
Using its patented Ultera emissions control technology to cut emission of harmful pollutants (including NOx, CO, and hydrocarbons) down to near-zero levels, on par with fuel cells, Tecogen's equipment is among the cleanest and most reliable solutions for clean power generation available today.
With emissions regulations getting stricter in many parts of the world, potential customers are realizing that they need the best materials available on the market in order to continue to comply. This is a trend that won't be reversed and it will take competitors many years to reach the low emissions level where Tecogen is at today. Consequently, the Company stands to benefit significantly from these developments.
In fact, the trend is already showing with the rising backlog. Tecogen's management and sales team are doing an excellent job by continually having a backlog higher than $10 million.
In business for over 20 years, the Company has shipped more than 2,300 units that together have already generated over 7 billion kilowatt hours of energy at residential, commercial, recreational and industrial facilities.
In addition, we expect a lot from the recently formed JV TTcogen, which offers a complete package of 27 different CHP modules, making it the premier packaged CHP provider with the widest range available in the United States. Buy recommendation.