Tecogen Delivers Second Profitable Quarter in a Row
Tecogen (TGEN – $3.73), which designs, manufactures and installs industrial and commercial cogeneration systems, reported a positive net income for the second quarter in a row.
During the fourth quarter, ended December 31, 2016 sales reached a record $7,111,108 up 66.2% compared to sales of $4,279,350 in the fourth quarter last year. Similar to the third quarter of 2016, the Company achieved profitability in the fourth quarter, delivering $4,556 in net income for the period, compared to a net loss of $826,228 in the fourth quarter 2015.
Most of the product revenue in the quarter was in cogeneration sales with key repeat customers. The Company also saw impressive growth in service revenue due to increases in installation support accessories.
For the full year 2016, Tecogen reported revenues of $24,490,386 compared to $21,442,657 for the same period in 2015, an increase of 14.2%. Full year 2016 net loss improved significantly to $1,096,283 from $2,727,413 in the prior year. The Company expects this growth cycle to continue into the current year.
The Company's sales backlog of equipment and installations as of March 21, 2017 was $15.6 million, well above the Company's stated goal of maintaining sales backlog above $10 million. The current backlog is a good mix of our core product segments, such as multi-unit residential, hospitality, education, healthcare, and industrial applications. Note that the backlog does not include service contract revenues, or sales of TEDOM products by the TTcogen joint venture.
2016 was a remarkable year for Tecogen on many fronts.
First, the Company strengthened its core product offering with the introduction of the InVerde e+ CHP system, which offers the best performance and economic benefits of any other CHP system in its class. In addition, the new cloud-based monitoring capability, using the GE Equipment Insight system, was introduced. This gives both customers and Tecogen service experts the ability to monitor and analyze equipment performance in real-time. It also gives customers a portal and dashboard to instantly view savings and operating metrics that reinforce the equipment's value proposition..
Second, Tecogen entered into an agreement to acquire American DG Energy, which, subject to shareholder vote and SEC approval, will create a vertically integrated company with dependable annuity type revenues, adding to the existing revenue streams of Tecogen.
Third, the Company acquired the outstanding minority interest in heat pump company Ilios Dynamics in an all-stock transaction that brought the high efficiency water heater line into the Tecogen product family, rounding out the product offering.
Fourth, the Company established TTcogen in cooperation with the European joint venture partner TEDOM, to bring an entirely new class of CHP systems to the U.S. market effectively quadrupling Tecogen's addressable market.
Finally, Tecogen made remarkable progress with its Ultera emissions technology in three areas.
In October 2016, the Company received a research grant funding from the Propane Education & Research Council (PERC) to demonstrate the viability of the Ultera emissions technology for the propane powered fork truck market. This program aims to develop a retrofit emissions system for fork trucks to reduce their emission to levels acceptable for air quality and indoor work environments. The project will run for nine months.

A couple of weeks ago, the services of a leading engine expert were retained to lead the fork truck development work. Alan Welch will serve as the Project Manager for the initiative and has already started working on a fork truck donated by a leading fork truck manufacturer, specifically for the project.

Next, steady progress continues to be made with ULTRATEK, the joint venture that's developing an Ultera-like emissions technology for automotive applications. The JV conducted multiple phases of successful emissions testing and development work for gasoline automotive applications at AVL's California Technology Center. The group's results have been accepted for publication by SAE in conjunction with the prestigious SAE World Congress in April 2017.
Lastly, the Company was granted a permit in Southern California for the application of Ultera emissions control retrofit kits to a fleet of standby generators. Following commissioning of the units, the regulator will have 180 days to perform source testing verification and issue the final permit.
Speaking about the results, co-CEO Benjamin Locke noted, "2016 was a tremendously productive year for the Company in terms of technology development, sales and marketing improvements, business development activities, and most importantly financial performance. This trend establishes the groundwork for continued success in 2017."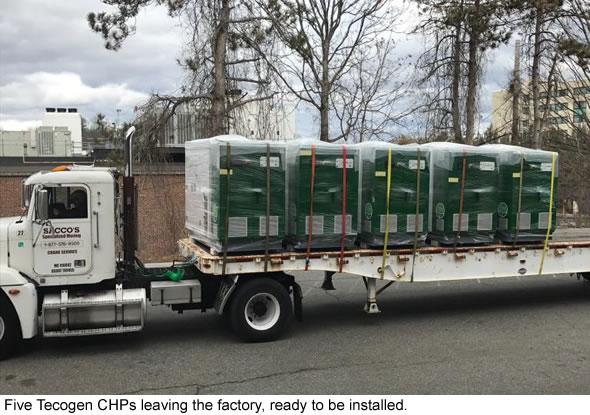 Fourth Quarter and Full Year Financials
Sales for the fourth quarter, ended December 31, 2016, were $7.11 million, an astonishing 66% increase, compared with sales of $4.27 million in the fourth quarter of 2015.
Product revenue grew 144% to $3.2 million over the prior year comparable quarter. For the full year 2016, product revenue grew 6.6% year-on-year to $10.7 million. Growth was particularly driven by sales of chiller and heat pump equipment.
Services revenue grew 32% in the fourth quarter to $3.9 million, compared with Q4 2015. Service revenue for the full year 2016 was $13.7 million, showing a 20.9% growth over the $11.4 million in reported service revenues in 2015. Service revenue benefited from both contracted maintenance and replacement parts sales, as well as installation sales.
Full year 2016 gross margin was 38.0% compared to 35.6% in 2015, delivering a 240 basis point year-on-year gross margin improvement that was almost entirely driven by improved product gross margins. Product gross margin for 2016 was 29.0%, delivering 400 basis points of improvement over 2015, while service gross margin was 41.9%, a 50 basis point improvement over the prior year.
Three Months Ended
December 31

Full Year Ended
December 31

Amounts in $000's

2016

2015

2016

2015

Product Revenues

3,196

1,311

10,722

10,055

Service Revenues

3,915

2,968

13,768

11,387

Total Revenues

7,111

4,279

24,490

21,443

Cost of Products Sales

2,154

1,097

7,189

7,137

Cost of Services Sales

2,253

1,584

8,000

6,672

Total Cost of Sales

4,407

2,681

15,190

13,809

Gross Profit

2,704

1,598

9,301

7,633

Total Operating Expenses

2,658

2,384

10,298

10,277

Income (Loss) from Operations

46

(785)

(997)

(2,643)

Net Income (Loss)

4

(798)

(1,096)

(2,727)

Earnings (Loss) Per Share

0.00

(0.05)

(0.06)

(0.16)

Shares Out. – Diluted

19,964

17,705

19,296

16,860

Most important income statement data for the quarters and full year ending December 31, 2016 and December 31, 2015. Source: Company Press Release
Total operating expenses of $10.3 million are perfectly in line with management's goal to deliver full year operating expenses near $10 million. The negligible rise in operating expenses compared with last year is noteworthy, especially in light of the solid revenue growth that Tecogen achieved.
Management's goal of delivering approximately $10 million in operating expense for the full-year remains in place going forward.
Amounts in $000's

December 31, 2016

December 31, 2015

Cash and Cash Equivalents

3,722

5,487

Accounts Receivable

8,630

5,287

Inventories

4,774

5,683

Total Current Assets

20,059

19,403

Property and Equipment

517

544

Intangible Assets

1,066

1,045

Total Assets

23,741

21,091

Accounts Payable

3,367

3,312

Accrued Expenses

1,378

1,067

Total Current Liabilities

5,623

5,376

Promissory Note

3,149

3,000

Total Liabilities

9,230

8,649

Total Stockholder Equity

19,982

18,479

Most important balance sheet data for the periods ending December 31, 2016 and December 31, 2015. Source: Company Press Release
Tecogen's balance sheet remains solid. The Accounts Receivable did increase with about $3.3 million. That was due to several large shipments of equipment that took place right at the end of the year. Mr. Garrison, Tecogen's CFO, mentioned during the fourth quarter conference call that a large portion of the increase has already cycled back through.
Conclusion
2016 represented a year of tremendous progress for Tecogen. The research and engineering team managed a new product launch with the InVerde e+, a second generation inverter-based 100 kW cogeneration module with multiple new and unique features, reasserting Tecogen's competitive advantage and core CHP competency and driving sales and backlog in key markets.
In addition, the team made material progress in developing the Ultera emissions control technology for new market verticals.
Similarly, the sales team's efforts at cultivating new markets and selling relationships began bearing fruit. Key relationships with ESCOs, property management companies and project developers have yielded good quality repeat business.
In the fourth quarter, product sales and service sales increased 144% and 32% respectively, which led to the highest quarterly revenues in the Company's history. This strong increase in sales lead the Company toward profitability in the last 6 months of the year.
Finally, the operations and executive team executed a number of strategic transactions – including the acquisition of Ilios minority interest, the launch of the TTcogen joint venture with TEDOM, and the planned acquisition of American DG Energy – all of which set the stage for Tecogen's next chapter of profitable growth.
The targets of the Company for 2017 and beyond are strong. Management continues to focus on delivering gross margins in the 35% to 40% range, maintaining the backlog and installation sales above $10 million, and delivering stable operating expenses of approximately $10 million on a yearly basis. Buy recommendation.