Tecogen Adds InVerde CHP Sale to Its Pipeline
Tecogen Inc. (TGEN – $4.93) has sold another InVerde e+ 100 kW Combined Heat and Power (CHP) unit. It will be installed at Silver Towers, a luxury 277-unit residential building in Queens, New York.
The agreement includes the purchase of the CHP system, the full installation, and an initial 2-year maintenance contract. Exact numbers weren't announced, but this contract will add several hundreds of thousands of dollars to Tecogen's pipeline.
The CHP unit will replace an old boiler and is sized to meet the building's thermal – heating and hot water – demand, while providing between 40% and 60% of its electric demand.
Aside from delivering annual annuity-like cost savings, the INV-100 e+ will also provide resiliency from a utility grid failure. In case of a blackout, the CHP system will provide power to the common areas, lighting, domestic water and elevator systems.
Interesting to note is that this project is the third one with FirstService Residential (FSR), the largest residential property management company in North America. Winning follow-up projects with a company such as FirstService Residential not only confirms the economic value and reliability of Tecogen's equipment, it also opens up the potential for more sales as FSR provides services to thousands of properties and residential units across the United States and Canada.
Tecogen's innovative InVerde e+ CHP system was launched earlier this year, and combines the best technologies in the field. It reaches an electrical efficiency of 33%, while its nearest competitor achieves efficiencies between 27 and 29 percent.

The new units also automatically start up within 10 seconds in the event of a full blackout of the grid, making the CHPs compliant with the new strict Type 110 standard for emergency and standby power systems by the National Fire Protection Association (NFPA). This is an innovation that very few competitors offer.

Moreover, the InVerde is the first engine-driven product to carry full UL 1741 Certification for "utility-safe" interconnection. So it doesn't need any additional permitting for interconnecting to the electric grid.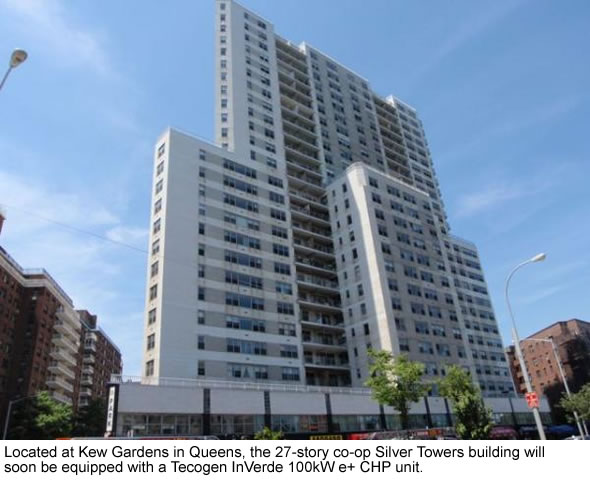 Incentive Programs
Silver Towers received substantial incentives from both ConEdison and the New York State Energy Research and Development Authority (NYSERDA), that cover the vast majority of theinstallation cost of the CHP.
In the United States, there are currently 23 states that recognize CHP as part of their Renewable Portfolio Standards. Due to budget restraints however, the incentive programs in New Jersey for CHP and in New York for chillers were temporarily suspended.
Fortunately, both states have recently renewed their funding commitments and have started accepting new applications for projects that will be commissioned in 2017. This is excellent news for Tecogen, as these are important states for the Company's equipment sales.
Conclusion
The sale to Silver Towers is another nice win for Tecogen, which will be added to the Company's growing backlog. We especially like the fact that the CHP unit was sold to a recurring customer.
Tecogen's technicians will also provide maintenance for at least two years, after which a longer term maintenance agreement can be agreed upon. This is important as service revenues are a reliable and growing part the Company's revenues. Buy Recommendation.