Tecogen Adds $2 Million Order to Its Already Substantial Backlog
Tecogen Inc. (TGEN – $3.93), was awarded an approximately $2 million contract for the sale of multiple Combined Heat and Power (CHP) units to a school district in Long Island, NY. The order includes a mix of InVerde 100 kW and CM-75 kW CHPs, as well as load modules, factory engineered accessories, and long-term service agreements.
The CHP systems will provide electrical power for the schools and supplement various onsite heating systems, resulting in significant cost savings as well as a reduced carbon footprint. The smallest two systems, both to be installed in district middle schools, will utilize a single CHP unit while the largest, a high school, will use five units.
The contract was awarded by a construction firm under subcontract by a large multi-national energy services company (ESCO) which is providing a broader range of efficiency services to the district.
Benjamin Locke, Tecogen's co-CEO, noted, "That a large ESCO saw the value in selecting Tecogen as a project partner is a real testament to the unique features of our ultra-efficient clean energy equipment and the quality of our expert team of personnel."
This isn't the first cooperation with this ESCO either. In the past, the two have worked together on similar projects for the school market segment.
The new contract will be added to Tecogen's already impressive backlog of $12.2 million as of March 21, 2016.
ESCO Cooperation
Initially, the project for this school district consisted of 14 CHP units for six different schools, consisting of two high schools and four middle schools. After conducting the necessary engineering and feasibility work, it was concluded that not all six schools had the loads required to justify CHP installations.
The CHP systems that will be installed are sized for the energy requirements of each individual school. That way energy savings are maximized and the carbon footprint is significantly reduced. The CHP systems total 900 kW, and will cut carbon emissions by 2,086 tons per year, equivalent to removing 398 cars from the road annually.
All units will incorporate Tecogen's patented Ultera emissions control technology, bringing the emission of harmful criteria pollutants (NOx, CO and hydrocarbons) to near-zero levels. These low emissions are well below local air permit requirements and even meet the strictest air quality standards, like those in Southern California, a feature unmatched by other engine-driven equipment on the market today.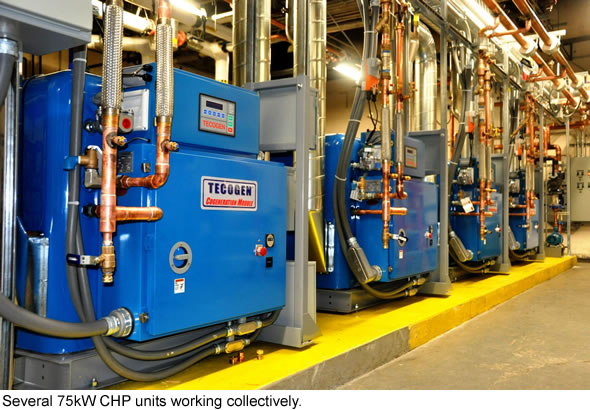 In the recent past several other public school projects, in which Tecogen systems were procured, were completed with the same construction firm and multinational ESCO. This is a validation of Tecogen's technology and a clear indication that the Company's strategy of working with ESCOs to participate in their large programs, often encompassing many buildings, is working well.
Tecogen Acquires Remaining Stake in Ilios Dynamics
In other news, Tecogen acquired the remaining 35% interest in heat pump company Ilios Dynamics. The Company already owned 65% of Ilios, and has now reach an agreement with the other shareholders to exchange their Ilios shares to Tecogen shares. For every 7.86 Ilios shares, the shareholders will receive 1 Tecogen share.
Tecogen will issue approximately 670,000 shares to Ilios Dynamics shareholders, valuing the heat pump company at approximately $7.5 million.
The timing of this transaction couldn't have been better, as Ilios' revenues and unit sales more than doubled in 2015 compared with the previous year. In addition, the Ilios market continues to expand geographically with recent sales to the UK, Atlanta, Hawaii, New York City, and Puerto Rico. Moreover, the water heaters are gaining traction in new market segments, with initial sales to the hospitality and medical markets.
The Ilios high-efficiency water heater products operate like an electric heat pump, but use a natural gas engine instead of an electric motor to power the system. Heat pumps work somewhat like a refrigerator, but in reverse. Refrigerators extract heat from inside the refrigerator and move it outside the refrigerator. Heat pumps extract heat from outside and move it indoors.
The Ilios heat pump provides twice the efficiency of a conventional boiler while delivering 400,000– 600,000 BTU/hour of hot water. This hot water is ideal for space heating, precision industrial applications, swimming pools and spas and is delivered while producing near-zero emissions and cutting a facility's carbon footprint in half.
Speaking about the transaction, Mr. Locke mentioned, "Ilios is a growing and increasingly important part of Tecogen's product portfolio. We are glad to be bringing this complementary cogeneration technology fully into the Tecogen family, rounding out the product offering."
Conclusion
It's great to see that Tecogen not only wins contracts for individual units, but also these multiple unit projects where it has to cooperate with international companies.
With more than 2,300 units installed, an established network of service personnel across the United States, and a unique technology that outclasses anything else on the market today, we're convinced that Tecogen is only at the start of its growth curve. The acquisition of the remaining shares of Ilios Dynamics should contribute to improved results. Buy recommendation.