Replacement Orders Again Demonstrate Savings and Durability of Tecogen Units
As Tecogen (NASDAQ: TGEN – $3.72 & Fra: 2T1 – €2.89) is in business for over 35 years, it's logical that its initial installations are reaching the end of their useful life. Consequently, customers of the early days start looking for alternatives to their existing equipment. In most cases, they end up replacing their chillers and CHPs with the latest versions of Tecogen's high-end equipment. The reason is simple, these customers don't have to be convinced of the merits of Tecogen's units, they know from experience how much money they save, how durable and reliable the equipment is, and how well they are being maintained.
This week, the Company sold a new 150 ton TECOCHILL chiller system to a prominent Connecticut elementary school to replace an existing Tecogen chiller system that had reached the end of its useful life. The new TECOCHILL system will benefit from State incentives available only to engine driven chillers that can reduce peak demand on the grid.
Similar to all Tecogen chiller sales in Connecticut, this sale occurred through Clover Corporation. Located in Southern New England, Clover has been a family owned and operated HVAC equipment distributor since 1976. Since 1992 it is Tecogen's manufacturer's representative in Connecticut.
Clover also sold the original chiller system to the school system almost 20 years ago, which relies solely on TECOCHILL systems for all of its cooling needs. Gas engine chillers from 150 to 400 tons offer an alternative to electric cooling to reduce summer demand rates. Environmentally friendly, natural gas engine cooling reduces energy costs compared to conventional electric chillers by as much as 30 to 60% and frees up electric capacity for other purposes.
High-temperature heat recovery (up to 225°F) is available without additional fuel input. By reclaiming heat from the engine they provide great energy savings to installations that use hot water by providing them with free hot water.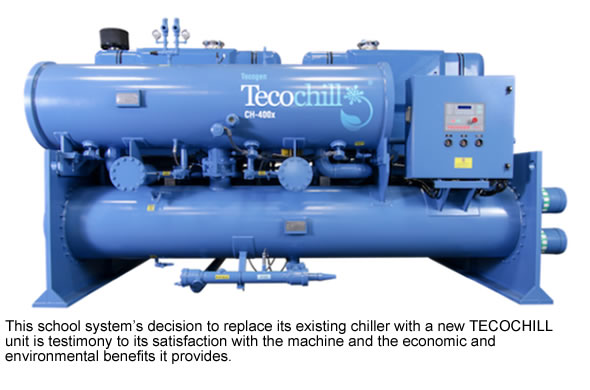 Although the new water-cooled chiller is of similar size to the old one, it is a much more efficient machine, enabling the customer further operational savings beyond what the original equipment provided. Also, the new chiller comes with the unique and patented Ultera system, which reduces the emissions of pollutants contributing to smog (NOx, CO, and hydrocarbons) to near zero levels.
In addition to the solid construction of the TECOCHILL, its systematic maintenance also significantly contributes to its lifespan. Also in this case, the project includes a new service contract. Noteworthy is that over half of the Company's installed units have a service contract, which provide a reliable and recurring income for Tecogen.
Benjamin Locke, Tecogen's CEO added, "Our TECOCHILL product is the only natural gas engine-driven chiller system available for cooling large facilities like this school. The cost savings and environmental benefits of the Tecogen technology made it a simple decision for the school system to update its chiller system with Tecogen's enhanced chiller technology."
Ultera Patent in Japan
Following on the intent of the European Patent Office to grant a patent for Tecogen's Ultera emissions technology, the Company has now obtained patent protection in Japan for the Ultera system. This patent gives Tecogen exclusive control over the Ultera technology in Japan and augments the Company's Ultera patent portfolio.
Research on the Ultera emissions technology has demonstrated significant emissions reductions in stationary engines, gas powered vehicles, and fork trucks. It has also been identified as meeting California's Best Available Technology (BACT) for stationary non-emergency engines.
"The expansion of our intellectual property protection for the Ultera emissions control technology to include Japan strengthens our position as we continue to optimize the technology and consider opportunities for commercialization of the technology in Japan, United States, and elsewhere," stated Robert Panora, President of the Company.
Conclusion
This school system's decision to replace its existing chiller with a new TECOCHILL unit is testimony to its satisfaction with the system and the economic and environmental benefits it provides.
With more Tecogen machines reaching the end of their life span, and with customers recognizing the enormous savings that are achieved with Tecogen chillers and CHPs, the Company can continue to expect a constant flow of replacement orders. Recommendation: BUY.