Renforth Encounters Significant Gold Values in Every But One Drill Hole Completed at Parbec
It has now been slightly more than a year since Renforth Resources Inc. (CA:RFR – $0.08 & US:RFHRF – $0.06 & GER:9RR – €0.05) embarked on the most ambitious drilling program in the history of the Company at its flagship Parbec project. The exploration effort was launched as a program of 26 drill holes for a total of 7000m of drilling. However, Renforth was impressed with the early phase results and opted to add a second phase of drilling work at Parbec. Ultimately the program amounted to 49 drill holes and 15,569 meters of total drilling completed.
The final drill hole of the expanded program was completed in the early spring of this year. Several months of delays have passed as small batches of assay results have been received from the laboratory for the multitude of drill core samples submitted from the thousands of meters of drilling. This week Renforth was able to present the assay results for the final five drill holes remaining from the program.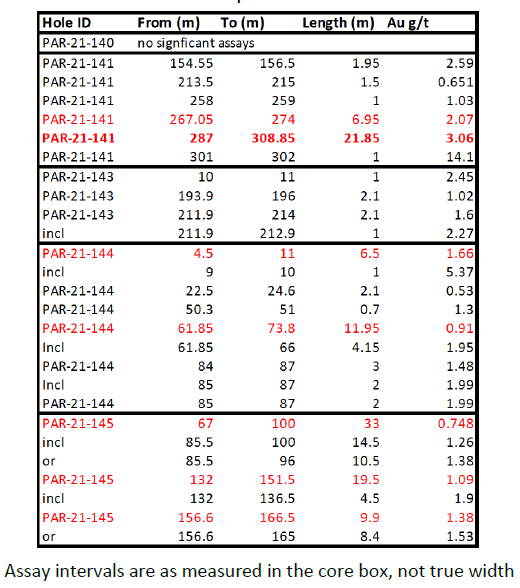 The drilling effort extended to test new targets along strike and further to depth. The confirmation of gold-bearing zones from step out drilling is another validation of this project and the potential for further discovery success as the work expands to deeper targets in the future.
Wide Mineralized Intervals and High Grade Gold Values Reported in Final Drill Holes of Program
The program ended with a very encouraging result. Renforth reported an exceptionally wide section spanning 21.85m bearing an average grade of 3.06g/t gold encountered at the deeper elevations of PAR-21-141. Several other wide intervals were also reported in this batch, including a section of 33m with an average of 0.748g/t gold in PAR-21-145. Another section of 19.5m grading 1.09g/t gold was reported further below. In PAR-21-144 an interval nearly 12m was mineralized with 0.91g/t gold.
Of note, PAR-21-141 was targeted for infill drilling work in an area where no previous gold values had been confirmed. This successful result therefore will contribute the added clout of this wide mineralized zone with a gold grade that is well above average for the overall deposit. The intervals reported in PAR-21-145 are stacked immediately above this high grade section, and may be related to a structural extension of the same gold zone extending through both drill holes. Another defining characteristic of the drilling work is that multiple intervals of gold-bearing mineralization were encountered in each of these four drill holes.
Throughout both phases of drilling work, drilling was carefully aligned to investigate gap zones within the interpreted deposit boundary or to step out beyond known gold intervals. This focus included specifically targeting new mineralization further to depth or closer to surface from previously identified gold zones. Now that the data from all of the drilling work is in hand, Renforth will advance a structural interpretation. This work considers the various confirmed gold zones of the deposit to determine if intervals outlined in close proximity are related to structural features. The potential that continuous gold mineralization extends along structural targets may provide additional high profile drilling targets for a subsequent round of exploration work to commence.
Conclusion
The incremental advancement of exploration activity at Parbec has yielded one positive surprise after another. Renforth has been successful to evaluate geological clues and develop targets that have regularly contributed new gold-bearing zones to the overall deposit area. The first compliant resource report for Parbec in 2020 presented an attractive near surface gold deposit. All of the exploration work since that time has been effective to expand the deposit area. Some extremely high grade sections have been encountered. Very likely, a much larger gold resource estimate will be documented when the Company updates the report sometime in the future.
However, it appears Renforth is still looking ahead to deliver more intriguing exploration results from Parbec. A much larger database of confirmed gold values is now available for review. These intervals will be compiled using geological software to update the 3D model for the deposit. Additional scrutiny of the results may yet reveal new structural targets that were not previously known.
The willingness to leave no stone unturned and the creative approach towards ongoing exploration at Parbec has contributed to the perfect record of successful drilling results over many years. The deposit has evolved into a much more attractive development prospect. Continuity of gold zones has been established through the focused drilling programs. Higher grade resource zones have been confirmed. The potential further to depth, below the conceptual open pit shell, has also been validated.
Parbec has become a legitimate acquisition target in proximity to several operating gold mines. Renforth is also capable of continuing to advance the property independently and may add further value through another round of exploration in the months ahead. The flagship asset has emerged as a significant gold project with compelling exploration potential to build further resource magnitude. Smallcaps Recommendation: BUY.