Noble Roman's Not Growing Fast Enough?
Noble Roman's, Inc. (NROM – $1.63), the franchisor and licensor of several pizza concepts reached revenues of $2.1 million in the third quarter ending September 30, 2014, an increase of 9% compared with sales of $1.9 million in the third quarter last year. Net income in the third quarter of 2014 picked up nicely to $499,000, or $0.03 per share, compared with $402,000, or $0.02 per share, in the third quarter last year.
Net sales for the nine months ended September 30, 2014 were $6.1 million, compared to $5.8 million in the same period in 2013, an increase of 5%. Net income for the nine months, ended September 30, 2014 was $1.44 million, or $0.07 per share, compared to $1.30 million, or $0.07 per share in the comparable period last year.
Operating margins were 40.7% in the third quarter of 2014 compared to 39.0% in the third quarter of 2013.
Continued Focus on Growth
Noble Roman's continues to focus on growth in its three pizza concepts, which are non-traditional franchises/licenses – particularly at convenience stores, travel plazas and entertainment facilities – the sale of take-n-bake pizzas through grocery deli departments and stand-alone take-n-bake franchised locations.
The Company's franchises/licenses at non-traditional locations is basically a foodservice provided within a host business, and usually require a substantially lower investment compared to a stand-alone traditional location.
In 2014 through October 31, 2014, the Company signed 41 additional new franchise/license agreements for non-traditional locations and is in discussion with numerous other convenience store chains and entertainment facilities to add to the concept.
Mr. Mobley, the Company's, Chairman and CEO, stated, "During the second and third quarters we signed agreements with a chain of approximately 300 convenience stores for seven locations, all of which are now open. The chain targets 21 additional locations for which it intends to sign agreements shortly. Thereafter, development will continue until they have put Noble Roman's Pizza in nearly all of their locations."
Noble Roman's started offering take-n-bake pizzas at grocery store chains late 2009. Through November 3, 2014 the Company has signed agreements for nearly 2,300 grocery store locations to operate the take-n-bake pizza program. Approximately 465 were signed in 2014 and 161 October of 2014 alone. The take-n-bake pizza program is now active in approximately 1,500 locations.
The Company is currently in discussions with a number of grocery store chains representing over 7,000 additional locations. Moreover, negotiations are ongoing with two large grocery store distributors, which may also add several thousand take-n-bake grocery store locations.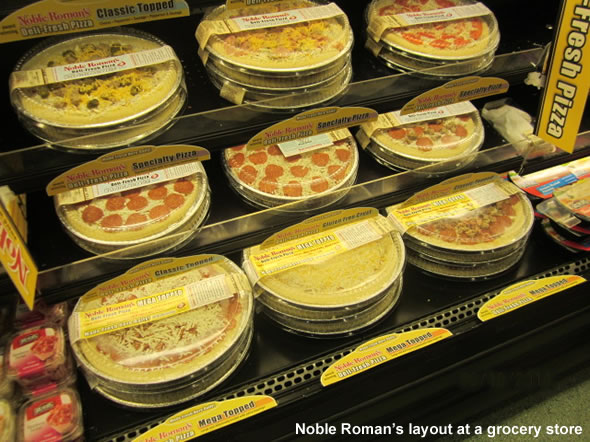 Turning to the third venue. In 2012, the Company developed the stand-alone take-n-bake pizza concept and has entered into agreements for 68 locations since. Seven additional franchise locations were sold during the quarter ended September 30, 2014, with one new store opening during the quarter, one new store opening in October and four additional locations scheduled to open in November and December.
Also with this concept, the Company has a significant pipeline of potential franchises, but it declines a high percentage of the applicants in an effort to create a solid base of franchises with whom it can continue to grow the system.
To give an idea of the importance of each concept at this moment, the breakdown of royalties and fees for the first nine months of 2014 is as follows:
Royalties and fees from non-traditional franchises were $3.49 million compared to $3.27 million, or an increase of 6.7%.
Royalties and fees from grocery store take-n-bake locations were $1.13 million compared to $1.05 million, or an increase of 8.2%.
Royalties and fees from stand-alone take-n-bake locations were $614,000 compared to $164,000, or an increase of 274.0%.
Conclusion
Take-n-bake continues to be one of the fastest growing segments of the pizza industry, and Noble Roman's is at the forefront of this trend, rapidly increasing its presence with the stand-alone take-n-bake concept.
Noteworthy is that the growing interest in Noble Roman's take-n-bake offering has enabled the Company to advance beyond selling to individual, independent grocery stores, so that it's now actively and successfully marketing the offering to grocery store chains around the country.
The Company anticipates continued growth in all three concepts for the remainder of 2014 and even greater revenue growth in future years, while maintaining nearly constant operating cost as has been the case for the past several years.
Some might argue, Noble Roman's isn't growing fast enough with revenues increasing less than 10%. Well, Smallcaps.us first featured Noble Roman's in July of 2012 at $0.62. So we've been holding the stock for almost two and a half years and currently have a very nice profit of 163%.
And because we're convinced that Noble Roman's management is able to continue to steadily grow the number of distribution points, and as such the Company's sales and earnings, we have no intention of selling our shares at this moment.