American Power Group On Route To Profitability
American Power Group (APGI – $0.40) provides a cost-effective, patented natural gas conversion technology for vehicular, stationary and off-road mobile diesel engines. The Company's dual-fuel technology is a non-invasive system that enables engines to run on diesel fuel together with either liquefied natural gas, compressed natural gas, pipeline or well-head gas, and bio-methane, with the flexibility to return to 100% diesel fuel operation at any time.
The proprietary technology seamlessly displaces up to 75% of the normal diesel fuel consumption with the average displacement ranging from 40% to 65%. The energized fuel balance is maintained with a proprietary read-only electronic controller system ensuring the engines operate at original equipment manufacturers' specified temperatures and pressures.
Installation on a wide variety of engine models and end-market applications requires no engine modifications unlike with the more expensive invasive fuel-injected systems in the market. The unit has been approved for six of the top engines on the road: CAT, Cummins, Detroit Diesel, Mack, Mercedes-Benz, and Volvo. This is important as it means a customer won't void the engine manufacturer's warranty by installing this system.
APG's system for stationary and vehicular engines has met specific anti-tampering design, componentry, and emission compliance criteria and guidelines as set forth by the EPA, including the new EPA Clean Alternative Fuel Vehicle Conversion regulations.
The Company has over 300 stationary installs and several hundred vehicular conversions on the road. Users especially appreciate the significant fuel savings with no loss of power and torque, normal maintenance cycles with high up-time and the ability to transfer the system to other eligible engines at end-of-life.
Financials
Net sales for the three months ended June 30, 2014 decreased $369,000 or 17 percent to $1,782,000 as compared to net sales of $2,151,000 for the three months ended June 30, 2013. The Company's net loss for the three months ended June 30, 2014 was $684,000, or ($0.01) per basic share, as compared to a net loss of $140,000, or ($0.00) per basic share, for the three months ended June 30, 2013.
Two one-time events contributed to the decrease in sales and earnings. First, last year's third quarter sales got a boost from a large $600,000 order to convert multiple engines. That order obviously wasn't repeated this year. Secondly, the company incurred approximately $200,000 of additional overhead costs during the quarter associated with efforts to expand the stationary engine families in response to market demand and upgrades to the vehicular software to increase functionality and field performance.
Although the numbers don't immediately illustrate the fact, it's important to know that on August 14, 2014, when third quarter results were announced, APG had shipped over 160 vehicular units YTD, almost double the prior YTD. Similarly, it had shipped over 170 stationary units YTD, also double the prior YTD.
Three Months Ended
June 30

Nine Months Ended
June 30

Amounts in $000's

2014

2013

2014

2013

Net Sales

1,782

2,151

4,883

4,879

Net (Loss)

(684)

(140)

(1,503)

(1,390)

Earnings (Loss) Per Share

(0.01)

(0.00)

(0.03)

(0.03)

Most important income statement data for the quarters and nine months ending June 30, 2014 and June 30, 2013. Source: Company Press Release
Net sales for the nine months ended June 30, 2014 increased $4,000 to $4,883,000 as compared to net sales of $4,879,000 for the nine months ended June 30, 2013. Stationary revenues for the nine months, ended June 30, 2014 were $3,376,000 which was approximately $699,00, or 17 percent lower, when compared to stationary revenues for the same period of the prior year. This was mainly due to the exceptional $600,000 order described above.
Domestic vehicular revenues for the nine months ended June 30, 2014, on the other hand, increased $704,000, or 87 percent, to $1,508,000 as compared to the prior year. The increase is attributable to increased market exposure.
Results for the fourth quarter and fiscal year 2014, ended September 30, 2014, should be announced around mid-December. The Company expects revenues to come in at around $7 to $8 million for the year.
On June 30, 2014, the Company had $1.2 million in cash and cash equivalents. Current assets were $4.2 million, versus $5.1 million in current liabilities. However, a couple of weeks ago, Iowa State Bank agreed to convert an short term outstanding balance of approximately $2.7 million into a seven-year term loan. In addition, the bank provided a new $500,000 secured working capital line with an initial maturity of January 2016.
There are a little over 50 million shares outstanding and the stock price's 52-week low is 35 cents, making the current price an attractive entry point.
New and Follow-on orders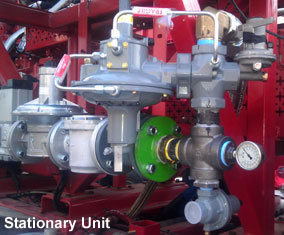 It's clear from the YTD numbers that demand for American Power's environmentally friendly solutions is rapidly growing. And that trend continues. Mid-August, the Company had a significant backlog of new and follow-on orders. A few examples:
WW Transport, an award-wining food grade hauler in the Iowa/Illinois area, started with 10 units, and has now ordered an additional 30 units. That's about 10% of their fleet. Precision Strip initially ordered 15 units, and has now ordered another 15 units to be delivered in the first quarter of 2015.
Also Idaho National Labs, which runs buses on biodiesel, started with five conversions and now they are converting another five. Moreover, they received a grant for another 30 units in 2015. A long haul carrier from Illinois ordered five and is working on financing 45 more units. And Green Buffalo Fuels ordered 20 units in 2013. They have taken delivery of another 25 this year, and they have orders in backlog for another 45 units. Finally, last week, APG received a 20 unit follow-on vehicular conversion order valued at approximately $660,000 from a Latin American dealer.
These six orders alone, potentially represent follow-on orders for about 190 trucks.
Although orders for stationary units are coming in somewhat slower, the Company recently received an order for 15 dual fuel conversion systems valued at approximately $500,000 from SourceOne Equipment, one of its domestic Stationary Dealer/Installers.
Shane Janssen, Vice President of Sales for SourceOne commented, "Several well-known drilling service contractors have recently conducted side-by-side field performance evaluations between APG and other dual fuel solutions in order to baseline actual performance results versus claimed performance metrics. In our opinion, APG was successful in these evaluations due to having the best price, best overall up-time, highest overall average displacement fuel savings and the best operational flexibility and adaptability in the field."
Conclusion
American Power Group is growing domestically, but also internationally. It has begun to open up Canada, the Caribbean and South America with several well-known multi-national vehicular customers who collectively operate thousands of vehicles. In Canada alone, there are about 320,000 heavy duty trucks.
The company's biggest hurdle for even faster expansion is the lack of on-route class-8 truck accessible compressed (CNG) and Liquefied Natural Gas (LNG) stations. Of the approximately 6,500 diesel truck stops across the United States, only about 250, or less than 4%, have class-8 accessible CNG or LNG stations. Fortunately for American Power, the number of stations continues to grow each month. According to government reports there are an additional 238 CNG or LNG stations that have either been permitted, under-construction or waiting to open.
The Company is also addressing this issue by working together with CNG and LNG fuel suppliers to identify potential customers within the regional distance of those stations, as well as where it would be the best to permit and construct new locations.
According to APG's management, the Company's EBITDA break-even point is reached with revenues around $8.5 million, while sales of $12 million are required for net profitability. We believe the Company is getting closer to those goals.
The interest in APG's dual fuel solution has never been higher despite the recent drop in diesel pricing. An abundance of domestic natural gas continues to maintain the pricing advantage of natural gas versus diesel. Many new CNG and LNG stations are opening, which makes it much more accessible than it has been.
Although American Power's third quarter results were weaker than last year's comparable quarter due to one-time events, the outlook and backlog are exceptional. Moreover, the company's transition point from losing money to making money in in sight, which is an opportune time to start acquiring shares.