First Sale to Laundromat Opens New Market for Tecogen
Tecogen (TGEN – $3.03) sold two InVerde e+ Combined Heat & Power (CHP) units to a newly constructed laundromat in Mount Vernon, NY. The two 100kW machines have the capacity to supply the business with all of its hot water and a majority of its electrical needs. Once up and running, the facility will produce almost two thirds of its own energy, generating significant cost savings.
These cost savings, along with the NY State incentives for Tecogen's ultra-clean equipment, are significant benefits in the highly competitive laundromat industry.
The coin laundry industry is actually comprised of two distinct segments. First are the so-called vended laundries, which are located in a public retail space. Second are coin-operated machines located in apartment housing. This apartment segment of the business is referred to as the multi-housing laundry business.
Currently, there are about 29,500 coin laundries in the United States, generating nearly $5 billion in gross revenue annually. While coin-ops are found in virtually all neighborhoods across the U.S., stores seem to perform exceptionally well in predominately renter-occupied, densely populated areas. Consequently, it's no surprise that New York has by far the largest number of laundromats in the United States with 21.6% of the total.
The coin laundry industry is approximately 70 years old and is primarily composed of individual owner/operators. No significant franchises are in operation at this time.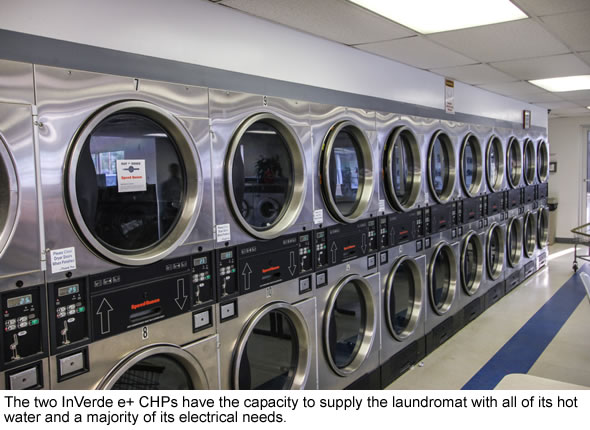 New Orders Secure Continued Growth
It is encouraging to see that Tecogen is able to continuously sell CHP, chiller and Ilios units to ever more different industries. As a result, the Company's backlog shows no sign of decreasing. As seen below, it has been holding above management's key target of $10 million for more than two years now.
This strong backlog then allows the Company to continue growing its product revenue on a YoY basis (up 29% for Q2 of 2017 as compared to Q2 2016). This inadvertently also increases Tecogen's service revenue, which is a stable and predictable revenue stream (up 12.9% for Q2 of 2017 as compared to Q2 2016).
Tecogen to Present at Rodman & Renshaw Conference
In other news, John Hatsopoulos, Tecogen's Co-CEO, and Jeb Armstrong, Director of Capital Markets will be attending the 19th annual Rodman & Renshaw Global Investment Conference to be held at the Lotte New York Palace Hotel in New York City on September 11th and 12th, 2017. Mr. Hatsopoulos will also present on Tuesday, September 12th at 8:45-9:10 am EDT.
Investors who would like to attend the conference or have a 1×1 meeting with Tecogen representatives may register at: www.rodmanevents.com.
Conclusion
The ability to deliver both a consistent and reliable supply of high temperature hot water and electricity makes Tecogen's InVerde e+ an ideal fit for the laundry business, as the resulting savings flow right to the bottom line. In addition, Tecogen's exclusive microgrid technology ensures that the business keeps running even if the utility fails.
With the initial sale to a laundromat, Tecogen has opened up a new market. The tens of thousands commercial wash facilities in the United States that operate in a highly competitive environment, stand to benefit significantly with Tecogen's CHP equipment. Recommendation BUY.