EnWave Turns Cash Flow Positive and Receives New Machine Purchase Order
EnWave Corporation (TSXV:ENW – $0.71 CAD & OTC:NWVCF – $0.56 USD), which offers industrial-scale dehydration technologies for food and pharmaceutical companies, reported positive cash flow from operations for the first time in its history. During the first quarter, ended December 31, 2015, net cash of $541,000 was generated from operating activities.
Financial results for the first quarter ended December 31, 2015 were impressive to say the least. Sales reached $2.60 million, up about 350% compared with sales of $0.57 million in the first quarter of fiscal year 2015. Also the Company's net loss was significantly reduced. In the first quarter, ended December 31, 2015 a loss of $483,000, or 0.00 per share, was recorded, while the net loss reached $1,225,000, or 0.01 per share, in the comparable period of fiscal year 2015.
The impressive results can be attributed to the expanded distribution of Moon Cheese, the healthy dried cheese snack, and increased machine sales.
Starbucks has expanded the distribution of Moon Cheese to 7,500 of its corporate stores in the United States, and into 1,400 Canadian corporate stores. Moreover, Moon Cheese distribution was broadened to several major North American retail outlets, including select Whole Foods, REI, and Winco Foods in the United States, and Safeway, Sobeys, Mountain Equipment Co-op, Save-on-Foods and Thrifty Foods in Canada. All in all, Moon Cheese is currently sold in over 20,000 retail locations across Canada and the United States.
Three Months Ended
December 31

Amounts in $000's

2015

2014

Net Sales

2,604

574

Direct Costs

1,743

511

Expenses

1,344

1,284

Net Income (Loss)

(483)

(1,225)

Earnings (Loss) Per Share

(0.00)

(0.01)

Most important income statement data for the quarters ended December 31, 2015 and December 31, 2014. Source: Company Filing
As for machine sales, revenues were generated from commercial equipment design and manufacturing contracts with Sutro Biopharma and Merck for powderREV and freezeREV, respectively. Additionally, EnWave shipped three smaller 10kW nutraREV machines to international royalty partners during the three months ended December 31, 2015.
EnWave's balance sheet is healthy with over $5.7 million in cash. It's current ratio is 2.64 and the Company only has about $600,000 in long term debt.
Amounts in $000's

December 31, 2015

September 30, 2015

Cash and Cash Equivalents

5,727

1,101

Restricted Cash

1,530

1,530

Accounts Receivable

1,709

1,025

Inventories

2,023

1,024

Total Current Assets

12,018

6,075

Property and Equipment

3,853

3,808

Intangible Assets

2,698

3,056

Total Assets

18,569

12,939

Accounts Payable

1,583

1,332

Other Current Liabilities

2,961

1,699

Total Current Liabilities

4,544

3,031

Long Term Debt

617

597

Total Liabilities

5,161

3,628

Total Stockholder Equity

13,408

9,311

Most important balance sheet data for the periods ending December 31, 2015 and September 30, 2015. Source: Company Filing
Commercial Scale Machine Purchase Order From Gay Lea Foods
Gay Lea Foods, the second largest dairy co-operative in Canada, owned by over 1,200 dairy farmers, has purchased a 100 kW nutraREV machine for the production of "Nothing But Cheese", a crunchy cheese snack.
Nothing But Cheese will be sold under Gay Lea's well-known Ivanhoe cheese brand and will be available in two flavors: Cheddar and Monterey Jack with Peppers. The cheesy nuggets make unique croutons for soups and salads and add protein to snack mixes. They are available in bulk for food processors and in single serve 18g pouches.
First royalties from the 100 kW machine are expected before year-end and could reach $250,000 when operating at full capacity.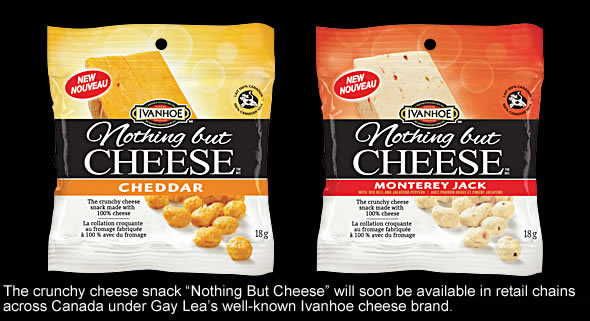 Since April 2014 Gay Lea has been operating a 10 kW nutraREV unit to test both the product and its market potential. Up until now production is modest and the snacks are only available in a few stores. As soon as the full-scale REV dryer is up and running – expected in the summer – the dairy company can start securing additional distribution.
By purchasing this machine, Gay Lea has retained the exclusive right to produce cheese snack products in Canada using EnWave's proprietary Radiant Energy Vacuum dehydration technology.
Cheese Snacks Around The World
It's evident by the rapidly increasing number of stores in which Moon Cheese is available that North America loves the cheese snacks. Other food companies worldwide are sensing an opportunity and have closed agreements with EnWave to produce similar dried cheese snacks.
Gay Lea Foods is only one of six geographically diverse royalty partners that have licensed REV technology for the production of cheese snack products.
NutraDried LLP for the United States;
Umland LLC for high kosher products in the United States. Production and distribution of the snacks has commenced;
Gay Lea Foods for Canada;
Lake Blue Spa for Chile. First production is expected in April 2016;
Dominant Slice for Portugal and Spain. Also in this case first production is expected in April 2016; and
Agricola Industrial La Lydia SA for Central America. They will receive a 10kW nutraREV unit for initial production and plan to expand their business in 2016.
Also, market tests with Moon Cheese have started at retail chains in Japan and Taiwan. If the outcome of the tests is successful, distribution could be increased and as such larger purchase orders would be placed with NutraDried.
We're convinced more cheese snack agreements for other territories will be signed, as the snacks are an obvious success and food companies worldwide are eager to launch new innovative products.
Conclusion
Needless to say that becoming cash flow positive was a major milestone for EnWave. Although financials will remain lumpy in the coming quarters, it's very obvious that the trend is up.
The growing number of operational REV machines, such as the one from Gay Lea, will increase EnWave's royalty income. Moreover, with plenty of companies researching the potential use of REV dryers and several commercial machine purchase orders in the pipeline, we foresee 2016 to become the breakthrough year for EnWave.
Also, EnWave engaged a New York based IR firm to specifically spread the word about the Company and its potential in the United States. Buy recommendation.