EnWave Significantly Expands Presence in Australasian Market
After signing a couple of Technology Evaluation and License Option Agreements (TELOAs) in Australia last year, EnWave (TSXV:ENW – $1.07 CAD & OTC:NWVCF – $0.80 USD & Frankfurt:E4U – €0.74) now has closed its first commercial royalty-bearing license down under.
The Company entered into an agreement with Ashgrove Cheese, a diversified Australian dairy processor. The license grants Ashgrove the exclusive right to use EnWave's Radiant Energy Vacuum (REV) technology to process cheese products in the State of Tasmania, with a goal to produce dried cheese products similar to EnWave's Moon Cheese snacks.
In exchange for this exclusivity, Ashgrove has agreed to pay EnWave a 5% royalty on the wholesale price of all REV-dried products sold. Moreover, Ashgrove also submitted a purchase order for EnWave to deliver a 10kW commercial REV machine to initiate production.
The relationship between EnWave and Ashgrove has evolved over the past 18 months. During that time, part of the Ashgrove team visited the EnWave facility in Vancouver to conduct test work. Later, the dairy company did plenty of due diligence work in its target markets to ensure that it had a tangible business opportunity in its hands. All satisfied with those results, Ashgrove decided to proceed with a license and purchase order for a REV machine.
Another very interesting fact about the agreement is that if Ashgrove submits a purchase order for a 100kW or larger REV machine within a year, the exclusive processing territory prescribed in the license will expand to the country of Australia.
Since the 1880's several generations of the Bennett family have been farming the land in the heart of the dairying and cropping region in Northern Tasmania. In 1993, the Bennett's established the Ashgrove Farm Cheese Company on their dairy farm. They started making English style cheddars using traditional recipes and production techniques. Today, Ashgrove is one of Australia's leading independent premium dairy brands and manufacturers. It produces a large range of cheeses, with cheddars continuing to be their specialty.

Ashgrove's products are distributed through specialty food stores, major retailers and supermarkets throughout Australia, such as Coles, Woolworths, ALDI and IGA. The company also supplies Australian airlines with business class cheese offerings.
Next to the agreement with Ashgrove, EnWave also signed a TELOA with another major Australasian dairy processor to explore the potential for dried dairy applications using the REV dehydration technology. The dairy company has the exclusive option to license the use of REV technology for the production of dairy products within an agreed Australasian territory for a period of six months.
Note that EnWave typically allows companies relatively short research periods. This strategy forces companies to continually move the process forward. If a decision to sign a commercial agreement isn't reached within that time frame EnWave has the option to grant another company exclusivity in that territory.
The Australian Dairy Industry
Australian dairy is a $13 billion farming, manufacturing and export industry, making it one of the country's leading rural industries, along with meat and wheat.
The Australian dairy industry directly employs nearly 40,000 Australians on farms and in factories, while more than 100,000 Australians are indirectly employed in related service industries.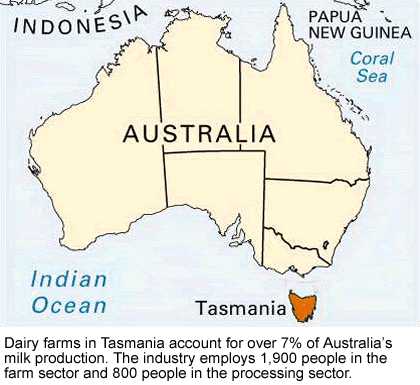 Although the bulk of milk production occurs in Australia's southeast states, all states have dairy industries that supply fresh drinking milk to nearby cities and towns. A range of high-quality consumer products, including fresh milks, custards, yoghurts and a wide variety of specialty cheeses, are produced in most Australian states. However, the manufacturing of longer shelf life products, such as cheese and specialised milk powders, is steadily becoming more concentrated in the south-east region of Australia.
Over 6,000 Australian dairy farmers produce around 9.7 billion litres of milk a year, of which nearly half is exported. This makes Australia the third largest exporter of milk behind the EU and New Zealand. The country accounts for 10% of the global export market. Australia's major export destinations by value are Japan, Singapore, China, Indonesia and Malaysia.
Dried Cheese Market Expanding Worldwide
The agreement with Ashgrove is EnWave's twentieth commercial royalty-bearing license and the ninth for the processing of dairy products.
By far the most successful REV dried cheese snack on the market today is Moon Cheese, as it's available at every Starbucks in North America and at thousands of retail stores in Canada and the United States. Moon Cheese is being produced by NutraDried LLC, in which EnWave holds a 51% stake.
Attracted by this significant success, other food companies worldwide are sensing an opportunity and have closed commercial agreements with EnWave to produce similar snacks. Typically, EnWave receives a 5% royalty on all cheese snack sales.
The companies below have all closed a commercial agreement with EnWave to produce a REV dried dairy product. The list also states for which country or region the companies obtained an exclusive license.
NutraDried LLP for the United States;
Umland LLC for high kosher products in the United States. Production and distribution of the snacks has commenced;
Gay Lea Foods for Canada. It started up a 100kW nutraREV machine to expand the production of its 'Nothing But Cheese' snack product;
Lake Blue Spa for Chile. Commercial production of its INTAKT cheese snacks has recently started. The dried cheese products are available in four flavors: Original Gouda, Spicy Gouda, Oregano Gouda, and Mediterranean Mix;
Dominant Slice for Portugal and Spain. It recently launched a dried cheese product, coined B!t Cheese;
Agricola Industrial La Lydia SA for Central America. It has received a 10kW nutraREV unit. Initial commercial sales are imminent;
Ereğli Agrosan for Turkey. The license actually grants the company the exclusive right to process a variety of fruit, vegetable and cheese products. Ereğli's dried cheese product has entered the market and is being sold B2B in central Asian markets;
Kesito LLC for Greece. A 10kW commercial REV machine was installed late 2016, which allowed Kesito to complete product development and enter the European market with a high-quality, shelf-stable dried cheese snack product. The company is now producing commercial product; and
Ashgrove Cheese for Tasmania.
In addition, EnWave has signed a TELOA with a number of other dairy companies. Last year in August, for example, EnWave closed an agreement with the Mexican food processor New Products R&D de C.V. (NPRD). The agreement gives NPRD, during eight months, the exclusive right to use EnWave's REV dehydration technology to develop dried cheese products for the Mexican market. An active dialog is ongoing with the Mexican company, which will hopefully result in a commercial agreement.
Also, in December 2016, EnWave signed a Technology Evaluation and License Option Agreement with a major European dairy processor. The dairy company leases a 10kW REV machine, which was installed at its facilities early 2017. Apparently significant product development has already taken place and progress continues to be made.
Conclusion
The commercial agreement with Ashgrove is the first one in the Australasia market for EnWave. Judging by the number of TELOAs, several more could be signed in the coming months.
Ashgrove is another high-quality partner for EnWave that's dedicated to bringing a REV dried product to the market. The dairy company has already been in business for many decades and has established excellent distribution of its products both domestically and abroad. The REV dried cheese products are bound to benefit from this feat. Recommendation BUY.