Camillus Knives Makes Strong Return to In-Person SHOT Show
The return of the Shooting, Hunting and Outdoor Trade (SHOT) Show to Las Vegas, which was operated virtually last year due to the pandemic, was truly triumphant. In fact, this was the largest SHOT Show ever and marked the first year of expanded exhibit space at Caesars Forum, in addition to the Venetian Expo. More than 2,400 companies displayed products and services in booths covering more than 800,000 square feet, an increase from the 692,000 square feet of the 2020 show.
SHOT is the fifth largest trade show held in Las Vegas and this year attracted buyers from all 50 states and from 100 countries worldwide. Some 13.9 miles of aisles lead to displays of firearms, ammunition, outdoor recreation, optics, targets, training and safety equipment, hunting accessories, and law enforcement gear.
Among the attending companies was Acme United Corp. (US: ACU – $33.79). Its Camillus knives brand introduced several new, innovative products for hunting and outdoor recreation purposes. In addition to Camillus, DMT Sharpeners, which is recognized around the world for its unrivaled diamond technology and its iconic "polka-dot" sharpening pattern, was also highlighted at the booth.
Camillus Launches New Knives and Tools
Below are some of the Camillus knives and tools that were shown at the 2022 SHOT Show.
Bushcrafter Mini: The Camillus Bushcrafter Mini folding knife features a compact, yet robust, 6.75″ blade. Crafted with 440 stainless steel and bonded with titanium, the Bushcrafter Mini is perfect for those seeking a balance between toughness, edge sharpness, and corrosion resistance. The Micarta handle is made of an extremely durable makeup of linen layers soaked in resin, then highly compressed and baked. This makes for a handle impervious to moisture or liquid, enduring and stable regardless of climate or conditions. The Bushcrafter Mini also features a convenient lockback system for secure storage and easy access.
Bolt X: The Bolt X 6.75″ knife boasts the signature Camillus Cuda slide lock. The "Axis Lock" style works using a small, hardened spring loaded bar that moves back and forth in a slot made into both steel liners. Positioned at the rear of the blade, it extends on both sides of the knife, spanning the liners. The lock then engages a ramped tang portion of the blade when it is opened, securing the blade in place. The Bolt X makes for a well-rounded and reliable knife for any application.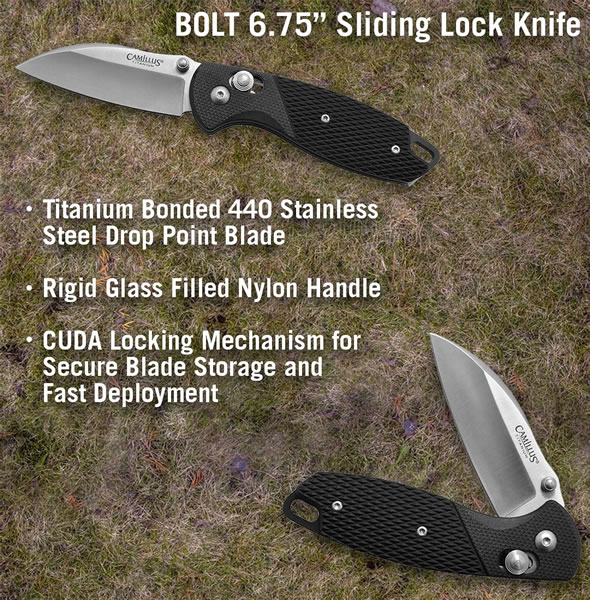 Chonk: The Chonk 6.75″ pocket knife, our personal fav, creates a striking balance between strength and portability. The Chonk's 440 stainless steel blade is bonded with Titanium that resists rust and corrosion and is up to 3X harder than untreated steel so the blade stays sharper, longer. The G10 handle is made of an extremely durable assemblage of fiberglass layers soaked in resin, then highly compressed and baked to become impervious to moisture or liquid. Finally, the knife features dual ball bearings for a smooth blade deployment.
Marlinspike 2.0: A multifunctional powerhouse, the Marlinspike 2.0 is crafted with titanium bonded, 440 stainless steel components, featuring both a folding blade and marlin spike. The Marlinspike 2.0 also features an ergonomic, G10 handle and an integrated dual locking system for the Marlin Spike, which can be deployed from its secure storage position to help loosen knots.
Hawker Fixed Blade: The Camillus Hawker Fixed Blade Knife features a powerful, 4″ blade forged of 420 stainless steel. Additionally, thanks to the titanium bonding the blade will endure innumerable cuts and slashes before needing to be sharpened again. To compliment the Hawker's sturdy blade, the polypropylene (PP) and thermoplastic rubber (TPR) handle offers a lightweight grip solution without compromising physical durability. A Ballistic Nylon sheath is also included, so the blade can be protected from debris and other foreign objects when not in use.
Consumers will see the new products unveiled at the SHOT Show on retailers' shelves throughout the coming year. The knives and tools will also become available in Canada and Europe later this year.
Conclusion
The 44th SHOT Show concluded its four-day run with over 40,000 attendees optimistic of building on last year's increase in sales of industry products.
Not only was it another successful year for the SHOT Show, but also for Camillus and DMT. Both brands received plenty of new orders and sales leads. Camillus and DMT are growing strong in the US and Europe, and thanks to the new products that were introduced at SHOT, growth is bound to continue.
All of this is excellent news for Acme United and its shareholders, as Camillus continues to be a dynamic and profitable contributor to the Company's financials and success. Smallcaps Recommendation: BUY.