Widespread Battery Metals Encountered at Surimeau District Property
Even the most successful exploration geologists will acknowledge that there is a degree of luck involved with most resource discoveries. However, it is more about the relentless pursuit of a discovery and doing all the small things right along the way that determines success. One must employ modern technology to improve the odds. Patient preliminary fieldwork is also important. This is why one company may approach an early stage exploration opportunity yet walk away empty handed. Another player may emerge at the same prospect and achieve a major economic discovery.
Renforth Resources Inc. (CA:RFR – $0.05 & US:RFHRF – $0.04 & GER:9RR – €0.03) has delivered a steady stream of successful exploration results over the last several years. The advancement of the New Alger project paid off with a significant transaction. Multiple new gold discoveries at Parbec have elevated the project to a potential mine development candidate. The Surimeau District Battery Metals property may evolve as the biggest win for the Company. With this track record of discovery, luck plays a role no doubt. But fortune favors the bold. Renforth has been one of the most active junior explorers and the positive results achieved so far are about getting into the field and doing the work.
It should come as no surprise therefore that the Company has completed additional fieldwork at Surimeau. This week, Renforth reported an update of recent prospecting and sampling activity at the project. Recall that an airborne geophysical survey for a large chunk of the property was launched earlier this year. Interpretation of this data led to another list of enticing new targets and the geologists were dispatched back to the field to investigate. An extensive surface prospecting and sampling program was underway as soon as the snow melted. This work is advancing a complimentary target area at LaLonde.
Distribution of Attractive Mineralized Outcrops in Alignment with Geophysical Anomalies
The sheer size of Surimeau demands that preliminary work must be completed to generate targets. To narrow down the search further, Renforth compared the Mag and EM signature of the emerging deposit at Victoria West to find similar profiles. This approach was then tested in the field with a sampling program at the nearby LaLonde target area. Geologists encountered attractive mineralized outcrops exactly where they had outlined using the interpretation. This exciting validation suggests that the same approach can now be directed at many other promising target areas elsewhere on the property.
As part of the update issued this week, Renforth presented a map of the property with precise indications of where samples were extracted. The ambitious scale of this effort is obvious. Historical sampling work from previous years was also documented.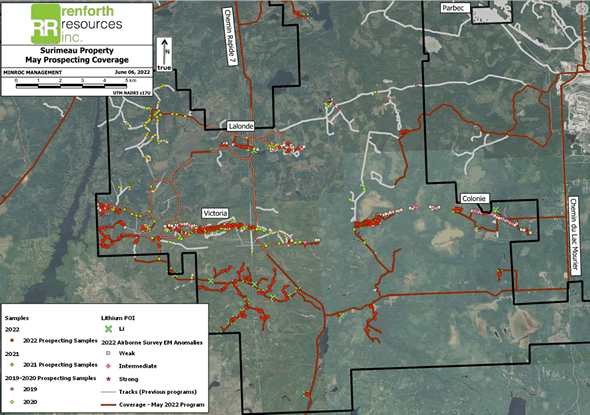 Click here to view map full size.
An XRF scanner was also useful to detect minerals of nickel, copper, zinc and precious metals. The results of assay testing in a laboratory for precise metal grades of these samples are eagerly awaited. Extensive mineralization encountered right at surface is encouraging nonetheless. Observations in the field have confirmed a mineralized strike length extending at least 20kms at Victoria West. A complimentary system at LaLonde has also been outlined for more than 2kms.
Another highlight of the program reported is the presence of calcium-silicate alteration in many of the outcrops. Observations from samples at Victoria West have informed this fieldwork. This same alteration has been encountered at outcrop and in drill core extracted from 200m below surface. The calc-silicate alteration is present at the contact zone of the ultramafic and VMS-style mineralization. The presence of this mineralized alteration at LaLonde is therefore notable and important.
Conclusion
There are still a few promising geophysical targets remaining that were not visited during recent fieldwork. Renforth plans to launch another round of prospecting at Surimeau within the next few weeks. This could yet deliver even more attractive surprises. But the spring fieldwork program must be considered a resounding success just based on the results so far. The use of EM survey data has been validated. Renforth shareholders should be getting excited for the next round of drilling that is sure to follow.
The cluster of attractive outcrops that were sampled further along the Victoria West structural trend is noteworthy. Just a few kilometers to the north, the cluster of similar outcrops and a clear linear target extending more than 2kms at LaLonde are also calling for attention.
The presence of calc-silicate mineralization observed at surface in both target zones is encouraging. This distinct alteration occurs along the contact zone of where the two main mineralized systems intermix at Victoria West. These early indications suggest LaLonde may have the same potential to host continuous battery metals mineralization, starting from surface and along a significant corridor.
Battery metals are becoming the urgent story of the resource sector and Renforth is on track to expand what may become a very large deposit. Surimeau is evolving into a much larger, district-scale discovery opportunity. Renforth owns 100% of this enormous exploration candidate, in the right jurisdiction and with the right resources to establish a significant deposit. Drilling is set to commence later this summer with the next round of targets generated by the preliminary work to start off the year. Smallcaps Recommendation: BUY.