Why Global Li-Ion is Our Favorite to Substantially Benefit From the Graphite Boom
Two weeks ago, we featured a copper related company that we think is going to do well. This week, we introduce a graphite stock, as we feel that also this mineral is going to perform extraordinary strong the coming months and years.
After all, graphite has some unique properties that makes it one of the most important materials of the digital age. In fact, it is anticipated that there will be a further 300 percent increase in demand for high quality graphite by the year 2025. This is unsurprising, given that a lithium-ion battery – such as those found in most electric vehicles – requires 10 to 20 times more graphite than it does lithium.
Searching through a database of resource companies active in the graphite sector, Global Li-Ion Graphite Corp. (CSE:LION – $0.50 & OTCQX:GBBGF – $0.40 & Fra:0TD – €0.33) caught our eye. Although the Company has only been listed since July 2017, it is aggressively pursuing its objectives of becoming a major supplier of graphite to the rapidly expanding energy storage industry.
Global Li-Ion is advancing two graphite properties to production. The first one is the Chedic Graphite project, which is situated near Carson City, Nevada. This is only a few miles away from Tesla's gigafactory, which is slated to become a major battery manufacturer.
Moreover, Chedic is the only graphite deposit within ~50 miles from Tesla's factory. Knowing that Tesla is committed to using locally supplied resources, it's clear that Global Li-Ion's property is ideally located.
The property consists of 50 unpatented mining claims, totaling approximately 1,000 acres. The enriched structure at Chedic has the potential to host a large amount of graphite mineralization. Already in the 1920s graphite was produced from an open pit mine at the property. Grades of up to 22% carbon content (graphite) were recorded.
Earlier this month, the Company received all the necessary approvals to start work at the property. Global Li-Ion has immediately done so, including confirmation and exploration drilling.
The second project is the Ambato-Arana Graphite Mine, which is located in the African country of Madagascar. The three mining exploitation licenses that comprise the project are located in the vicinity of Andasibe in Toamasina Province, approximately 20 km to the southwest of Sheritt's Ambatovy nickel/cobalt laterite open pit mine. The licenses total 4,375 hectares (10,811 acres) with a reported historical graphite production from 1910 to 2008 that ranged between 7.5% – 15% graphite with an average of 12% and with 15-20% graphite with a grain size of 50 mesh.
The Madagascar project has been in operation on and off for the last century and is reported to have produced a combined 18,000 tons of graphite oxide between 1998 and 2008 from small private artisanal surface mining operations. After 2008, the owner/operator retired. The project's land and operating permits have been kept in good standing and are up to date. Knowing that the recent price of coarse graphite is as high as $6,000 USD a tonne, it's clear that the project is a significant asset for Global Li-Ion.
The Company recently retained the services of Pascal Marchand as geologist to conduct a detailed trenching, auger drilling and sampling program on the known graphite bearing structures to develop a mine plan to best achieve putting the project back into economic production.
Pascal is a Franco-Canadian geologist based in Madagascar with over 25 years of highly relevant experience, including the exploration and appraisal of mineralisation of graphite. He has worked throughout Madagascar and, in addition to geological expertise, is fully conversant with Malagasy mining law, and environmental and social regulations.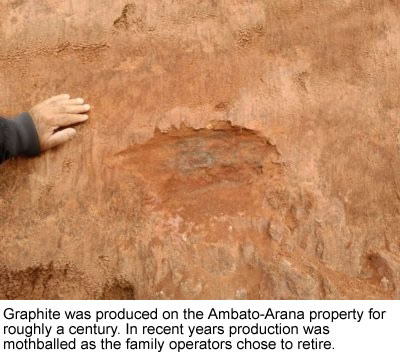 Next to these two properties, Global Li-Ion acquired late October 2017, the Neuron Graphite Project in the Thompson mining district of Northern Manitoba, Canada from Callinex Mines Inc.
Callinex completed a detailed 1,800 km VTEM airborne survey, where they identified strong EM anomalies which they later followed up with a 12 hole drill program. This drill program intersected carbon content of up to 78.3%.
Further assay and analysis work determined a 4.1 meter section grading 60.38% carbon graphite included in a 56.0 meter intersection grading 5.91% carbon.
Conclusion
A significant opportunity is lining up in this battery-operated technological age, as already a shortage is forming in the key commodity.
Global Li-Ion is positioned to significantly benefit from this upcoming boom. It has three potential graphite production sites in three jurisdictions. These enable the Company to achieve its goal of being a major supplier of premium graphite to the rapidly growing energy storage industry.