Why Camillus and DMT Amazed Buyers at Latest SHOT Show
The 40th annual Shooting, Hunting and Outdoor Trade Show, known as SHOT Show, took place Jan. 23-26 in Las Vegas. With more than 60,000 attendees, the trade show is the largest of its kind in the world. An ideal opportunity for Acme United's (ACU – $23.99) Camillus, Western and DMT brands to introduce their new, innovative products for hunting and outdoor recreation purposes.
Camillus surprised everyone with another substantial expansion of its product offering. It introduced no less than 16 new folding knives (see image slider below), including three versions of the Centerfire Knives. These popular folding knives were originally from the 1980s with its typical bullet shield in the handle, has been upgraded with Carbonitride Titanium AUS-8 Stainless Steel and a quick launch bearing system. Also the popular Cuda knife is back. The revamped Cuda Mini has a 3″ Carbonitride Titanium AUS-8 stainless steel blade, G10 ergonomic handle (in three colors) and a quick launch bearing system for fast, easy opening.
In addition, Camillus introduced a new collection of hunting knives and accessories designed in partnership with Prym1 camo. The Prym1 Hunting Line includes seven new tools featuring the popular Prym1 camo pattern. The pattern utilizes the colors and tones of nature, combined with the organic shapes and motion of wildlife.
"Our collaboration with Prym1 allows us to bring something fresh and new to the marketplace, said Rick Constantine, vice president of marketing and general manager for Camillus. "The new camo line has a distinct look and comes loaded with ergonomics and features specifically designed for hunters and anything they may encounter."
Moreover, Camillus is rolling out a complete new line of heavy-duty line of sight pruning tools, including a lopper, tree saw, branch saw and bypass shears. The new Line of Sight tools are designed and built specifically for hunters to ensure clear shooting lanes.
Camillus' Line of Sight series also features titanium-bonded and non-stick stainless-steel blades. In addition, all of the pruning tools incorporate an ergonomic AirShoc handle, which is impact resistant and contains an anti-microbial agent to resist mold and mildew. The handles also feature the popular Prym1 camo pattern.
In addition to the incredible Camillus product launches, DMT Sharpeners, which is recognized around the world for its unrivaled diamond technology and its iconic "polka-dot sharpening pattern, launched 8 new sharpeners at the SHOT Show. This was a very big deal for DMT distributors and customers as the new and innovative products were overwhelmingly received.
A tremendous amount of development went into the designs, which specifically address the needs of hunters and outdoor enthusiasts. The new, compact and portable sharpeners incorporate the industry's highest concentration of diamonds per square inch., the highest-quality diamonds on every sharpener and the flattest surface to ensure a perfect edge every time..
"A sharp blade is essential for any hunt, but unfortunately many on-the-go knife sharpeners tend to sacrifice quality at the expense of portability." said Mike Cioffi, Senior Brand Manager for DMT. "With our new sharpeners you get the superior quality of a DMT sharpener in a compact, lightweight package that's designed specifically for hunters and the things they encounter in the field."
In addition to the new models designed specifically for on-the-go-use, DMT introduced three new table-top sharpeners, which include the Disc-Sharp, Simple-Sharp, and the first battery sonically powered DMT sharpener coined the Sonic-Sharp.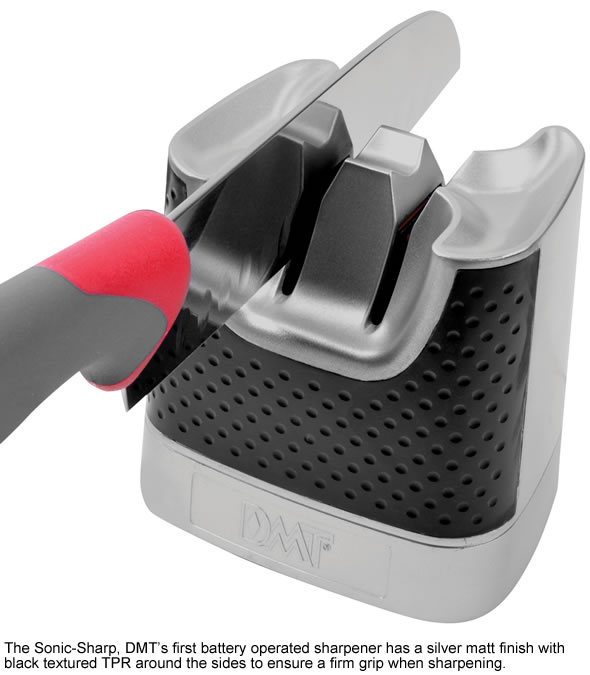 The new tools will be on retailers' shelves as of April. They will also become available in Canada and Europe. In fact, many of the new tools will be shown early March, at the IWA OutdoorClassics in Nuremberg, Germany. This is the largest European trade fair for hunting, shooting sports, outdoor and security equipment.
Representatives from the Company were quoted saying that this was the best SHOT show in several years from a business perspective. New sporting goods retailers were attracted, as well as new domestic and international distributors for both Camillus and DMT.
The Beasley Brothers
Similar to previous SHOT Shows, several Pro Staff members were present at the booth to sign autographs.
All Camillus knives and tools are subject to rigorous testing and evaluation by the elite team of Camillus Pros. The information that they provide is priceless as most Pro Staffers have been in extremely dangerous and often life-threatening situations where they MUST rely on their gear. They truly have the experience to put Camillus knives through real life usage.
This year, the Beasley Brothers, known from their multi-award-winning hunting adventure show, Canada in the Rough, signed autographs at the Camillus/DMT booth. Each episode of Canada in the Rough strives to educate, inform, and entertain through a unique balance of a hunting experience combined with both the human and biological interactions with the varieties of species.
Canada in the Rough has been named the "Fan Favorite" TV Show, the "Best Overall Canadian Show" and most recently the "Best Show Overall" and "Best Host". The Beasley Brothers only use Camillus tools exclusively in each of their episodes.
It's critical to have such a team of rugged outdoorsmen at your side, to help design, test, and promote your products and tools.
Conclusion
The SHOT Show has grown exponentially since it started in 1979, in St. Louis. That inaugural show attracted 5,600 attendees and had 290 exhibitors covering 51,153 net square feet of exhibit space. Compare that to the 2018 show with an attendance of more than 60,000 and attracting 1,660 exhibiting companies occupying more than 645,000 net square feet of space, completely filling the Sands Expo.
Camillus and DMT are two of those outstanding and growing exhibitors for which SHOT is their main marketing event of the year. The 40th edition of the show was a hit for both brands with plenty of new orders and sales leads. Camillus and DMT are growing strong in the US and Europe, and thanks to the new products introduced at SHOT growth is bound to continue in 2018. Recommendation BUY.