Transformed Ironclad All Set For Growth in 2015
Ironclad Performance Wear (ICPW – $0.29), a leader in technical, task-specific, and performance work gloves, has gone through a complete transformation the past few quarters. It has streamlined its operations, favorably renewed existing agreements and formed new partnerships, which will soon result in many new product introductions.
Since Jeff Cordes took the helm at Ironclad in February 2014, the Company focused on rebuilding its largest accounts, developing better products, leveraging its marketing to create compelling products that retailers want, building a capable sales team, and expanding the supplier base of manufacturers nearly four-fold.
All these efforts have positioned the Company to be more competitive and ready for substantial growth in 2015 and beyond.
New Partnerships & Agreements
Late October 2014, Ironclad entered into an exclusive agreement with Vibram Corporation for the development of advanced protective and performance hand wear using Vibram technologies.
Vibram, founded in 1937, is an Italian company that both manufactures and licenses the production of Vibram-branded rubber outsoles for footwear. The company is named after its founder, Vitale Bramani, who invented the first rubber lug soles for shoes, used on mountaineering boots. Today, Vibram is the world leader in high performance rubber soles, targeted to the outdoor, work, recreation, fashion, repair and orthopedic markets.
This is a tremendous opportunity to leverage the significant technology base Vibram has developed to set new standards for protective and performance hand protection. The first, highly anticipated, gloves from this cooperation are expected to be launched in the fall of this year.
And a few weeks ago, Ironclad signed a deal with Williamson-Dickie Europe (Dickies), a global leader in the supply of complete head to toe personal protective equipment solutions for the oil and gas industry.
The two companies have introduced a new line of performance hand protection for the international oil and gas markets, co-branded under the Dickies and Kong trademarks. Kong is a registered trademark of Ironclad and a highly respected brand in the oil and gas market. The new co-branded line, which has been under development for nearly a year, is stocked and offered by Dickies' extensive network of 48 international distributors outside of North America.
Earlier this year, Ironclad renewed the distribution agreement with its Australian partner Performance On Hand (POH), which is a leader in the marketing and distribution of performance and safety hand protection for Australia, New Zealand and surrounding regions.
The new ten-year agreement requires POH to achieve an average annual sales growth of 10% per year. Knowing that POH accounted for a majority of Ironclad's international sales in 2014, which were approximately $5.3 million, it's clear this is a very positive deal.
In addition, a new two-year supply agreement with 5.11 Tactical was signed. This extends the long relationship between the two companies for the production of high performance tactical gloves. 5.11 is a leading supplier of apparel and gear designed specifically to enhance the safety, accuracy, speed and performance of military and public service professionals and enthusiasts worldwide.
Financials
Despite 2014 being a transitional year for Ironclad, its financial results kept up well. Net sales for the fiscal year, ended December 31, 2014, were $24.3 million, representing a 1% decrease from 2013 net sales of $24.5 million.
Note that 2014 revenues would have been down 10% due to the loss of a license with Snap-on, if the new sales team, which only started in June 2014, hadn't pursued and booked over $2.5 million of new business.
Net Income for 2014 was $934,000, or $0.01 per share, as compared to a net income of $561,000 or $0.01 per share, in the prior year. Two one-time items in 2014 have to be taken into account. First, there was an operating expense of about $600,000 related to the Company's relocation from California to Texas, including severance, re-staffing and move related costs. In addition, the Company recorded a deferred tax benefit of $760,000 in 2014 and $214,500 in 2013.
Jeff Cordes, Chief Executive Officer of Ironclad commented; "There is no doubt that 2014 has been a rebuilding year at Ironclad. Our focus has been to build better relationships with our largest partners, return to our technology heritage, and improve our supply chain, merchandising and sales capabilities, all to position the Company to be more competitive in 2015.
Three Months Ended
December 31

Twelve Months Ended
December 31

Amounts in $000's

2014

2013

2014

2013

Net Sales

9,157

10,066

24,284

24,531

Net Income

2,110

1,309

934

560

Earnings Per Share

0.03

0.02

0.01

0.01

Most important income statement data for the quarters and twelve months ending December 31, 2014 and December 31, 2013. Source: Company Filings
Growth Drivers for 2015 and Beyond
We foresee sales and earnings growth for Ironclad in 2015 and increasingly so in the following years. The glove market is sizeable and there are plenty of opportunities for Ironclad to increase its domestic and international distribution. The Company has plenty of agreements in place that should all contribute to its success.
The deal with Dickies Europe, for example. Almost a year ago, the Company started working on a co-branded line of gloves with the international oil and gas division of Dickies. Since the actual launch of the gloves, in January 2015, nearly $1.4 million worth of orders were booked. We expect continued growth from this new partnership during 2015.
Ironclad's largest customer Orr Safety, is looking to expand its sales team. The two companies are also working together to drive new business across several sectors under a common brand.
Performance On Hand, Ironclad's second largest customer, has a growing relation with Bunnings, the largest DIY home improvement chain in Australia. This could substantially increase Ironclad's business. The new ten-year distribution agreement includes significant growth commitments by POH that further demonstrates their belief in the Ironclad brand and the opportunity for expansion in their region.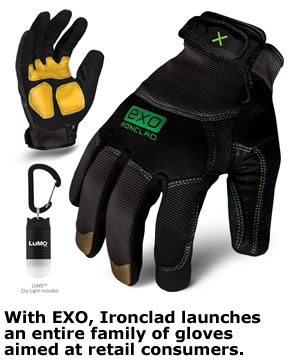 During the fall of 2014, Grainger, another important Ironclad customer, reduced its glove supplier group by more than 50%. Ironclad, thanks to its excellent product mix, was selected and now expects an expansion of its business with Grainger.
And for the first time, Ironclad will be launching an entire family of gloves called EXO, which are aimed at retail consumers. In the past six months, the Company's team has developed more than fifteen new glove styles that combine Ironclad's famous durability fit and function with a lower entry level price point.
The innovative collection was well received by retailers and first purchase commitments have been secured. The entire new collection can be seen at ironcladexo.com.
Conclusion
The improved agreements with Orr Safety, 5.11 Tactical and Performance on Hand, and the new partnerships with Dickies and Vibram, will open many markets for Ironclad.
Although financial results may fluctuate the coming quarters, the Company expects sales to grow 10% to 15% in 2015. We further expect efficiency improvements to increase margins. Beyond 2015, we foresee accelerated growth. Buy Recommendation.
Note that we'll be conducting an audio interview with Mr. Cordes in a few weeks.