Tecogen Paves Way for Robust Growth in 2016
In the first full year as a public company, Tecogen (TGEN – $3.77), which manufactures, installs and maintains industrial and commercial cogeneration systems, grew its revenues from $19.3 million in fiscal year 2014 to $21.4 million in 2015, an increase of 11%. At the same time, its sales backlog grew by 17% to $11.6 million.
Tecogen's gross margins in 2015 were 35.6%, compared with 33.1% in 2014, a 250 basis points year-over-year improvement. In the fourth quarter on 2015, gross margins even reached 37.4%, well above the Company's goal of 35%. This success is expected to continue in 2016.
Although Tecogen's progress in 2015 from a financial standpoint was strong, the Company also paved the way for accelerated growth in coming quarters. For example, the recent partnership with a gas company to market and sell Tecogen's machinery in its area of operation. The intention is to close many similar deals with other gas company partners. Also, the latest Combined Heat & Power (CHP) unit, the InVerde e+, which distances the Company even further from the competition, should contribute tosales growth. The fundamental economics of CHP, such as high electric rates, low gas rates, and grid resiliency concerns continue to be in the Company's favor.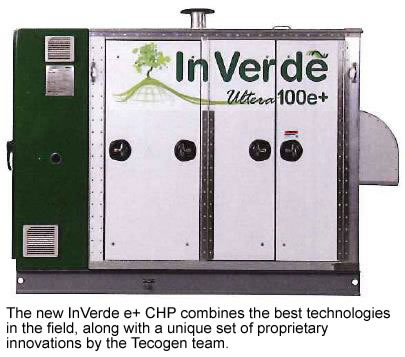 Furthermore, we expect significant news in 2016 from the stationary emissions aftertreatment market. Tecogen originally developed and patented the Ultera low-emission control technology, which reduces the emissions of pollutants contributing to smog (NOx, CO, and hydrocarbons) to near zero levels, for its own CHP products. However, a couple of years ago, it decided to make the technology available for retrofit on non-Tecogen equipment as well.
Finally, we're very excited about Ultratek, a joint venture with a group of strategic investors, to test, verify and develop the Company's Ultera technology for vehicular applications. Adapting the Ultera low emissions system to the automotive industry represents an exciting and potentially game changing market for Tecogen. The prospect of gasoline engine vehicles, operating with standard engine technology, but realizing fuel cell like emissions is tremendously compelling from a policy and market standpoint. Good progress is being made in the area, and phase I testing by AVL North America is set to begin next week.
Fiscal Year 2015 Financials
Tecogen's net sales for the year ended December 31, 2015 were $21.4 million, compared to $19.3 million in 2014, an increase of 11%. Gross profit increased to $7,633,226 for 2015 compared to $6,399,064, an increase of 19%.
Machine sales in 2015 grew 16.6% to $10,055,237 versus $8,625,034 in 2014. This solid performance was mainly driven by strong sales of cogeneration equipment, posting over 45% growth in sales in this category over the prior year. This again demonstrates the Company's strong market traction of its InVerde CHPs. Similar strong sales are expected from the newly launched InVerde e+.
Besides selling machines, which in many cases are one-off deals, Tecogen generates plenty of revenues through service contracts, which is a reliable and growing part of the Company's total sales. Service revenues in 2015 were $11,387,420, up 6.2% compared with $10,717,630 in 2014.
Equally as important, gross margins for both product and service revenues climbed considerably in 2015. Product margins improved by 260 basis points to 29%, as a result of ongoing cost saving initiatives and product price adjustments. While service margins improved by nearly 300 basis points to 41.4%.
Because service margins are higher, Tecogen is intensifying its efforts in that area. It has established a sales office in Florida to serve the southeastern United States and the Caribbean, bringing the total number of sales offices in the United States to four.
Fiscal Year Ended
December 31

Amounts in $000's

2015

2014

Product Revenues

10,055

8,625

Service Revenues

11,387

10,718

Total Revenues

21,443

19,343

Cost of Goods Sold

13,809

12,944

Operating Expenses

10,277

10,102

Income (Loss) From Operations

(2,643)

(3,703)

Other Income (Expense)

(158)

(168)

Pre-Tax Income

(2,801)

(3,871)

Profit Non-Controlling Interest

74

125

Net Income (Loss)

(2,727)

(3,746)

Earnings (Loss) Per Share

(0.16)

(0.24)

Shares Out. – Diluted

16,860

15,608

Most important income statement data for the fiscal years ending December 31, 2015 and December 31, 2014. Source: Company Press Release
Noteworthy is that despite the 11% sales increase, operating expenses have hardly risen in 2015. Also in 2016 it remains one of management's key goals to tighten and decrease spending.
Backlog of equipment and installations was $11.6 million at year end 2015 compared to $9.9 million at the end of 2014, a 17% increase. As of March 21, 2016 the backlog stands at $12.2 million, well ahead of the Company's ongoing goal of backlog above $10 million. Note that the backlog number doesn't include service contract revenues, which were more than 1/3 of TGEN's revenues in 2015.
Balance Sheet as of December 31, 2015
Tecogen finished 2015 with close to $5.5 million in cash. In June 2015, it secured a two year $2 million line of credit from its founder and Co-Chief Executive Officer, John Hatsopoulos. That funding was following in August of this year when it sold in a single transaction 1.25 million shares of common stock at $4.00 for a total raise of $5,000,000. Thanks to these funds, Tecogen is well positioned to fund ongoing operating expenses and future growth initiatives. Similarly, in conjunction with the launch of the Ultratek joint venture, Tecogen raised a further $3 million via private placement, solidifying the balance sheet.
Consolidated working capital on December 31, 2015 was $14,027,370 compared to $7,217,583 at December 31, 2014, a strong increase of $6,809,787. Tecogen has a very solid current ratio of 3.61.
Amounts in $000's

December 31, 2015

December 31, 2014

Cash and Cash Equivalents

5,486

1,186

Accounts Receivable

5,287

4,750

Inventories

5,683

4,090

Total Current Assets

19,403

12,309

Property and Equipment

544

658

Intangible Assets

1,045

1,011

Total Assets

21,091

14,122

Accounts Payable

3,312

2,416

Accrued Expenses

1,067

1,008

Total Current Liabilities

5,376

5,091

Long Term Debt

273

207

Promissory Note

3,000

3,000

Total Liabilities

8,649

8,298

Total Stockholder Equity

12,442

5,823

Most important balance sheet data for the periods ending December 31, 2015 and December 31, 2014. Source: Company Press Release
Ilios Acquisition
Tecogen also announced that it plans to acquire the minority interest in heat pump subsidiary Ilios Dynamics in exchange for Tecogen common stock. At this moment, the Company owns 65% of Ilios. Its initial goal is to acquire at least 90% via the exchange offer, after which a squeeze-out of the remaining Ilios shareholders can be initiated.
The Ilios high-efficiency water heater products operate like an electric heat pump, but use a natural gas engine instead of an electric motor to power the system. Heat pumps work somewhat like a refrigerator, but in reverse. Refrigerators extract heat from inside the refrigerator and move it outside the refrigerator. Heat pumps extract heat from outside and move it indoors.
The timing for this initiative couldn't have been better, as Ilios' market continues to expand geographically with sales to the UK, Atlanta, Hawaii, New York City, and Puerto Rico. In addition, the water heaters are gaining traction in new market segments, with initial sales to the hospitality and medical markets. In fact, the number of Ilios units sold more than doubled in 2015 compared with 2014.
Conclusion
Tecogen's proprietary cogeneration technology, which improves efficiency, emissions, and grid resiliency, is truly disruptive to the traditional methods of heating, cooling, and powering buildings and infrastructure.
In addition, there's an increasing global emphasis on environmentally clean technologies, and emissions regulations are set to become stricter worldwide. Because Tecogen's Ultera low-emission control technology is the only system in the world which reduce harmful emissions to near-zero levels, the Company is bound to benefit significantly.
These trends are already visible in the Company's financials. We're convinced that with the launch of the new InVerde e+ and the expansion of the sales efforts these results will continue to improve.
Finally, it's obvious that any breakthrough with the Ultera in the automotive market will result in a paradigm shift for both the auto industry and Tecogen. Buy recommendation.