Tecogen JV Wins First Order
Only a couple of months after Tecogen (TGEN – $5.04) formed a 50/50 joint venture corporation with the Czech CHP manufacturer TEDOM, it has won its first order. The sale is for a TEDOM Micro 35 kW Combined Heat and Power unit, which will be installed in a 138 unit multi-family residential building in Brooklyn, NY.
"With a less than 3 year payback period after incentive rebates and annual savings estimated to be in excess of $60,000, the Micro 35 kW unit is a natural fit for this building," said Benjamin Locke, co-Chief Executive Officer of Tecogen.
The compact natural gas powered unit – it has dimensions of only 76.8" L x 64.8" W x 72.3" H – is able to serve nearly the entirety of the building's domestic hot water load while also producing between 40% and 60% of the building's electric demand. In addition, the 'blackstart' capability of the Micro 35 allows it to provide power to the building in case of a blackout.
The JV, coined TTcogen LLC, offers a complete package of 27 different CHP modules, ranging in size from 35 kW up to 4 MW. It is in fact the premier packaged CHP provider with the widest range available in the United States.
Very interesting to know is that this customer had been approached in the past by Tecogen, but it turned out that the building was undersized to install a Tecogen CHP, which comes with an output of between 60 kW and 100 kW. Now, thanks to the expanded TEDOM offering, a perfect solution could be offered. So this was basically a lost opportunity that was turned into a sale thanks to the JV.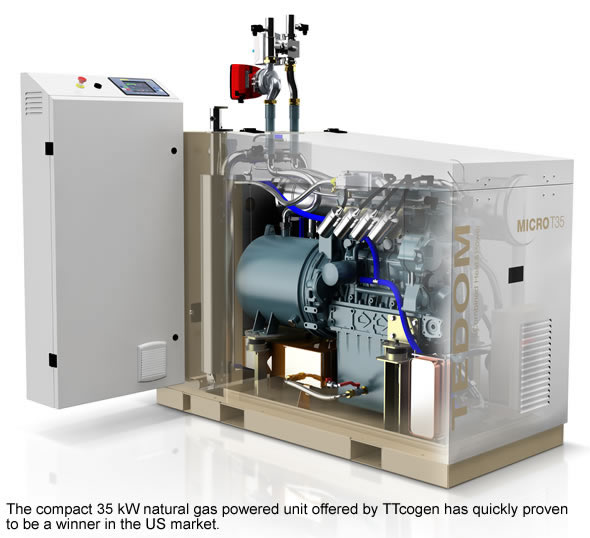 The cost of the 35 kW CHP wasn't mentioned for competitive reasons, but we understand a full service contract was included in the deal. Also good to know is that both the installation cost and the maintenance rate per hour for the 35 kW machine is about equal to other Tecogen CHP units.
Additional Funding for Tecogen and Ultratek
In other news, Tecogen received $2.7 million in new financing via the exercise of warrants, and another 50/50 JV of the Company, called Ultra Emissions Technologies Ltd. (Ultratek), raised $4 million.
Ultra Emissions Technologies Ltd, known as Ultratek, is a 50/50 joint venture company formed in December 2015 and incorporated in the Island of Jersey, Channel Islands. The company's mission is to develop and adapt Tecogen's patented Ultera ultra-low emissions control technology for vehicular applications.
When Tecogen, along with a group of private partners, established Ultratek late 2015, the investors received warrants to purchase 900,000 shares of Tecogen's common stock at a $4 strike price. 675,000 of those warrants have now been exercised for a total amount of $2.7 million. The remainder of the warrants expired unexercised as of July 28th, 2016.
Those same private investors also invested an additional $2 million in Ultratek. Tecogen invested the same amount to maintain its 50% ownership interest in the automotive emissions venture.
This funding again proves that all of the Ultratek partners have strong confidence in the excellent test results that were released a few months ago. These results show that the non-invasive Ultera system reduces levels of carbon monoxide emitted from a gasoline powered test vehicle by as much as 90 percent during simulated driving cycles prescribed by federal regulations for vehicle certification. In addition, Ultera decreases levels of non-methane hydrocarbons (NMOG) by as much as 80 percent. A truly outstanding performance!
Conclusion
The swift initial order for TTcogen is an important event. It shows that there's a strong demand in the market for CHP units with an output that is either smaller or bigger than what Tecogen was able to offer before the joint venture with TEDOM.
In the past, Tecogen often received inquiries from potential clients who ended up not buying a CHP unit from the Company because its existing equipment didn't have the appropriate size for the customer's facility. Consequently, we expect TTcogen to receive plenty more sales orders in the following months.
The financing of both Tecogen and Ultratek is obviously excellent news. Although the funds weren't really needed it never hurts to improve the cash balance. In addition, Ultratek now has the financial flexibility to rapidly pursue a wide range of development options and potential partners.
Needless to say that continued positive news from Ultratek will be a massive game changer for Tecogen. We expect to hear an update about the JV's progress on Wednesday when Tecogen announces its second quarter results.
We first recommended Tecogen at $3.68 late 2015. Although that's an attractive return of 37% in about 8 months, we feel that the Company and its stock price have only begun their upward trend. Buy recommendation.