Tecogen Core Business Performing Strongly While Fork Truck Opportunity Takes Big Step Forward
During the second quarter, ended June 30, 2018, Tecogen (TGEN – $3.25 & Fra: 2T1 – €2.72) again considerably advanced both its core business and its promising fork truck emissions application. Revenues in the second quarter reached $8.45 million, up more than 11% compared with sales of $7.59 million in the second quarter of 2017.
This solid result brings the Company's trailing four quarter revenues to a record level of $37.4 million, an increase of almost 33% compared to $28.2 million for the same trailing four quarters period a year ago. While Tecogen's quarterly results may fluctuate due to seasonality or the timing of shipments, the trailing data gives a true picture of the Company's progress.
Tecogen's net loss for the three months ended June 30, 2018 was $754,350 compared to a loss of $517,899 for the same period in 2017, a difference of $236,451. The higher loss was due to a number of reasons. First, the Company invested heavily in research and development activities. These costs for Q2 2018 amounted to $410,000 compared to $219,000 for the same period in 2017, an increase of $191,000.
Additionally, selling expenses increased $28,000 year-over-year as Tecogen continues to grow sales activities. Finally, general and administrative expenses included an additional loss of $236,000 year-over-year, as Q2 of 2018 included a full quarter of American DG Energy's (ADG) operations, while only about six weeks were included in Q2 of 2017. This was due to the fact that ADG was acquired by Tecogen in the middle of the second quarter of last year.
Gross margin for the quarter was 37.4% compared to 39.3% in the second quarter of 2017, well within management's targeted 35-40% gross margin range.
The Company's sales backlog of equipment and installations stood at $14.2 million at the end of the second quarter and a whopping $21.3 million this week. A new all-time record for Tecogen. The solid backlog is mainly driven by strong traction in the InVerde and TECOCHILL product lines and installation services.
Note that the backlog does not include service contract revenues, nor does it include ADG's estimated undiscounted future energy production revenue, which exceeds $50 million, stretching over the next 15 years.
Tecogen's Chief Executive Officer Benjamin Locke commented, "The second quarter of 2018 continued our trend of positive revenue growth quarter-over-quarter. We are seeing a strong uptick in demand for our Tecochill natural gas chiller systems as well as our flagship Inverde product. While we did not achieve full profitability for the quarter, we expect our strong backlog of over $20 million to drive profitability in future quarters."
Second Quarter Financials and Balance Sheet
Product revenue decreased 20.3% from the same period in 2017 primarily due to timing of equipment deliveries. In the first half of 2018, chiller sales increased 95% over the first half 2017. Moreover, the current chiller backlog has increased to a record $6.1 million. The chiller backlog is expected to continue to increase as TECOCHILL has become the basis of design for many indoor grow facilities.
Service revenue grew 20.6% year on year, benefiting from increasing penetration in service contracts and favorable operating metrics for the installed fleet. Continued penetration of the Company's 'turnkey lite' offering, which includes custom value-added engineering design work, as well as custom factory engineered accessories and load modules, has been a good source of services revenue growth and is expected to continue to develop as an important revenue stream.
Note that Product Revenue is derived from the sale of the various cogeneration and chiller units. Because the equipment is built to last 20 or more years, most of the product sales are to first time customers. The Company's Service Revenue, however, lends itself to recurring revenue from long-term maintenance contracts, which provide the Company with a somewhat predictable revenue stream.
Energy production revenue from the sites of American DG Energy, contributed $1,508,225 to the quarterly result. This is up almost 95% compared with last year's second quarter, which is logical as ADG was acquired in Q2 of 2017.
Three Months Ended
June 30

Six Months Ended
June 30

Amounts
in $000's

2018

2017

2018

2017

Product Revenues

2,484

3,116

6,157

5,924

Service Revenues

4,461

3,700

9,181

7,740

Energy Production

1,508

774

3,291

774

Total Revenues

8,453

7,591

18,629

14,437

Cost of Products Sales

1,492

1,966

3,901

3,723

Cost of Services Sales

2,962

2,307

5,745

4,483

Cost of Energy Production

840

331

1,985

331

Total Cost of Sales

5,294

4,604

11,631

8,536

Gross Profit

3,160

2,987

6,997

5,901

Total Operating Expenses

3,796

3,232

7,563

6,069

(Loss) from Operations

(636)

(245)

(565)

(168)

Net Income (Loss)

(754)

(294)

(734)

(249)

Earnings (Loss) Per Share

(0.03)

(0.01)

(0.03)

(0.01)

Shares Out. – Diluted

24,818

23,120

24,811

21,588

Selected income statement data for the quarters and six months ended June 30, 2018 and June 30, 2017. Source: Company Filing
It should be noted that the Q2 2017 calculation of loss per share excludes the effect of the unrealized loss on investment securities, giving rise to the comprehensive loss in that year.
Product gross margin was 39.9% for the second quarter of 2018 compared to 36.9% for the second quarter of 2017. Product gross margin was primarily helped by the materials and supplier arrangements put in place in previous quarters.
Service gross margin declined to 33.6% in the second quarter of 2018 compared to 37.6% for the second quarter of 2017. Installation projects, which carry a lower margin than service maintenance contracts, were a higher percentage of the product mix as compared to the same period last year, bringing the overall service margin down on a comparative basis.
Energy production gross margin for the second quarter of 2018 was 44.3% compared with 57.3% in the previous year's second quarter, which was an exceptionally strong quarter. The energy production gross margin is expected to fluctuate due to seasonality.
On a combined basis, operating expenses increased to $3,795,880 for the second quarter of 2018 from $3,232,479 in the same quarter of 2017. As mentioned above, an increase in research and development expenses of 87.3% to $409,779, and selling expenses which rose 4.6% to $635,396, along with the consolidation of American DG Energy's core overhead accounted for the majority of this increase.
Amounts in $000's

June 30, 2018

June 30, 2017

Cash and Cash Equivalents

1,015

3,318

Accounts Receivable

11,441

8,868

Inventories

5,534

6,100

Total Current Assets

23,386

22,727

Property and Equipment

11,361

15,725

Intangible Assets

2,951

2,098

Goodwill

13,366

12,571

Total Assets

51,472

55,586

Revolving Line of Credit

2,558

–

Accounts Payable

4,962

4,502

Accrued Expenses

1,946

1,900

Total Current Liabilities

11,270

8,461

Promissory Note

–

3,149

Unfavorable Contract Liability

6,783

10,304

Total Liabilities

18,372

22,364

Total Stockholder Equity

32,647

32,735

Selected balance sheet data for the quarters ended June 30, 2018 and June 30, 2017. Source: Company Filing
On May 4, 2018, Tecogen entered into a Credit Agreement with Webster Business Credit Corporation, providing the Company with a line of credit up to $10 million on a revolving secured basis, with availability based on certain accounts receivable and inventory balances.
Current assets at quarter end of $23,385,930 were more than double current liabilities of $11,270,213 which resulted in a solid current ratio of 2.07. Current liabilities as of June 30, 2018 included $2,557,817 of short-term debt on the revolving line of credit with Webster.
Major Breakthrough in Fork Truck Market
Early 2017, Tecogen began a research program, funded by the Propane Education and Research Council (PERC), to demonstrate the effectiveness of its Ultera emissions systems on propane fueled fork trucks.
The project had significant potential for the industry, as these vehicles generally operate indoors, where health concerns are magnified. In recent years, the market share for propane fork trucks has been eroded, while battery-operated versions have taken over, mainly because of this issue.
Given these regulatory market drivers, the Company secured a commitment from a major fork truck manufacturer to support the Tecogen engineering team and to supply a fork truck for testing. The initial results from these emissions tests were superb.
In the conference call, following the release of the second quarter results, Tecogen's management mentioned that it successfully demonstrated its near-zero emissions propane fork truck to engineers from the manufacturer and several managers from PERC.
The manufacturer has meanwhile informed the Company that it wants to proceed with the program. The manufacturer will now provide engineering support to enhance the prototype, which will be followed by its relocation to their facility for evaluation on their test track.
In addition, Tecogen will present a scientific paper describing the program and the emissions reduction results at the WORLD LPG Forum early October, in Houston, Texas. This is an excellent opportunity for the Company to showcase its the exceptional technology at the premier global event for the LPG industry.
Strengthening Patent Portfolio
Tecogen also announced this week that it was granted a US patent for a customized catalyst formulation developed for its Ultera emissions reduction process. The patent covers the material composition and manufacturing method used in its production. This material provides excellent performance while being impervious to corrosion in applications where the engine fuel contains significant contaminants such as sulfur and phosphorus.
This is a very important piece of the Ultera technology as many important fuels, including natural gas, gasoline, propane and biofuels have significant impurities which generate corrosive emissions that degrade unprotected emissions control catalysts. Testing over multiple years has demonstrated its effectiveness in extending the longevity of our catalysts.
Conclusion
Tecogen's management team is step by step building a robust clean energy company. Although bottom line results still fluctuate somewhat, the trend is clearly upwards.
The core business continues to grow with ever more installations and service agreements. The Company's technology advancements are impressive, and so is the resulting patent portfolio.
The first of several blue sky opportunities is getting closer to fruition, as the Ultera equipped fork truck offers the best of both worlds: near-zero emissions and sustained peak performance levels. Also the Ultera for the automotive market continues to progress.
Tecogen's InVerde cogeneration fleet hit a milestone in the past quarter, as it surpassed 3.5 million hours of operation since its introduction in 2008. Tecogen has now more inverter-based natural gas engine cogeneration systems in operation than any other manufacturer in the US.
This trend will only accelerate, as the Company's 60 kW and 75 kW CHP systems were recently upgraded resulting in a 5% increase in electrical efficiency, reduced gas pressure requirements, and 5 dBa decrease in noise level. The Tecopower line now offers the highest savings and quietest operation of any competitive product. In addition, they emit near-zero emissions, thanks to the exclusive Ultera system. The Company anticipates a strong market response to the upgraded product line.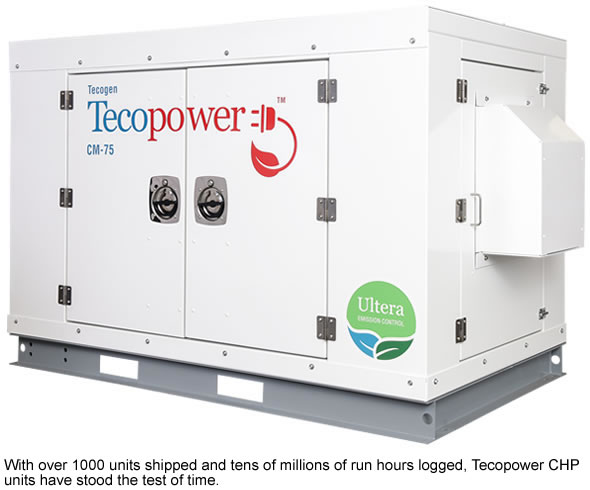 Moreover, in response to the overwhelming success of the TECOCHILL product family at grow operations, ice rinks and other HVAC cooling projects that are hampered by high electricity bills, the Company is exploring the potential for expanding its gas engine cooling technology. Many large HVAC systems depend on circulated refrigerants to accomplish comfort cooling and/or sub-zero cooling. In such cases Tecogen's TECOCHILL products aren't good fits.
However, Tecogen is evaluating resurrecting its natural gas engine refrigerant cooling product. This product was developed and deployed between 1998 and 2003. Manufacturing of the product line was halted when gas prices increased. Reviving this technology, at today's much lower gas prices, would have a tremendous and immediate industry benefit particularly for projects with high electric operating cost because incumbent electric refrigerating systems are simply too expensive.
The system would have a wide range of applications, including cold food storage, ice production, food processors, breweries, dairies, wineries, pharmaceutical, and industrial companies. Moreover, the Company is already working with many of the engineering firms that are involved in large scale industrial cooling projects, so the channels to market are already well established.
The strong overall demand for the Company's products is demonstrated by its sales backlog of $21.3 million, driven by strong traction in both the InVerde and Tecochill product lines, and installation services.
Ben Locke said it best during the Company's Conference Call, "I am very happy with how Tecogen is positioning itself for the coming years. Our fundamental business is strong and growing. Our product advantages are well understood and embraced by the industry. And our emissions technology offers tremendous upside and value creation for our shareholders. It is a great time to be a Tecogen shareholder, and I hope to continue our tremendous achievements throughout the rest of the year."
Recommendation: BUY.