Synodon Inc. Realizes Triple-Digit Sales Growth With Pipeline Leak Detection Technology
Synodon Inc. (TSXV:SYD – $0.14) is a technology Company that has developed an advanced airborne remote gas sensing system called realSens. The instrument, attached to a helicopter flying at an altitude of up to 1,000 feet (approximately 300 meters), is capable of detecting ground-level liquid and gas occurrences, making it ideally suited for oil and gas leak detection.
Although Synodon is a relatively new player, it's getting traction in the oil and gas pipeline leak detection market. In fiscal year 2014, ended October 31, 2014, its revenues climbed 186%. And during the fourth quarter of 2014, the Company generated a positive net income for the first time. In addition, it has signed several renewal and expanded contracts the past few months.
In fiscal 2014 Synodon surveyed 28,853 kilometers of pipeline, which is only a fraction of the potential North American market. The Company, so far, has performed pipeline surveys for companies such as Encana Corporation, Suncor Energy, Nova Chemical Corporation, Atmos Energy Corporation, Access Midstream Partners, etc. The potential market is enormous relative to Synodon's existing client base.
The Company's realSens technology was developed under the Canadian Space Program and by Synodon scientists. The instrument contains a high definition photographic camera, a thermal camera, laser altimeter, GPS/INS system, on-board computer, control unit, power supply and an in-cockpit display system.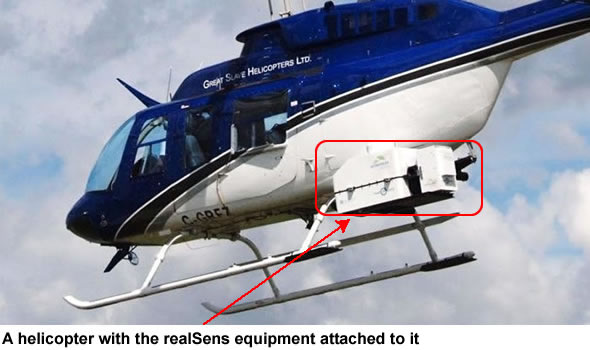 The realSens technology has plenty of features that attract oil and gas pipeline operators:
Inspections can be completed 40 to 60 times faster than ground based foot-patrols using instruments that need to physically encounter hydrocarbon gasses to enable detection;
The realSens instrument's 200 feet (60 meter) field of view at an altitude of 1,000 feet (300 meters) allows it to detect leaks over a wider corridor than ground deployed and aerial solutions, which employ unpractical sniffers that have to physically make contact with a gas plume;
The instrument's field of view is also wider than current commercial airborne laser based technologies, thus increasing the probability of leak detection;
Post-flight data processing decreases the likelihood of false positives as analysts review each potential leak indication and search for possible sources of the gas signatures other than a pipeline breach.
Additional Services
Next to leak detection, Synodon offers several additional airborne services to operators of oil and gas pipelines, such as:
Pipeline threat assessment: photographic images collected during flight are used to identify potential threats to network safety due to human or natural incursions.
Right-of-Way (RoW) change and slope analysis: changes to a RoW can be monitored over time for evidence of ground movement due to factors such as excavation or erosion.
Tree canopy encroachment: vegetation encroachments along a RoW are identified to ensure compliance with regulatory requirements.
Water crossing analysis: profiles and slope analyses are created from photographic images for pipeline water crossings.
Offering these additional services allowed the Company to increase its revenue from certain customers beyond pipeline leak detection, and assisted in revenue growth during fiscal 2014.
Financials
The Company's revenues have been very seasonal in the past two years, with 82.5% and 85% of total revenues being generated in the second half of fiscal year 2014 and 2013 respectively. This seasonality is due to limited market penetration and the still small number of existing clients. Synodon intends to change this by growing its revenues.
First Quarter
Ended January 31

Fiscal Year
Ended October 31

2015

2014

2014

2013

Net Sales

363,771

104,252

2,084,551

729,172

Net Income (Loss)

(487,632)

(687,926)

(1.279,092)

(2,003,903)

(Loss) Per Share

(0.01)

(0.01)

(0.02)

(0.03)

Most important income statement data for the First Quarter ended January 31, 2015 and January 31, 2014, and Fiscal Year ended October 31, 2014 and October 31, 2013. Source: Company Filings
Although Synodon reported a loss in the first quarter of fiscal 2015, ended January 31, 2015, the strong revenue increase is obvious. During 2014 all surveys in Canada were performed on a smaller, more efficient helicopter and experience gained during the past several years contributed to better flight planning and more rapid data analysis.
Another contribution to the increase in gross margin was the increased volume of work completed in Q4-2014. This was the first quarter in the history of the Company during which logistical and operational efficiencies were possible. In the past, the sparse workload forced the Company to incur and absorb mobilization and other costs associated with underutilization of equipment and personnel. This immediately gives an indication of Synodon's potential, even when the number of customers is only slightly increased.
Adrian Banica, President and CEO of Synodon commented: "We are very pleased with the progress we made the past year. Growth was achieved by expanding the number of kilometers flown for our existing clients and by introducing new services to those clients. In the last two quarters of the fiscal year, historically the busiest part of the year, our realSens unit was utilized nearly full-time, and we have ordered two additional instruments to support our growth objectives for the current year."
To support its growth and improve its balance sheet, Synodon closed a $3 million bridge loan facility with Cranberry Capital Inc. in April 2015. The Bridge Loan bears interest at 12% per annum and has a maturity date of March 31, 2016.
realSens Technology
Oil and gas pipeline leak detection forms the core of Synodon's services and is made possible by the Company's realSens instrument. The underlying technology was originally developed by the Canadian Space Agency and the University of Toronto for an instrument that has been in service on-board NASA's Terra polar orbiting satellite since 1999. In 2002 Synodon acquired the technology and has since developed the commercial realSens gas sensing instrument. Synodon currently holds 7 patents in the US, Canada and the European Union that cover physical aspects of the instrument, its application for pipeline leak detection and certain proprietary data algorithms.
During October 2014 Synodon and Suncor Energy presented a joint paper at the International Pipeline Conference in Calgary, Alberta describing the ability of the realSens instrument to detect gas plumes evaporating from liquid hydrocarbon pools flying at an altitude of approximately 300 meters. The paper was based on a test performed in April 2014. The gas plumes were detected with 95% reliability for vapour rates of between 0.03 and 0.05 liters per minute, which correlates theoretically to an oil leak of between 5 and 10 barrels per day, or less than 0.005% of the flow rate of a medium sized, 100,000 barrel per day, pipeline.
While this was a controlled test with a theoretical extrapolation, it demonstrates the viability of using the realSens instrument for early detection of oil pipeline leaks. Subsequent to the controlled test, Suncor Energy contracted the Company to provide leak detection surveys for its oil pipelines in Canada.
New Contracts
Just last week, Synodon signed a 3-year contract with an existing customer for realSens integrity services covering the customer's oil pipeline infrastructure as well as their smaller natural gas network. The new contract expands the frequency of surveys from one to three times per year and is testament to the market's adoption of Synodon's leak detection offering. The value of the contract could exceed $750,000 over the 3-year term.
Earlier this year, a U.S. based customer re-signed a realSens pipeline integrity services contract for a 3-year term, following an initial 1-year service contract that was concluded in December 2014. This new contract requires quarterly (or bi-annual for some sections) survey flights for the customer's Barnett shale gas gathering pipeline infrastructure. Other sections of the Customers' network could potentially be added to the contract. The value of the 3-year contract is roughly CAD $1 million but could increase to more than CAD $1.5 million with the potential additions.
And in 2014, one of Synodon's clients, which had purchased realSens airborne integrity services through an initial contract in 2012, renewed its engagement of Synodon's services for their entire British Columbia gas transmission infrastructure. The surveys will cover roughly 2,600 kilometers of pipeline, a 4 fold increase over the initial contract.
All these contract renewals confirm Synodon's typical sales cycle where an initial contract for between 5 and 20% of a customer's pipeline network is usually followed by one covering close to 100% of the system within 1 to 2 years.
Conclusion
The pipeline industry is highly regulated to ensure the safety of people and the environment. Regulations require regular inspections and audits – including aerial or ground patrols – as part of pipeline monitoring programs. In North America there are more than 1.088 million kilometers of oil and gas pipelines that could potentially benefit from Synodon's services. Synodon has barely scratched the surface of this vast market.
The Company is adding new customers in North America, and existing ones are expanding their service contracts. In addition, a few months ago, Synodon and Aganova Grupo of Spain signed a collaboration agreement to jointly market Synodon's realSens services to Spanish pipeline operators, which combined manage around 60,000 kilometers of pipelines.
In order to meet the anticipated growth, the Company ordered two additional realSens units. In February 2015, Synodon also received good news from the Federal Aviation Administration (FAA) as it issued a Supplemental Type Certificate (STC) approving the installation of a realSens system on Bell 206B Jet Ranger type helicopters in the United States.
The receipt of this STC affords Synodon more operational flexibility. It can now use a short range helicopter (Bell 206B Jet Ranger) with lower hourly operating costs, for short flight segments and a long range helicopter (Bell 206L Long Ranger), which requires fewer fuelling stops, for longer flight segments. Thanks to this increase in efficiency, the Company expects a reduction in aviation costs, which should lead to better operating margins.
There are 84,347,033 shares outstanding as well as 3,500,000 options and 912,500 warrants. The stock's 52-week range is $0.12 to $0.335. We recommend you take an initial position in Synodon.