Strong Product Demand Leads to Third REV Machine Purchase by Bare Foods
The fourth quarter of 2018 has opened with a positive announcement by EnWave Corporation (TSXV:ENW – $1.45 CAD & OTC:NWVCF – $1.13 USD & Frankfurt:E4U – €0.94) as this week the Company reported the third 10kW machine purchase order by Bare Foods.
Bare Foods is the creator of delicious Snacks Gone Simple, including bare Apple Chips, Banana Chips, Coconut Chips, and new Beet Chips, Carrot Chips, and Sweet Potato Chips.
The two companies initially engaged in product development and testing using the Radiant Energy Vacuum (REV) technology at the EnWave research facility in 2017. Following the conclusion of a successful process to manufacture its line of healthy snack foods, Bare elected to purchase a 10kW REV machine early 2018 and agreed to a royalty payment structure for all sales using this technology.
Thereafter, as market demand for the Bare snacks continued to increase, the company ordered a second 10kW REV machine during the summer of 2018 to further increase production. Both of these machines are now installed, producing products, and generating royalties for EnWave.
Vast Distribution Potential Thanks to PepsiCo Acquisition
Bare snacks are sold in the United States, through grocery stores like Whole Foods Market, Sprouts, Safeway, and Publix as well as national retailers such as Target and Amazon. More recently, they have also become available at Costco and are selling very well.
Distribution of the Bare snacks are bound to significantly increase further as the company was acquired by food and beverage giant PepsiCo in May of this year. The direct consequence of this acquisition is that Bare now has access to PepsiCo's vast distribution network, which may boost sales. In fact, Bare has already indicated there may be further interest to purchase a larger REV machine as demand for its snack food line continues to increase.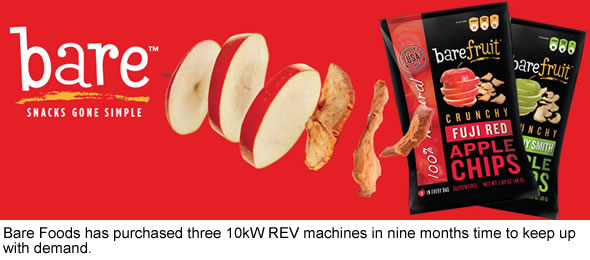 The reason behind the PepsiCo purchase is obvious. According to analytics firm Nielsen Retail Measurement Services, healthier snack food sales have increased by more than 12% in just the last four years within the United States. The industry has recognized this trend towards healthier food choices with organic content that are free of artificial sweeteners.
The commitment to invest in greater production capacity for the Bare snacks is therefore in line with the objectives of the new parent company PepsiCo, where the share of healthier snacks and beverages sold by the company now accounts for about half of its total revenues.
Conclusion
The full cycle sales process is integral to the business model for EnWave as the Company works to establish widespread adoption of its Radiant Energy Vacuum (REV) technology in a diverse range of sectors. The strategy to make inroads with strong companies that are participating in high growth markets, and then achieve equipment sales with royalty agreements that create long term revenue streams, is effectively illustrated by this partnership with Bare.
PepsiCo is one of the largest players in the snack food sector and the acquisition of Bare Foods was a strategic decision to expand its leverage into the healthier snack food market. The formidable nationwide distribution capacity of the new parent company, along with enormous marketing clout, will now add powerful factors to build much stronger sales growth for the Bare line. This in turn will support further growth in the royalty stream that EnWave receives as part of the license agreement.
Shares of EnWave were in high demand this week, as the price of the stock increased by more than 15%. Apparently, one or more institutional investors accumulating positions in the stock. Recommendation: BUY.