Strong Growth Catapults Auxilio to Top of Hospital Service Market
Auxilio Inc (AUXO – $0.95) provides outsourced Managed Print Services (MPS) and IT security consulting services to the healthcare industry in the United States. The Company takes full responsibility for healthcare customers' on-site print environment through situation assessment, process analysis, strategy development and program implementation.
Hospitals and health systems benefit from streamlined and aligned processes and infrastructure that result in print management programs that reduce cost, increase employee productivity and meet and exceed patient care standards.
Once contracted for MPS services, the Company assumes all expenses related to the production of documents in hospitals. Customers are charged on a per print basis, which covers the entire print management process and includes placement of a highly trained on-site resident team.
Auxilio serves nearly 220 hospital campuses in the United States and manages over 1.5 billion documents annually from over 90,000 devices supporting over 280,000 caregivers. Auxilio's Managed Print Services' business model is vendor independent, provides workflow solutions, and is a risk-free program with guaranteed savings for the customers.
In addition, through its Security Solutions Group, called Redspin, Auxilio provides security services and technologies to more than 140 U.S. hospitals. Redspin builds the foundation needed to ensure the confidentiality, integrity and security of patient health information (PHI). And its Delphiis application suite streamlines how hospitals and health systems perform annual and on-going risk assessments on their business associates, clinics, projects and hospitals.
Both in the first quarter, ended March 31, 2015 and the second quarter, ended June 30, 2015, Auxilio's revenues grew significantly with 35% and 50% respectively. Revenues increased by $8.84 million to $29.46 million for the six months ended June 30, 2015, as compared to the same period in 2014.
Although Auxilio is the only vendor neutral, health care exclusive MPS provider in the U.S., it faces competition from large photocopy/multi-functional digital device manufacturers such as Xerox, Canon, Konica Minolta, Ricoh and Sharp. Auxilio especially makes the difference by offering a cheaper, dedicated, and in-house service.
Recent New Contracts
Late July 2015, Auxilio announced a five-year, $16 million contract for Managed Print Services with Yale-New Haven Health System. The system includes three delivery networks: Bridgeport Hospital, Greenwich Hospital, and Yale-New Haven Hospital.
This contract covers more than 7,400 devices, including copiers, Multi-Function Device (MFD) printers, fax, thermal and label printers and scanners across more than 300 locations. The contract demonstrates the growing demand for Auxilio's unique MPS programs in large multi-location health systems.
And early August 2015, a $6 million MPS expansion contract was signed with a top 10 US health System. In 2005, Auxilio first implemented its MPS program in one of the local hospitals of the system and has grown to now serve four of the health system's five regions, representing over 5,000 beds and more than 50,000 employees. The addition of this contract demonstrates the growing demand for Auxilio's unique MPS program in large multi-location health systems.
"We are honored to expand our relationship with one of the top health systems in the country. This win, is a testament to our proven results in driving down costs year after year through print reduction and improved efficiencies for hospital systems," said Joseph J. Flynn, President and CEO of Auxilio.
As a result of all this new business, the Company is in the process of implementing over 80 new hospitals within its MPS segment, which is more than double the pace at which it has expanded at any time in its history.
Santa Rosa Memorial Hospital
Auxilio's business model, and benefits for all parties involved, will become even clearer on the basis of an agreement the Company closed with the Santa Rosa Memorial Hospital (SRMH) in California.
Although modern health care organizations have made worthy attempts to reduce the use of paper through e-records and sustainability initiatives, hospitals continue to generate millions of pages of print volume and are faced with escalating costs. A swelling array of printers, scanners, and multi-function devices, over-burdened staff, and inefficient workflow processes adversely affect the quality of health care provided to patients.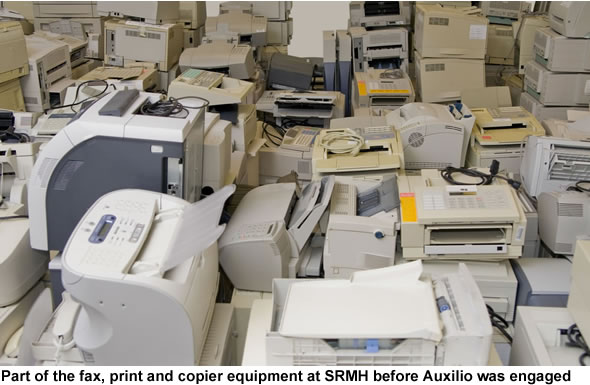 This was also the case at the Santa Rosa Memorial Hospital. For many years, the hospital had relied on a variety of manufacturers to provide and service print, fax and copier equipment. Given its dispersed operations, maintaining control over its print environment became a challenge for the hospital. Individual departments were accustomed to purchasing and maintaining their own equipment and operational costs continued to climb. Plus, many of the hospital's non-networked printers did not support the digital interoperability and workflow processes for Electronic Health Records (EHR) that SRMH was trying to achieve, driving up costs even further.
To resolve all these issues, SRMH made the strategic business decision to join the ranks of four other hospitals in the system and implement Auxilio's health care exclusive, vendor neutral MPS program.
Auxilio wasted no time assigning a team of print experts, led by a full-time, on-site Resident Manager. First, the Company analyzed the care facility's inventory of print devices, use, downtime, and costs for printing, faxing, copying and scanning in order to bring complete transparency to the process.
What Auxilio exposed was an ad-hoc inventory of more than 700 devices, many of which were never catalogued in the hospital's database nor met standards for productivity and functionality.
Over the course of one year, the number of total devices was reduced by nearly 30% and a built-in redundancy plan was configured for each area of the hospital. As a result, departments such as the ER that were experiencing repeat incidents, went from submitting five or more service tickets per week to less than one per month.
In addition, by educating hospital staff on the cost difference between black/white and color and setting all defaults to black/white, Auxilio reported a 19% decline in color utilization, which alone saves the hospital thousands of dollars per year.
Second Quarter Financials
For the three months ended June 30, 2015, the Company reported revenues of $15.6 million, an increase of 50.5% when compared to $10.4 million reported in the second quarter of 2014. Approximately $1.5 million of the increase is a result of the addition of new recurring service revenue contracts. The Company added approximately $1.6 million in service revenues and software subscriptions from the Company's IT Security Solutions offerings, in addition to an increase of $2.1 million in equipment revenue, compared to the same period in 2014.
The new business agreements have driven substantial revenue growth, but they have also increased the upfront expenses associated with bringing new facilities online, such as staffing up, optimizing the hardware component, and streamlining all the printing processes. These expenditures largely occur during the initial year of the contract, then abate with time.
Three Months Ended
June 30

Six Months Ended
June 30

Amounts in $000's

2015

2014

2015

2014

Net Sales

15,616

10,377

29,464

20,621

Net (Loss)

(649)

(13)

(682)

(84)

(Loss) Per Share

(0.03)

(0.00)

(0.03)

(0.00)

Most important income statement data for the quarters and six months ending June 30, 2015 and June 30, 2014. Source: Company Press Release
As a result of all the upfront expenses, net loss for the three months ended June 30, 2015 increased to $0.6 million, or $0.03 per diluted share, compared to a net loss of $0.01 million or $0.00 per basic and diluted share in the same period of 2014. As mentioned above, after the initial costs of the new hospitals have been absorbed, margins should improve significantly.
Amounts in $000's

June 30, 2015

December 31, 2014

Cash and Cash Equivalents

5,088

4,743

Accounts Receivable

8,147

6,808

Suppliess

1,135

1,066

Total Current Assets

15,220

12,831

Goodwill

3,789

2,473

Intangible Assets

3,018

1,265

Total Assets

22,428

16,820

Accounts Payable

10,274

7,417

Accrued
Compensation

2,174

1,447

Total Current Liabilities

13,976

10,041

Long Term Debt

1,500

–

Total Liabilities

15,640

10,425

Total Stockholder Equity

6,788

6,395

Most important balance sheet data for the periods ending June 30, 2015 and December 31, 2014. Source: Company Press Release
At June 30th, 2015, the Company had $5.1 million of cash and cash equivalents and working capital of $1.2 million. Cash provided by operating activities for the six months ended June 30, 2015, was $0.5 million compared to $0.5 million during the same period in 2014. The Company maintains a line of credit with a commercial bank for up to $2 million along with a term loan capacity allowing for an additional $2 million.
Conclusion
Auxilio focuses on turning a hospital's overwhelming and unmanageable stock of printers, fax machines and copiers into a streamlined print infrastructure with less, yet more modern devices that have been authenticated, organized in a more efficient manner according to the needs of each department, and have a redundancy plan in place. The result is sustainable improvements in a hospital's business processes that benefit the care organization now and well into the future.
The addition of the two recent MPS contracts shows that there are still growth opportunities in the market, and that Auxilio is the preferred player in it.
Auxilio's 220 MPS hospital clients, along with the hundreds of healthcare customers for its IT Security Solutions Group, offer the Company significant opportunities for cross-selling in both directions.
In 2015 alone, over 100 million personal healthcare records have been breached by malicious hacker attacks. There is nothing short of a crisis in the healthcare industry, and the call to action for healthcare organizations, both large and small, is to spend more money on IT security. Experts estimate it will take many years for the healthcare sector to reach the level of security maturity which is demanded of them. More importantly, these additional services result in longer-term consulting contracts and a closer ongoing relationship with C-level executives at these healthcare organizations.
We anticipate that security-based revenues will create enhanced margins and also minimize short-term impacts on profitability, as large-scale MPS projects are implemented in the future. The Company is just beginning to reap the benefits of its business combination, and it's safe to assume that security will become a significant part of the future of Auxilio. Buy recommendation.
Auxilio has 24.2 million shares outstanding and the stock's 52-week range is $0.81 to $1.25.