New Long-Term Agreements Expand EuroSite Power's Presence In CHP Market
EuroSite Power (EUSP – $0.75), which offers electricity, heat, hot water and cooling solutions to hospitality, healthcare, housing and leisure centres in the United Kingdom (UK) and Europe, steadily continues to increase its number of installed CHP (Combined Heat and Power) units.
EuroSite installs, pays, owns, operates and maintains highly efficient low carbon CHP installations and even pays for the gas consumed by the unit. The customers benefit from the certainty of low cost without having to invest capital or assume operational risk.
On-site energy provided by EuroSite Power costs 5% to 15% less than the rate charged by a regular energy provider, saving customers between $250,000 and $3,250,000 per building over the term of the agreement.
In 2014, EuroSite's installed units generated cost savings of £198,372 (USD300,000) for the customers. The fleet has reduced UK carbon emissions by 2,047 metric tonnes – equivalent to taking 431 cars off the road. The Company currently has 24 systems in operation with 10 more ordered.
The proven CHP systems offer the ability to enter into long-term customer contracts, assuring EuroSite of a guaranteed, steady income. With each additional unit installed, EuroSite edges closer to becoming cash flow and net income positive.
Recent Contracts
During the past two months, EuroSite closed two additional contracts with a sports center and a leisure center, worth approximately £2.90 (US$4.29) million.
Under the terms of the 15 year agreements, a CHP system will be installed, owned and operated by EuroSite Power at the two centers. The centers will then buy the efficient energy produced by the system from EuroSite at a rate guaranteed to be lower than if they were to buy directly from the grid. The two 125 kWe CHP systems will produce up to 4,800,000 kWh of total energy per annum, while saving up to 481 tonnes of CO2.
In the case of the sports center, savings will be in excess of £13,000 (US$19,920) per year, with no capital or maintenance costs.
During the same period, EuroSite took three CHP systems into operation, which means that from now on they will start generating revenues for the Company. All three agreements have a duration of 15 years.
CHP Technology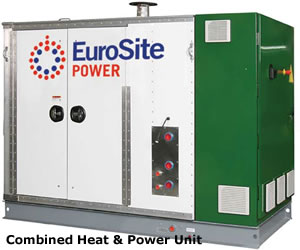 CHP systems are a cleaner energy option that offer significant environmental benefits. In a CHP system, a fossil fuel – usually natural gas – is used to power an engine that generates electricity that can be used by the customer. The heat that's generated during the process is captured and reused for other applications, such as water heating and space heating.
With these features, CHP units are ideally suited for organizations that require lots of hot water, including hotels, leisure centers, fitness clubs, healthcare facilities, schools, and housing districts.
Combined heat and power systems use fuel very efficiently. A CHP system provides electricity and heat at a combined efficiency approaching 90%. This is a significant improvement over the combination of the 30 to 35% efficiency of conventional electricity generated by a power station and a conventional boiler with a seasonal efficiency of between 60% and 65%. Moreover, utilization of CHP systems greatly reduce carbon emissions output, while sulfur dioxide output is nearly eliminated and nitrogen oxide emissions are dramatically reduced.
As a result, CHP systems have significantly grown in popularity across Europe. With more than 2,000 CHP systems installed in the U.K., the country is a frontrunner in this type of alternative energy.
Interesting to note is that EuroSite remains the owner of the installed CHP systems. So if a customer decides not the renew at the end of the contract, the unit can be re-used at another site.
Financials
EuroSite generated total revenues of $1,577,873 in fiscal year 2014, ended December 31, 2014, compared to $838,879 in fiscal year 2013, an increase of 88%. The net loss was $2,308,861 in 2014, compared to a net loss of $1,668,379 for the same period in 2013. The increase in the net loss of $640,482 was primarily due to debt conversion inducement expense and the loss on extinguishment of convertible debt.
Full Year Ended
December 31

2014

2013

Net Sales

1,486,154

835,618

Net (Loss)

(2,308,861)

(1,668,379)

(Loss) Per Share

(0.04)

(0.03)

Most important income statement data for the fiscal years ending December 31, 2014 and December 31, 2013. Source: Company Filing
The Company finished 2014 with approximately $3.8 million in cash and $4.3 million in working capital. In the past couple of quarters:
American DG Energy (ADGE – $0.52), which owns close to 50% EuroSite's outstanding shares, eliminated $4.7 million in current and future interest on its convertible debt in exchange for approximately 9.4 million common shares of EuroSite. As a result of this exchange, all of American DG Energy's convertible debt is now zero coupon.
EuroSite filed for a $648,917 Enhanced Capital Allowance (ECA) with the UK government. ECA is a cash energy tax incentive for energy-saving plant and machinery, which includes combined heat and power systems. The Company expects to receive this cash rebate in Q2 2015.
In addition, EUSP raised $3.0 million from John Hatsopoulos, Chairman of our Board of Directors.
During October and November 2014 an additional $1.5 million was secured through a commitment and a placement of common stock.
Conclusion
With a growing number of CHP systems in operation, EuroSite Power continues to increase its recurring revenue through long-term customer contracts. In addition, the Company has 10 CHP units in backlog, and continues to attract new customers.
EuroSite has plenty of room to grow in a market that's becoming more and more aware of the technology's significant cost savings and environmental benefits.
Since we recommended EuroSite in September 2014, its stock gas gone up 66%. Note that volumes are very low, so always use a limit order when buying and selling these shares.