New Gold Discovery Targets Continue to Build Shareholder Value at Guyana Goldstrike
Steady exploration activity has contributed towards a rapidly expanding gold discovery area at the Marudi Mountain project controlled by Guyana Goldstrike Inc (CA: GYA – $0.21 & US: GYNAF – $0.16 & GER: 1ZT – €0.11). While the Company has done well to continue expanding the surface extension of the gold zone at the emerging Toucan Ridge target, a recently completed aerial geophysical survey has outlined a number of new gold targets that promise to keep the geologists busy for a long time to come.
Trenching work has been ongoing at the Toucan Ridge gold discovery for several months, with steady progress achieved as Guyana Goldstrike completes a series of trenches extending laterally across the target area in regular intervals.
Trench sampling often provides a preliminary reconnaissance role in exploration, as geologists seek to identify trace minerals and pathfinder elements from surface soil layers that may provide evidence of deposits hidden further to depth.
However, at Toucan Ridge the Company has been fortunate to encounter the quartzite-metachert host rock formation for the gold bearing zones extending to surface or within just a few meters of overburden. This has enabled a much more intensive trenching program to continue as wide intervals of this host rock have been exposed and sampled, with consistently attractive gold values reported.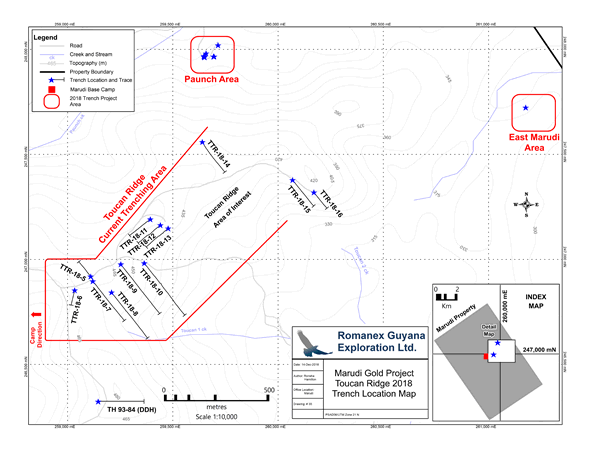 The Toucan Ridge target itself has been mapped along strike for an impressive extension of more than 1.75 kilometers, and the zone often extends laterally across intervals of several hundred meters. Trenching work along this enormous discovery target has been steadily advancing, as surface overburden is stripped to depths down to 6 meters to reach the quartzite-metachert formation, and then channel samples are extracted along the exposed rock surface.
Each new trench is planned to extend the discovery area by another 50 to 100 meters along strike where the quartzite-metachert formation has been interpreted to occur, and the trenches are extended laterally across the host rock until it can no longer be exposed from surface. This program has revealed numerous wide intervals where attractive gold values have been encountered so far. For example, recently completed trench TTR-18-12 revealed the longest interval to date of more than 85 meters with an average gold grade of 0.36 g/t in the rock structure. Gold assay values above 1 g/t are commonly reported from the ongoing work, and all of this data will count towards a resource estimate once the underground drilling phase has generated results.
Updated Trenching Results Expand Surface Area of Toucan Ridge Discovery Target
Last week Guyana Goldstrike reported another update on this program at Toucan Ridge, as assay results for trench TTR-18-14 were reported. The highlight interval was a section of 6 meters with an average of 1.46 g/t gold, which was part of a wider gold-bearing zone extending more than 9m in the trench. The total length of this trench extended more than 178 meters and the target rock formation was encountered at four separate intervals within the total trench length. TTR-18-14 is located more than a kilometer along strike from the western-most discovery zone for Toucan Ridge.
The Company plans to continue stepping out the trench program along the formation in order to compile an extensive database of the gold zones from surface. Twelve trenches have been completed so far. A diamond drilling program is planned to follow up at Toucan Ridge which will be commencing shortly.
The company is in the midst of an equity offering to raise up to $5 million to fund the future exploration commitments at the project. Each unit of the placement is priced at 20 cents, and includes a common share plus a warrant to buy an additional share at a price of 30 cents, for a period of 36 months. Readers interested in the private placement should contact the company at info@guyanagoldstrike.com.
Interpretation of Geophysical Survey Data Presents Attractive Targets for Underground Drilling
This week, Guyana Goldstrike reported the results and interpretation of its aerial geophysical program that had been completed at a large portion of the Marudi Mountain property area earlier this year. The purpose of this program was to gain a better understanding of the underlying geological formations based on magnetic and radiometric characteristics.
It has been determined that the quartzite-metachert host rock unit most commonly associated with the gold deposits in the region can be identified by its geophysical signature. In addition, areas of more intense alteration are highlighted with this method through interpretation of the variances of magnetic values from one section to another. And because the Company has a dataset from prior drilling on the project with known gold values, the geologists are able to use these reference points to establish precise geophysical signatures that may then be matched up with similar values that light up on other sections of the property to infer new targets for future work.
When combined with the growing body of geological data collected from all sources from many years of work programs at Marudi Mountain, the new geophysical survey interpretation promises to be a very effective means to guide the pending drill program.
While much of the ongoing exploration efforts have been directed to the Toucan Ridge target area, it is at the Mazoa Hill deposit area that most of the defined gold resources for the project are located. The magnetic survey has generated numerous new targets in the vicinity of the gold deposit overlooked in previous drilling work.
Most of the prior drilling work was confined to relatively shallow depths of the property, from surface down to 270 meters, however the magnetic survey data was effective to much deeper intervals of the rock. Intriguing survey data has outlined high priority target zones extending several hundred meters below the deepest intervals of the gold resource area. A strike length of more than 5 kilometers of the Mazoa Hill host rock has also been identified, of which perhaps only 10% has been tested. This opens the potential for a multiple of the currently defined gold resource to be awaiting discovery as the next round of drilling work commences for this advanced target zone.
The news for the Toucan Ridge target was also encouraging. Again, the anomalies generated by the survey work have indicated broad zones of similar character to the gold-bearing host rock encountered through the surface trenching program so far. These magnetic signatures also align well with the values recorded for Mazoa Hill, another positive aspect that provides a measure of confidence for the pending drilling program.
Conclusion
While several other operators have been active within the property area over many years, since Guyana Goldstrike acquired the Marudi Mountain project it is the first time that a systematic and modern exploration approach has been effectively applied on a property wide basis. The results are now beginning to build value for the growing gold resource that is being achieved as entirely new discovery areas have been established. The use of geophysical surveying has added another powerful tool to guide future exploration of this large property area.
While the trenching work at Toucan Ridge continues to outline an enormous surface extension of the gold host rock with attractive grades, it is the subsequent drilling work at this target that promises to build gold resource leverage. The geophysical survey has outlined multiple target areas extending for hundreds of meters to depth below the confirmed gold at surface, and this potential for stacked layers of gold host rock could lead to the discovery of a major gold system.
The potential to collar new drill holes further along strike and to penetrate deeper targets below the established Mazoa Hill deposit also creates an appealing prospect to greatly increase the total resources of this more advanced gold zone. Mazoa Hill has an established NI43-101 compliant gold resource of more than 259,000 ounces in the Indicated category, and a further 86,200 ounces Inferred. Given the close measured similarity in the geophysical signatures between the gold resource zones and the illuminated anomaly targets, one may assume that this resource is set to grow substantially when the next round of drilling kicks off. Smallcaps Recommendation: BUY.
For important disclosures, please read our disclaimer.