Globex Shareholders Ride Along the Value Curve as Several Property Transactions are Completed in Quebec
One of the attributes to the strategy of a project generator is the benefits may accrue from the activity of partner companies. Like the gift that keeps on giving, Globex Mining Enterprises Inc. (CA: GMX – $0.71 & US: GLBXF – $0.54 & GER: G1MN – €0.44) has realized many such windfalls from transactions that were often completed years in the past. This week, significant property transactions involving several property interests and royalty deals have created additional value for Globex shareholders.
Potential Royalty Revenue Stream Enhanced Through Sale of New Alger Property
Perhaps the highest profile deal is a third-party transaction involving royalty partner Renforth Resources Inc [CSE – RFR]. The announcement by Renforth to vend ownership of its New Alger property to Radisson Mining Resources Inc [TSXV – RDS] will create longer-term synergies that may contribute to the development of a gold mine at New Alger.
Globex understands the exploration potential of this property straddling the Cadillac Break structure, in the midst of a prolific gold mining region of Quebec. A series of acquisitions and related transactions involving several properties in this district have been completed during the past several years. From this activity, the Company retains a 1% Net Smelter Royalty (NSR) for New Alger, held in perpetuity. Renforth was advancing the project and achieved numerous attractive gold discoveries. This culminated in the deal this week to vend the project to Radisson. Next to the 1% NSR, Globex also owns 9.55 million Renforth shares, today worth about C$710,000.
With the acquisition of New Alger, Radisson will consolidate the property along with its adjacent O'Brien and Kewagama property holdings, to assemble a much larger combined project area spanning more than 5800 hectares. Globex also retains a 2% NSR on the Kewagama portion of the project. Radisson is currently engaged in an extensive drilling program at the project. Some 60,000m of total drilling work is planned.
Multi-phase Property Transaction Announced with Starr Peak Exploration Ltd.
Globex was also directly involved with several other property transactions in Quebec that were announced this week. A group of ten property claims, comprising the Normetal/Normetmar project, was transferred by Globex to Starr Peak Exploration Ltd. [TSXV – STE]. These holdings were almost entirely surrounded by another group of 30 claims representing the NewMetal Project. Starr originally secured ownership of the NewMetal Project through an acquisition deal in June 2019 under which Globex retained a 1% NSR..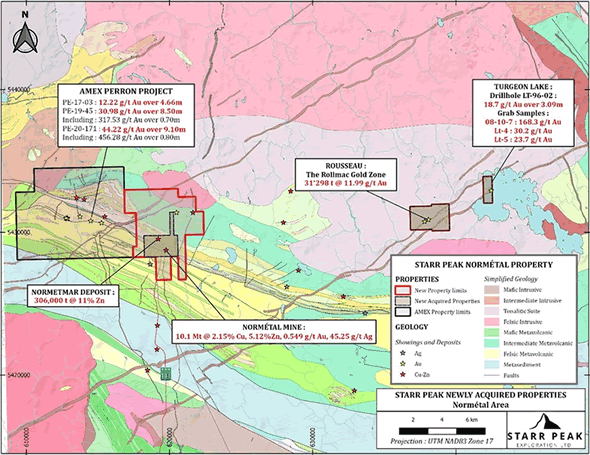 The remaining ten property claims were held by Globex because they represented higher asset value. The formerly producing Normetal mine and the Normetmar zinc deposit are located within these remnant holdings. One of the largest polymetallic mines in Quebec, the Normetal Mine was in operation for nearly 40 years until production was halted in 1975. More than 10 million tonnes of copper/zinc/silver/gold ore was extracted from the mine during that time. The Normetmar property features an attractive zinc deposit reported to contain more than 300,000 tonnes of alteration grading about 11% zinc.
Globex recently decided that these remnant claims were non-core and agreed to vend 100% ownership to Starr Peak. They will now be combined with the previous claims of the NewMetal property to consolidate a package of land holdings spanning nearly 2,300 hectares. Starr Peak has already announced preliminary exploration plans, including prospecting and geophysical program set to commence in the fall.
Property Assets Acquired by Staking Vended in High Value Deal
A second property transaction arranged with Starr Peak this week included the Rousseau gold property. This group of 12 claims is highlighted by the Rollmac gold zone. Nearly 100 years of exploration work has targeted this area as completed by a variety of previous operators. Although most of the historical exploration activity focused on two main gold veins in this area, a series of stacked gold-bearing quartz veins has been confirmed at Rollmac from a drill holes completed in 2008. However, no further activity was launched to follow up. Globex initially acquired the project through staking several years ago. The transaction with Starr provides the opportunity to gain further shareholder value through the activity of a partner company.
The third property involved in the Starr Peak deal is the Turgeon Lake project, located about three kilometers northeast of Rousseau. Also acquired by staking, the project includes two claims spanning nearly 113 hectares. A small drilling program was completed by a previous operator of the property that encountered high-grade gold results including 68.9 g/t across an interval of 0.40 meters. More recent grab samples collected within the property confirmed high-grade gold content.
Total consideration for this multi-phase transaction includes a payment to Globex of $150,000 in three installments. Starr Peak shall also issue 1.2 million shares to Globex, with a recent market value around $1.75 per share, or C$2.1 million in total. Globex also retains a 2.5% Gross Metal Royalty on all of the properties involved in this transaction.
Conclusion
It is notable to point out that Globex was one of the early movers in Quebec to acquire holdings before the pace of exploration activity in the province recovered. This enabled the Company to build leverage for the lowest possible initial investment, frequently through staking of property that had been released by other players. Subsequent transactions have generated payments in cash and share capital to Globex.
Globex' royalty portfolio has already established tremendous shareholder value. In recent years, the Company's royalty stream was largely generated through the royalty held on production from the Mid Tennessee Zinc Mines project. Zinc has begun trading higher, recently reaching $1.08 per pound on the spot market. This could generate even higher royalty payments to Globex as the royalty increases to 1.4% on all zinc production when the spot price for zinc is at or above $1.10 per pound.
Meanwhile the value of the royalty portfolio continues to increase as other formerly early-stage projects advance towards mine development. As a project generator with a diversified suite of property and royalty interests, Globex is among the best positioned junior mining companies in Canada to benefit from the renewal of the resources bull market.
The New Alger property is a case study for a high quality project that had been overlooked and is now advancing as an exciting discovery story. Now combined with other adjacent property holdings, Radisson is committed to advance the project along the value curve. With its NSR holdings and significant ownership interest in Renforth, Globex continues to participate in the success for the overall project even as the ongoing work is funded by other companies.
Meanwhile, the deal achieved with Starr Peak will enable Globex to realize a capital gain on the various properties involved through receipt of cash and shares. Future prospects are also appealing as the royalty interests held for these properties may also build value. This motivated junior explorer is commencing exploration work that may eventually lead to a resumption of mining activity.
As the value proposition created through these property and royalty transactions continues to build, the market value for the shares of Globex is also on the rise. The stock recently traded to a new 52 week high. Smallcaps Recommendation: BUY.