EnWave Starts Off 2017 With Big Bang
Although 2017 has only just begun, EnWave Corp (TSXV:ENW – $1.18 CAD & OTC:NWVCF – $0.88 USD) already sent out a strong message that it aims to build on last year's growth momentum.
During the past week, it received repeat machine purchase orders from Ereğli Agrosan (100kW machine) and Natural Nutrition (10kW machine). For Ereğli this is the fourth dryer, while Natural Nutrition now owns three units. Both companies have become very successful selling REV dried products in a short period of time.
Moreover, between Christmas and New Year, EnWave was contracted by Bonduelle to double the throughput of its existing 120kW REV machine.
The upgrade and the installation of the new machines will occur sometime in 2017, after which they will generate production royalties to EnWave.
Fourth Machine Purchase for Ereğli Agrosan
Due to tremendous interest from several leading food processors in Europe and Asia for its dried fruit, vegetables and cheese products, Ereğli constantly needs to increase its production capacity. The products are sold under the AgroREV brand name.
In a little over a year's time, this is Ereğli's fourth REV machine purchase. Initially, the company conducted product development work on a 2kW lab-scale REV machine. Late February of 2016, Ereğli purchased its initial 10kW dryer, and less than three months later it bought another 10kW dryer.
The license between EnWave and Ereğli Agrosan grants the latter the exclusive right to process a variety of fruits, vegetables and cheese products in Turkey using EnWave's REV dehydration technology. In order to retain its exclusivity for Turkey however, Ereğli must purchase – excluding the 2kW machine – at least four REV dryers on an agreed upon timeline.
The initial three dryers have now been purchased. The license further requires the Turkish company to submit a minimum of one more purchase order for at least one full-scale 100kW REV machine within three years of the start-up of the first small commercial unit.
Ereğli has been making tremendous progress in a short period of time thanks to its experienced, well-connected and well-capitalized management team and founders.
The agreement with Ereğli is potentially worth well over $2.5 million in machine sales alone. Knowing that a 100kW dryer generates between $200,000 and $400,000 in royalties per year at full utilization, it's obvious that this could become a very lucrative deal for EnWave.
Worldwide Demand for Fruit Products at Natural Nutrition
Natural Nutrition purchased a third 10kW Radiant Energy Vacuum (REV) machine. The Chilean producer of high quality dried fruits has to increase its production capacity as it's also experiencing strong worldwide demand for its products.
The Chilean company's first REV machine is currently running at full capacity, producing about 25 pounds of finished product per hour. The second 10kW REV dryer was installed in the fourth quarter of 2016 and doubled the company's production capacity. The third dryer is scheduled for delivery in a few months. And we understand that Natural Nutrition is already considering adding another facility to expand its production capacity of REV dried fruits even further.
They process over thirty high quality fruit products using REV technology, including maquiberries, blueberries, strawberries, rosehip, pineapple, grapes and cherries, which are sold under the Nanuva Ingredients brand name.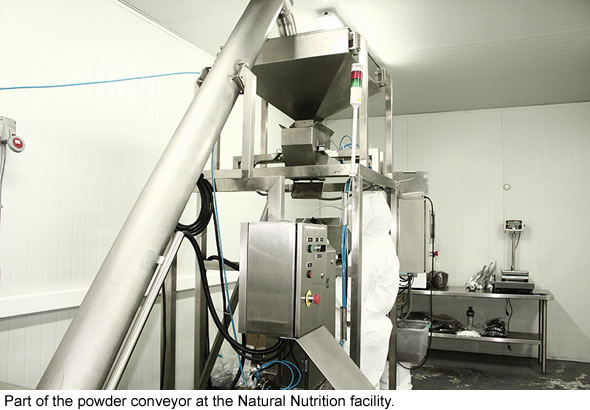 In just twenty months, Natural Nutrition has positioned itself as a leading provider of 100% natural dried fruits with colours, shapes, flavours and nutrients very similar to those of fresh fruit. These healthy ingredients are used in the snack food, functional food, nutraceutical and cosmetics industry in Latin America, the United States, Asia and Europe.
It goes without saying that this is a very favorable development for EnWave as it benefits both from the sale of machinery, and the receipt of revenue-based royalty in the range of three to ten percent.
Bonduelle Doubles Production Capacity
Natural Nutrition and Ereğli Agrosan aren't the only companies that decided to increase their REV dried production capacity. Bonduelle – the world leader in ready-to-use vegetables – engaged EnWave late 2016 to double the throughput of its existing 120kW REV machine.
This is a clear indication that Bonduelle must have received favorable feedback from existing and potential clients that it decided to move forward with expanding the production capacity of its dryer.
The machinery improvement will allow Bonduelle to commit to larger purchase orders from its customers, as well as further the enhancement of the already high quality InFlavor premium frozen vegetable brand.
The market potential is enormous for Bonduelle. According to a 2014 food study of the food service segment conducted by the research firm Technomic, it could exceed eight million kilograms (17.6 million pounds) annually. Initially, Bonduelle targets businesses that deal in manufacturing as well as large chain restaurants.
It is noteworthy that the InFlavor process can be applied to all vegetables that have a high water content, such as tomatoes, zucchini, eggplant, etc.
Conclusion
In 2017, EnWave expects to have several repeat orders from existing licensees as they continue to increase their market presence. Natural Nutrition and Ereğli Agrosan are perfect examples where increasing demand for their unique products enables the companies to place multiple REV machine orders.
Although Bonduelle didn't purchase a new REV machine, it will obviously have to pay EnWave to expand the capacity of its existing equipment. In addition, the higher throughput of the machine will be beneficial to EnWave's royalties.
Other than repeat machine purchase orders, we expect EnWave to continue selling a significant number of REV dryers to new customers, given its growing pipeline of opportunities and significant number of Technology Evaluation and License Option Agreements that it closed the past several quarters. Buy recommendation.