Acme United Wins Multiple Awards for Westcott School & Office Line
Acme United (ACU – $24.59) has won the prestigious 2017 Teachers' Choice Award for its Westcott heavy duty electric pencil sharpener. Learning magazine – the organizer of the Teachers' Choice Award – selected the Westcott sharpener for exceptional quality and outstanding performance in an educational setting.
For over 20 years, the Teachers' Choice Awards have heralded the very best in classroom-tested, teacher-recommended products. Each year, a nationwide panel of teacher-judges names the standouts in books, classroom supplies, educational games, software, websites, and more. After receiving top ratings in two rounds of rigorous judging, the winners are chosen.
Chris Alagno, Vice President of the Westcott brand said, "We are honored to accept this award from the Learning magazine. Our Westcott sharpeners have revolutionized the category through design, performance and innovation. They sharpen from the top, utilize patented titanium bonded technology, and stay sharp three times longer than competitive products."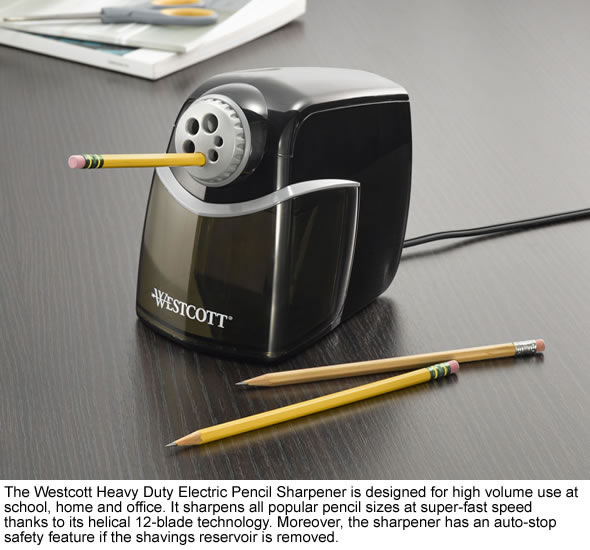 The winners of the award are on display at www.teacherschoiceawards.com, and they will appear in two issues of Learning magazine, which has a readership of hundreds of thousands of teachers and parents. Needless to say that getting free press in such an influential publication is priceless.
The heavy duty pencil sharpener joins the Westcott Scissor Caddy and the iPoint Evolution Axis pencil sharpener, which won a Teacher's Choice Award in 2015 and 2014 respectively.
Also this week, Acme United won no less than four GOOD DESIGN awards from the Chicago Athenaeum: Museum of Architecture for its Westcott family. The Ergo Jr. kids scissor, carbo-titanium scissors, iPoint Orbit, and the ceramic box cutters all received the exclusive award.
GOOD Design is an award from the Chicago Athenaeum, Museum of Architecture and Design, and is one of the oldest and most important design competitions worldwide.

Founded in Chicago in 1950 by the former MoMA curator Edgar Kaufmann, Jr., together with such pioneers in modern design as Charles and Ray Eames, Russel Wright, George Nelson, and Eero Saarinen, GOOD Design honors the yearly achievements of the best industrial and graphic designers and world manufacturers for their pursuit of extraordinary design excellence.

Each year, the Museum receives submissions from the biggest and most famous brands like Apple, Hewlett Packard, BMW, Porsche, Microsoft, etc. For 2016, the Museum received submissions from several thousands of the world's leading manufacturers from over 55 countries.
Chris Alagno commented, "We are honored to accept this award. Our Westcott line of school, office and craft items are amongst the most innovative and visually stunning products on the market. The Westcott brand sets itself apart from the rest of the market by delivering products superior in both form and function."
Not surprisingly, these four award winners all sell very well, as their form and function are in perfect harmony.
First, their function is impeccable. The box cutters, for example, feature ceramic blades, which are much safer than traditional metal cutters. Also the carbo-titanium line of scissors performs exceptionally well with blades that are 8 times stronger than untreated steel, allowing them to cut through almost 40 layers of denim fabric!
The Westcott Orbit electric pencil sharpener has 3 USB charging ports that can charge tablets and phones. It has titanium blades to stay sharp longer and an auto sensor shut off for the perfectly sharpened point. And finally, the Ergo Jr. scissors, which are specifically designed for ages 4 to 6. These are the first, and only, scissors developed with the United States Ergonomics organization.
And as for their form, the GOOD DESIGN awards speak for themselves. These are well-thought-out and beautifully designed products. Westcott figured it out to never forget aesthetics and ergonomics. After all, when all other things are equal, a pretty product beats an ugly one every time.
Conclusion
These days, it isn't sufficient that products work perfectly and are competitively priced, they also have to be attractive looking. Consequently, companies need to go that extra mile to manufacture outstanding items that have additional features and a fabulous design. Tesla would only sell half as many cars as it does today, if they had an everyday design.
Acme United knows this very well and constantly raises the bar. It makes sure that its products stand out on the shelves, setting them apart from their competitors. Consequently, Westcott has some extraordinary successful products on the market. In fact, it's the #1 brand of scissors, rulers, sharpeners, and math tools in the US. Buy recommendation.