EnWave Signs Important Cannabis Deal While Raising Cash to Fuel Further Growth
The, among investors, highly anticipated deal with a cannabis related company is now official. EnWave Corporation (TSXV:ENW – $1.06 CAD & OTC:NWVCF – $0.84 USD & Frankfurt:E4U – €0.76) signed a royalty bearing agreement with a major Canadian cannabis player with international presence.
The license grants the cannabis grower the exclusive right to use the Company's proprietary Radiant Energy Vacuum (REV) dehydration technology to dry and decontaminate cannabis in Canada.
In return for the exclusivity, the producer has purchased a small-scale 10kW commercial REV unit to enable advanced product development along with a large-scale 60kW commercial REV machine that will be used to initiate commercial production. The 10kW dryer will be installed before the end of the year, while the 60kW unit is scheduled to be commissioned in May, 2018.
Furthermore, the cannabis producer is required to achieve certain minimum royalty thresholds, and to purchase additional REV machinery in order to maintain its exclusivity. It is worth noting that the producer is projected to achieve a production capacity greater than 50 metric tons in 2018. The 60kW machine however, can only process approximately 25 to 30 tons annually, which means that it will need to buy at least one additional 60kW REV machine.
Moreover, the licensed producer must also pay royalties based on the amount of cannabis processed with EnWave's REV equipment. Royalties in the cannabis space could be up to three times higher than what EnWave receives from companies that are active in the food sector.
EnWave also granted the cannabis player the right to sub-license the REV technology to additional Canadian licensed producers, with sub-license royalties to be shared between the two companies. The two will collaborate to find and attract sub-licensees.
Significant Advantages of REV vs. Current Processing Methods
Medicinal cannabis is often used by chronically ill or immunocompromised patients, causing several countries with medicinal cannabis programs to employ strict standards regulating microbial contamination of herbal cannabis products in order to reduce the potential for opportunistic lung infections. Ionizing radiation is currently the only method commonly employed to meet these medicinal cannabis microbial standards.
However, EnWave has developed a method that allows it to simultaneously dry and pasteurize cannabis, which circumvents the need to transport medicinal cannabis to highly-specialized and expensive off-site gamma irradiation facilities. EnWave's new methods dramatically shorten the time from harvest to marketable products to under one hour.
Pasteurization is the process of heat processing a liquid or a food to kill pathogenic bacteria to make the food or beverage safe for consumption. The use of pasteurization to kill pathogenic bacteria has helped reduce the transmission of diseases, such as typhoid fever, tuberculosis, scarlet fever, polio, and dysentery.
Another major advantage is that EnWave's continuous high-volume REV drying process also eliminates the need for large-scale in-house drying rooms and their associated potential for product loss due to mold growth during the traditional multi-day drying process.
Finally, a common method for the extraction of cannabinoids (essential oils) from the dried plants uses pressurized CO2 as solvent. The challenge with this process however is that moisture levels in dried leaves often vary, which results in inconsistencies in the oils that are extracted. The goal with REV is to produce a much more homogenous raw material at a specific moisture level.
Authorized Licensed Producers of Cannabis for Medical Purposes
Although the name of the marijuana company wasn't disclosed, it was mentioned that it is an Authorized Licensed Producer as defined by Health Canada's Access to Cannabis for Medical Purposes Regulations (ACMPR).
The map below shows all licenses issued by Health Canada under the ACMPR. Only producers who are authorized to produce and sell to the public may sell or provide dried marijuana, fresh marijuana, cannabis oil, or starting materials to eligible persons.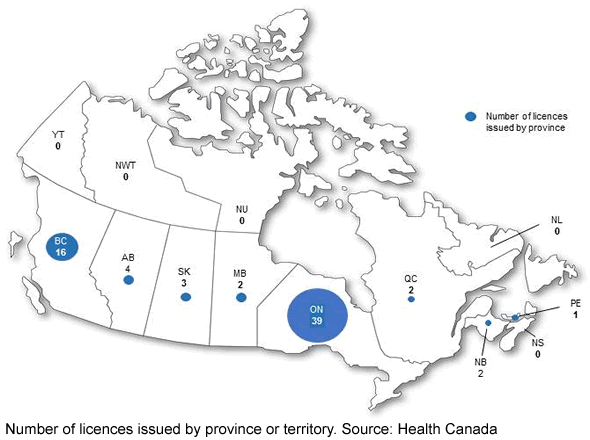 Cannabis is a controlled substance under the Controlled Drugs and Substances Act. To reduce the risk of diversion, factors such as physical capacity (size of building, physical security considerations, number of staff, cultivation technique), sale capacity, and inventory levels are considered before issuing a license.
Over-heated Financing Accelerates Growth
Earlier this week, a syndicate of underwriters led by Cormark Securities, agreed to sell up to 8,000,000 EnWave units at a price of $1.05 per unit for aggregate gross proceeds of up to $8,400,000. Each unit will consist of one common share of EnWave and one-half warrant. Each full warrant will entitle the holder to purchase an additional share at $1.50 for a period of 60 months following the closing of the offering.
EnWave has also granted to the underwriters an over-allotment option to purchase an additional 760,000 of units for additional gross proceeds of $798,000.
In addition to this offering, the Company intends to sell, on a non-brokered private placement basis, an aggregate of up to 770,000 units for gross proceeds of up to $808,500. These units issuable pursuant to the concurrent private placement will be on the same terms as those issuable pursuant to the offering, except that they will be subject to a statutory four month hold period.
Demand for the offering was extremely high. In fact, almost three times as much as originally intended could have been raised. In addition, the financing added a double-digit amount of new institutional shareholders. Quite impressive, to say the least!
The net proceeds of the financing will be used to accelerate the growth of the Company. For example, more large scale quantaREV and nutraREV units will be manufactured so that lead times become shorter. Also, additional staff will be hired, such as a LEAN consultant to optimize the engineering and manufacturing process, a technical sales person to further expand the business development pipeline, and additional engineers to help with the installation and manufacture of the REV dryers. Furthermore, NutraDried, the 51% owned joint venture of EnWave, may soon need to purchase an additional REV machine as distribution of the Moon Cheese snack keeps increasing.
Conclusion
The new royalty agreement marks the launch of EnWave's REV dehydration technology into the rapidly growing Canadian cannabis market.
It's clear that this initial commercial customers in the cannabis sector will soon have to order more REV machinery to be able to process its entire production. This is just one company in one country.
Worldwide the use of cannabis for medicinal purposes is being legalized. Thanks to the expanding market, the cost savings that can be generated with the REV technology, and the high royalties, cannabis could become an extremely profitable sector for EnWave.
When EnWave raises $10 million as expected, it will approximately have $12 million in the bank. This is plenty to give its growth plans an extra boost. Recommendation BUY.