EnWave Recruits Senior Marketing and Branding Specialist to Run Highly Successful NutraDried Subsidiary
While a successful growth strategy is a top priority for the launch of any new technology, there is also a potential danger to consider if the company expands too rapidly. This somewhat counterintuitive concept is important because many emerging small cap technology players have fallen into the trap where early success could not be sustained and resources of capital and manpower were exhausted.
The best people to manage technology development of a start-up company may not be suited to advance growth. New talent and managerial strength must be added or promoted along the way to continue the most effective development for a corporation overall, and to sustain the momentum of a successful product launch.
Chief Executive Officer Appointed for NutraDried Foods Division
This week EnWave Corporation (TSXV:ENW – $1.20 CAD & OTC:NWVCF – $0.92 USD & Frankfurt:E4U – €0.80) reported that Mr. Mike Pytlinski has been hired to serve as CEO of EnWave's wholly owned subsidiary NutraDried Food Company, LLC. With a successful background spanning nearly 30 years in the food manufacturing industry and financial services sector, Mr. Pytlinski has direct leadership experience building sales and brand awareness for processed food products.
Most recently, Mike Pytlinski served as the Vice President of Marketing for Palermo's Pizza. Over the course of a six year campaign the pizza line more than tripled in sales under his stewardship. This success was notable as the launch of the first major craft frozen pizza brand, which went on to win a number of awards.
The proven skills demonstrated by Mr. Pytlinski for the promotion of specialty food products, will contribute towards further sales growth initiatives for NutraDried's Moon Cheese, and other products in the pipeline.
Equipment Development Program with Sutro BioPharma Discontinued
After several quarters of testing and development work in the attempt to achieve narrow specified production criteria, EnWave and Sutro BioPharma Inc. (Sutro) have agreed to part ways and terminate their equipment construction contract. The formal testing and development process had been investigating the use of REV technology to achieve a dried cell-free extract.
While processing was successful to achieve the initial guidelines for the process, Sutro subsequently changed the criteria and opted for a much more stringent quantitative bioactivity level for its objective in the program. In response to the much larger investment commitment that would have been necessary to continue with development, both companies agreed to suspend the program. EnWave has chosen to record an impairment on its contract payables balance for the remainder of the Sutro testing budget, amounting to $865,000.
It is possible that the development agreement will resume if Sutro chooses to commence production based on the original successful test process. However in the absence of a new commitment from Sutro, EnWave will focus on the many other potential development scenarios in the pipeline for its REV processing technology.
Just within the pharmaceutical sector, significant collaborations with Merck and GEA continue moving forward. In fact, additional indications suggest that the Merck development process is proceeding quite well.
Positive Expectations for Pending Q3 Earnings Report
EnWave has announced it will release its third quarter financials, for the period ended June 30, 2018 on Monday, August 27. With the rapid growth achieved through the first half of 2018, expectations have been running high. While several sales breakthroughs have been accomplished during the prior months, it is the very strong performance of the Moon Cheese line which may again drive financial performance for the quarter.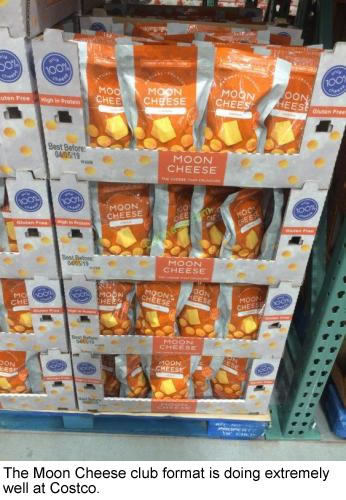 The outstanding sales growth recorded for Moon Cheese in the previous quarters was mainly achieved thanks to orders from Costco for the larger size packages in club format. This demand contributed to the best ever single quarter of sales for Moon Cheese during Q2 of 2018. Moreover, EnWave has been able to report a positive trend of rising cash flow from operations during the first half of this year.
Conclusion
While EnWave has achieved numerous breakthroughs in the past using REV technology, the speculative nature of product development carries an element of uncertainty. The track record of successful innovation delivered so far by the Company is perhaps more effectively illustrated by the occasional collaboration that does not advance through to a positive conclusion.
Each phase of testing along the way yields results that may be observed and lessons applied towards future applications. The termination of the development phase with Sutro is a short term setback which does not compromise the positive results and ongoing development with other players in the pharmaceutical industry, or in other sectors.
The successful roll out of the REV processing technology is also illustrated by the trend of increasing cash flow generated from operations and by sales growth for a diverse range of products. With each new product developed, EnWave builds revenue growth realized through direct equipment sales and recurring royalty payments.
A growing chunk of the total sales growth is furnished by the wholly owned subsidiary NutraDried. While the launch of the flagship Moon Cheese line has already demonstrated notable success, the appointment of Mike Pytlinski as CEO is expected to build further organic growth. NutraDried may depend on his proven marketing experience to generate success for other products that will contribute to the drive to profitability for EnWave. Recommendation: BUY.