EnWave Closes Two Agreements That Build Inroads Into New Markets
It has been a productive start to 2018 for EnWave Corporation (TSXV:ENW – $1.09 CAD & OTC:NWVCF – $0.85 USD & Frankfurt:E4U – €0.70). This week the Company reported the closing of two transactions with new clients, both of which contribute to the potential for faster growth. The first of these deals was a Technology Evaluation and License Option Agreement (TELOA) with Canadian seafood distributor Seven Seas Fish Company Limited.
Agreement Signed with Respected Canadian Seafood Company
Seven Seas is an established, integrated distributor of a full range of seafood products including fresh-caught fish and high-value seafood-based processed snacks. As a large volume distributor to restaurants and supermarkets, serving both domestic and international markets, it is an excellent company for EnWave to build a relationship with. After all, Seven Seas can very effectively launch new products using its existing distribution network of retailers.
Seven Seas has partnered with EnWave in a strategy to develop new premium seafood-based products. EnWave's proprietary Radiant Energy Vacuum (REV) technology enables an entirely new method of processing different types of seafood, including salmon, scallops, and oysters. Seven Seas is also considering a variety of different applications, such as salmon snack products, potentially with various other ingredients to give different flavor profiles. Yet other possibilities to develop are salmon jerky style products.
The TELOA involves renting a 10 kW REV machine, with installation scheduled next month. This unit will be used by Seven Seas to continue with testing and product development. The objective is to advance processing techniques while completing marketing studies. If successful, Seven Seas will most likely enter into a commercial license agreement with EnWave. Seven Seas has a maximum of six months to reach this decision.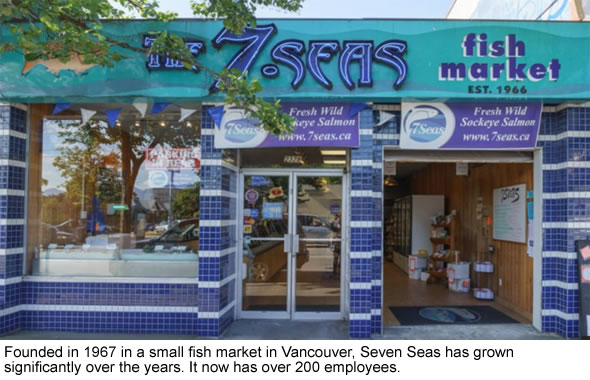 Seven Seas is the second client involved in seafood processing to sign a TELOA with EnWave in a short while. Born Wild LLC, an American-based company, which serves the global seafood market, is also developing several unique seafood snack products for human consumption. We understand that tests are going very well at Born Wild and that a commercial decision may be imminent.
Breakthrough Deal in Asian Market
Moreover this week, EnWave announced another important deal; it closed a TELOA with Calbee Incorporated, a major Japanese snack food manufacturer. Calbee has been in business since 1949 and represents an ideal partner company given its popular healthy snacks that have already secured impressive brand awareness in Asia. This highly successful company generated sales of CDN$2.89 Billion last year, and posted a net income of CDN$199 million.
Calbee's senior management visited EnWave twice as part of their thorough evaluation process prior to moving ahead with the relationship. The TELOA agreement represents another validation of EnWave and its technology.
Calbee will be renting a pilot-scale REVTM machine, commencing next month, to evaluate and test several snack foods at its facilities in Japan.
This arrangement allows for expansion in a dynamic foreign market that offers the potential for accelerated growth. Success in the Japanese market is often dependent on building strong partnerships with companies that are already established in the community.
EnWave is currently working on several other deals in Japan through a cooperation agreement with Tokyo-based Correns Corporation. Correns, which serves both suppliers and buyers, aims to bridge partnerships between Japanese and Western companies. With the Calbee beachhead secured in Japan, doors of other established Asian companies may open to consider similar deals with EnWave.
Conclusion
While each new TELOA carries specific benefits and contributes to a more robust and broad-based platform for the REV technology, these deals also lay the groundwork for the next phases of expansion.
The deals closed this week with Seven Seas and Calbee Incorporated are important breakthroughs that may build the foundation for much stronger growth in the future. Ideally, these relationships will evolve into commercial license agreements, which generate machine sales revenues and royalty streams.
Perhaps other doors will open to form new agreements with other companies as a result. What we do know for sure is that EnWave has started the year off by closing two TELOAs and has moved another step forward on its path to profitability. Recommendation BUY.