Cuda Thrives at First In-Person Fishing Trade Event Since COVID
With Orlando, Florida as the backdrop, the 64th International Convention of Allied Sportfishing Trades, better known as ICAST, was the first in-person trade event for the recreational fishing industry held since the pandemic.
ICAST 2021 was held in the North Building at the Orange County Convention Center (OCCC) and counted more than 475 exhibitors. Although it wasn't 100% business as usual yet, as most foreign vendors didn't attend, the show continued to be the largest global showcase for fishing tackle, apparel and accessories for the sportfishing industry.
ICAST is also the venue for launching new fishing products and setting industry trends, and consequently serves as a showcase for what is to become in the fishing scene. One of the fishing brands that had a lot to share was Cuda, part of Acme United Corp (US:ACU – $40.36).
Cuda Launches Twelve New Products
Cuda introduced twelve new tools and accessories with unique features and benefits at this year's ICAST. First is the AquaTuff knife family. The new line of six knives features zirconium bonded stainless steel blades for increased corrosion resistance with a carbide edge for long-lasting sharpness. In addition, the silicone handle provides a secure and comfortable grip in all environments and conditions.
Furthermore, two heavy duty commercial grade mono cutters were presented to buyers for the first time. Both the 7.25" Titanium bonded Anvil cutter and 7.5" Titanium bonded Bypass cutter have a full tang construction and non-slip Cuda scale grip. These powerful cutters slice through 400lb fluorocarbon Mono fishing lines.
Also new is the handy 7" Shrimp Cleaner, which can be used for shelling and deveining shrimp. The innovative tool is completely dishwasher safe and has no blade, so it's safe to use and clean.
Fingerless Cool & Dry fishing gloves are now also available. These gloves are designed to absorb sweat and cool a user off with patches on the back of the hand (one patch keeps you dry and the other keeps you cool). A true innovation to the glove category. In addition, a magnetic tape measure with inches on one side and centimeters on the back side, is ready for shipment to customers. The tape is UV protected, tear-resistant, and has magnetic ends for easy "according fold style" storage.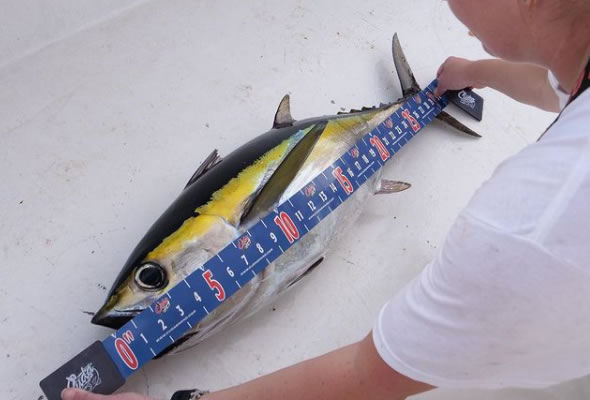 Finally, a product that perfectly fits in the smallest multi-tool category, is the Diamond Pocket Sharpener. It features a knife and hook sharpener, has a line cutter and can be used as a bottle opener.
Most new tools are scheduled to be available in stores from fall in the U.S., Canada, and Europe.
Conclusion
If there was a positive outcome regarding COVID-19, it's that more people went fishing than ever before. This year's ICAST edition was a perfect illustration of that fact. Despite few international attendants, the show was a success for the Cuda brand. Good meetings were held with exciting customers such as Bass Pro and West Marine, but also with many smaller distributors. Many of the buyers were interested in the new products and some already scheduled placement for them.
Cuda continues to perform well. Driven a growing number of exciting tools and accessories. Geri Adler, the Senior Brand Manager for Cuda was quoted saying, "It was great to get back to business and reconnect with colleagues and friends in this first in-person event in over a year. The Cuda team had excellent meetings at the show with existing and potentially new customers." This is only positive news for Acme United and its shareholders. Smallcaps recommendation: BUY.