Acme United Europe Builds Upon Success at Paperworld Show
Paperworld is an annual trade fair, held in Frankfurt, Germany, that brings together all the major players from around the world in the paper, office supplies and stationery sectors. The show is ideally suited to introduce the latest products and meet new and existing customers.
Around 1,500 exhibitors from some 60 different countries presented their products at Paperworld last week. Well over 30,000 visitors discovered product innovations in the areas of office supplies, writing and drawing instruments, school supplies, gift items and packaging as well as paper goods.
For Acme United's (ACU – $23.99) European team, Paperworld is one of the most important marketing events of the year. Indicating that the Company's European segment is doing well, was the fact that its meeting room was 50% larger compared with last year's so that more products could be displayed.
Georg Bettin, the Managing Director of Acme United Europe, and other members of the Acme staff, sat down with plenty of existing and potential customers during the 4-day event. They introduced several new items, such as new scissors and rulers, but the eye catcher was the launch of the Easy Absorb line.
The Spill Magic absorbents have been rebranded to Easy Absorb for the European market. Initially, the regular Spill Magic absorbents will be launched in both coarse and fine varieties. Also the safety cones will be available as of next month.
Spill Magic manufactures a wide variety of spill pickup products that can handle anything from liquid spills, hazardous material spills and even biohazard spills. One of Spill Magic's best selling products is its Spill Response System, which is being used thousands of times every day in national and regional grocery, retail, big box, and countless other retail stores in the United States.

Knowing that over 540,000 slip and fall injuries, requiring hospital care, occur in North America each year, it's clear that Spill Magic's products are highly needed. After all, preventing spill falls saves employers and retailers tons of money.

Although no exact numbers are available for Europe, it's safe to assume that there are hundreds of thousands of similar cases, indicating the need for prevention products such as Easy Absorb.
Initially, distributors of office products are targeted with these new safety items. A few years ago, lots of office customers added facility management products to their assortment to compensate declining sales in the office channel. The Easy Absorb products obviously fall right into the facility management category. Consequently, the office products customers were all very interested at the fair to find out about the lightweight high-performance absorbents and accessories as cone heads.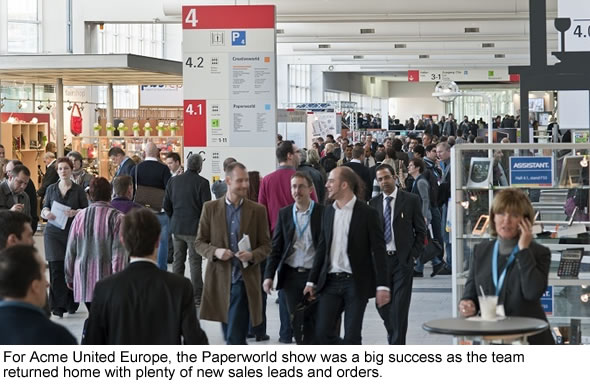 Conclusion
Paperworld is one of the highlights of the year for the office and stationary sectors. For Acme United Europe, the show was a big success as the team returned home with plenty of new sales leads and orders. It's clear that 2018 has started well for the European team, as it continues to build on its path of growth.
Remember that net sales in Europe for the three months ended September 30, 2017 increased 15% in U.S. dollars and 8% in local currency compared to the same period in 2016. Net sales for the nine months ended September 30, 2017 even increased 18% in both U.S. dollars and local currency compared to last year's period. Recommendation BUY.