Strong Westcott Sales Deliver Acme United Record First Quarter Sales and Earnings
Acme United (ACU – $18.99), the worldwide supplier of innovative cutting, measuring and safety products for the school, home, and office markets, again had an excellent first quarter in which it achieved record sales and earnings.
Sales during the three months ended March 31, 2015, reached $22.8 million, up 19% compared with sales of $19.2 million in the first quarter of 2014. Net income in the first quarter of 2015 rose by 18% to $436,000, or $0.12 per diluted share, versus $368,000, or $0.11 per diluted share, in the comparable quarter last year.
Especially the Westcott school & office products brand outperformed. Its scissors continue to gain market share, and Orbit, the latest member of the iPoint electric pencil sharpener family, is now available in all major retailers in the United States and also in Europe. Note that Westcott already sells between 60 and 80 million scissors annually, making it the leading scissors brand in the United States. Still these numbers continue to rise.
Also First Aid Only (FAO), the supplier of first aid and Smart Compliance kits, contributed nicely to the sales increase in the first quarter. Because it was acquired by Acme in June 2014, it didn't impact sales in the first quarter last year.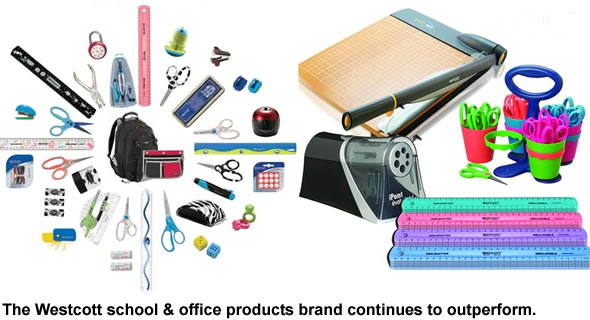 Acme's Canadian and European business segments however were impacted by their respective currencies that significantly depreciated versus the U.S. dollar. The Canadian and European teams are reducing costs with suppliers, trimming expenses, and increasing their selling prices to partially offset the depreciation of their currencies.
The decline of the Canadian dollar and euro caused earnings to be two cents per share lower in the first quarter than expected. As a result, the Company also adjusted its guidance for 2015. It now expects sales in 2015 to come in at between $118 and $120 million, down from $120 to $125 million. And earnings per share are expected to reach between $1.45 and $1.50, down from between $1.51 to $1.60 per share.
Amounts in $000's

March 31, 2015

March 31, 2014

Net Sales

22,837

19,152

Cost of Goods Sold

14,402

12,274

S, G & A Expenses

7,609

6,253

Income From Operations

826

625

Interest Expense

130

83

Other Income (Expense)

(75)

(19)

Pre-Tax Income

621

523

Income Tax Expense (Benefit)

185

155

Net Income

436

368

Shares Outstanding – Diluted

3,702

3,443

Earnings Per Diluted Share

0.12

0.11

Most important income statement data for the quarters ending March 31, 2015 and March 31, 2014. Source: Company Press Release
Gross margins were 37% in the first quarter of 2015 versus 36% in the comparable period last year.
Outstanding U.S. Segment
Acme United reports financial information on three separate business segments: the United States (including Asia), Canada and Europe.
Exact revenues per segment for the first quarter will be available in the 10-Q, which will be filed mid-May. However, Acme announced the percentage by which revenues increased or decreased for each segment compared with last year. Based on those numbers, we can give a good indication.
Segment

Sales in $000's

U.S.

20,123

Canada

1,249

Europe

1,465

Sales per segment for the first three months of 2015. Source: Smallcaps Investment Research calculations.
Net sales for the first quarter of 2015 in the U.S. segment increased 25% compared to the same period in 2014 due to strong sales of Westcott and the first contribution of First Aid Only. Also Acme's most recent brand Cuda, that offers about 30 fishing knives and tools, contributed nicely to sales.
Net sales in Canada in the first quarter of 2015 decreased 8% in local currency, and 18% in U.S. currency compared to the same period in 2014. The office superstore market in Canada was soft due to weak economic conditions, but this was partially offset by growth with independent dealers.
European net sales in the first quarter of 2015 increased 14% in local currency but decreased 5% in U.S. currency compared to the first quarter of 2014. European growth was due to strong office product sales.
In Europe, even more than in Canada, it's frustrating to see the negative impact of the weak currencies.
First Aid Brands Integration
The integration of First Aid Only is progressing as planned. The computer systems are now on one IT platform, and because Acme already owned two first aid brands – Pac-Kit and PhysiciansCare – before the acquisition, it was able to negotiate more favorable sourcing prices for bandages, tapes, pads, etc., with its suppliers.
However, there's still quite some work ahead. As a matter of fact, the full optimization of the first aid brands, which will lead to cost savings of up to $1 million annually, is the Company's main goal this year.
For example, it will lower the number of different components used in all the kits as that will free up inventory and as such reduce costs. Also, the number of manufacturing locations may be reduced from three to two. The Pac-Kit production will most likely be shifted to the Rocky Mount warehouse in North Carolina or the FAO facility in Washington State. This will result in significant annual cost savings.
Balance Sheet
Acme's balance sheet remains solid. Inventory on March 31, 2015 is only up about $7 million compared with twelve months ago despite the acquisition of FAO. Its current loan agreement provides for borrowings of up to $40 million, while its long term debt is around $27.5 million.
Bank debt less cash on March 31, 2015 was $25.8 million compared to $13.9 million on March 31, 2014. During the twelve month period, the Company paid approximately $13.8 million for the acquisition of the assets of First Aid Only and paid $1.2 million in dividends on its common stock. During the twelve month period, the Company also generated $3.0 million in cash flow from operations and received approximately $1.5 million from the exercise of employee stock options.
Amounts in $000's

March 31, 2015

March 31, 2014

Cash and Cash Equivalents

1,797

3,367

Accounts Receivable

16,722

16,111

Inventories

35,925

28,977

Total Current Assets

56,290

50,210

Property and Equipment

7,158

6,455

Total Assets

78,800

61,781

Accounts Payable

5,905

4,312

Other Current Liabilities

5,553

4,867

Total Current Liabilities

11,458

9,179

Long Term Debt

27,561

17,286

Total Liabilities

39,334

26,741

Total Stockholder Equity

39,466

35,040

Most important balance sheet data for the quarters ending March 31, 2015 and March 31, 2014. Source: Company Press Release
Conclusion
The decline of the Canadian dollar and euro are having an impact on Acme's financials. In the meantime, the currencies have stabilized while selling prices and costs are being adjusted. On the other hand, Mr. Johnsen, Acme United's Chairman and CEO, mentioned during the first quarter conference call that the Company was actively looking for an acquisition, preferably in Canada or Europe. The flip side of the declining currencies is that company valuations in those regions have become much more attractive for a U.S. based company.
Contrary to Canada and Europe, the U.S. market is very strong. Westcott sales continue to grow exceptionally well and also online sales through Amazon are up significantly. The recently introduced Cuda filet knives, crimpers, pliers, and other fishing tools have had a strong reception in the U.S., Canada, and Europe.
The benefits of the combined purchasing power and the further integration of the three first aid brands will start to have a bigger impact on Acme's bottom line.