New REV-Dried Products Hit the Shelves!
Close on the heels of the launch of B!t Cheese, a dried cheese snack by Dominant Slice, two more companies, Merom Farms and Lake Blue, have jumped on the bandwagon and introduced their very own Radiant Energy Vacuum (REV) produced products.
While Merom Farms has come up with Wasabi capsules, Lake Blue is providing its customers with different varieties of INTAKT cheese snacks. All of this is excellent news for EnWave Corp (TSXV:ENW – $1.18 CAD & OTC:NWVCF – $0.88 USD & Frankfurt:E4U – €0.80), as it will receive a 5% royalty on the wholesale value of these products.
Wasabi as a Medicine
Merom Farms is a large commercial greenhouse operation that consists of 36 acres of covered greenhouse area. The family-owned operation specializes in the production of peppers, which are marketed under the Green House Delight Foods Inc. brand.
It produces roughly 11 million pounds of yellow, red, orange and green bell peppers annually, for grocery stores in Canada and the United States. The expansion into wasabi production and processing complements Merom's core competency.
After many years of research and development, the company now launched dried, powdered and encapsulated wasabi for the natural health supplement market under the "Your Wasabi" brand name.
Wasabi Japonica is a perennial herb which has been grown in Japan for many centuries. It is a member of the cruciferous vegetable family, such as broccoli, Brussels sprouts, kale, cauliflower, cabbage and watercress.
Cruciferous vegetables are one of the most studied food groups with over 600 studies completed to date. These studies have shown that the consumption of cruciferous vegetables protects against cancer more effectively than the total intake of fruits and vegetables.
In addition, in vitro and in vivo studies have shown that wasabi has anti-microbial, anti-inflammatory, and anti-fungal properties.
Your Wasabi holds the ONLY license issued by Health Canada to produce wasabi capsules in Canada. The company recently attended the Canadian Health Foods Association conference in Toronto, where the product was very well received.
Merom has a two-year lead time over its competitors with the production of high-quality wasabi, and already has decades of experience with the distribution of vegetables in Canada and the United States. Consequently, the company is confident that within five years it can become the largest and most respected supplier of greenhouse grown Wasabi capsules for the natural health products industry in North America.
Four Flavors
Lake Blue has left snack lovers spoilt for choice by offering them four variants of its INTAKT cheese snacks: Original Gouda, Spicy Gouda, Oregano Gouda, and Mediterranean Mix.
The Chilean food processing company is very experienced with over 60 years of dairy and meat production history. A company that has been around for that long, has a vast network of contacts and distributors to make a product succeed.
Lake Blue plans to build a market for its dried cheese products. Moreover, it aims to pursue other REV-dried product opportunities, such as dried fruit and vegetable products.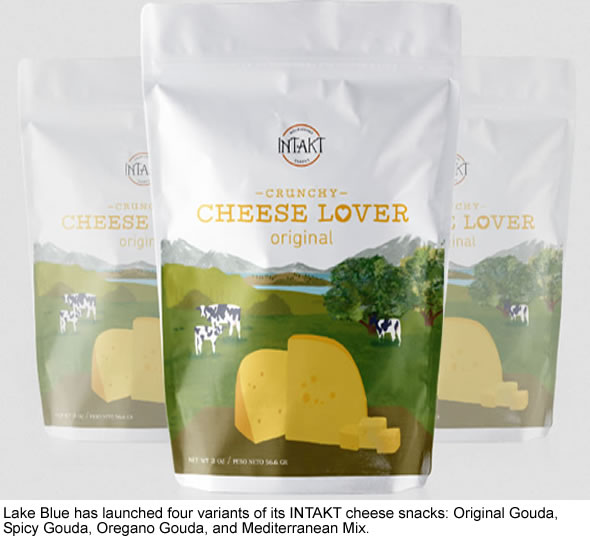 Conclusion
EnWave will receive a royalty on all wasabi pills sold by Your Wasabi. Knowing that wasabi is a high-value product that can cost more than $25 per ounce, it's clear this could become another lucrative revenue stream for EnWave.
Also, the INTAKT nutritional snacks from Lake Blue will start to contribute to EnWave's bottom line.
To date, EnWave has entered into eighteen royalty-bearing commercial licenses with major food processing and pharmaceutical companies.
It logically takes some time for those partners to reach the commercial phase given that product and market research has to be conducted. However, all of these licenses earn or will start earning royalties in the near future for EnWave. The true beauty of a royalty model is that all those revenues go straight to the bottom line! Buy recommendation.
ENW =