New Equipment Sales Highlight Commercial Rollout for EnWave Corporation
EnWave Corporation (TSXV: ENW – $1.06 CAD & OTC: NWVCF – $0.85 USD & Frankfurt: E4U – €0.68) continues to reward investors with a steady stream of positive news in 2018. This week, the Company reported follow through developments on agreements initially made public last year.
First, the Company announced the sale of a 10kW commercial REV unit to Bare Foods, of California. Bare is currently known for its line of dried snack chips made from slices of apples, coconuts, and bananas. This family of snack foods, marketed under the "Bare Snacks" brand name is baked and therefore represents a healthier alternative to many other fried snack food choices.
Advancing From Testing Through to Commercial Production in Food Processing
In March of last year, EnWave and Bare Foods entered into a commercial royalty-bearing license. Since then, extensive test work was conducted at EnWave's facilities in Vancouver. Bare has now determined that the use of REV technology enables them to more efficiently fabricate the chips with better texture, flavor and color retention. This led to the decision to move ahead with the purchase of a REV machine.
While EnWave earned a fee related to the testing and development phase last year, the successful outcome of this process promises a much more lucrative revenue stream on the back end of the deal. There is a meaningful profit margin built-in to the sale of each REV machine. In addition, pursuant to the agreement with Bare, once the machine is installed and operational, all sales from the chips produced using this process will generate a royalty payable to EnWave. The royalty agreement is attractive because the Bare Snacks product line is already established and accepted in the market place. Therefore, the anticipated royalty stream is set to commence almost immediately.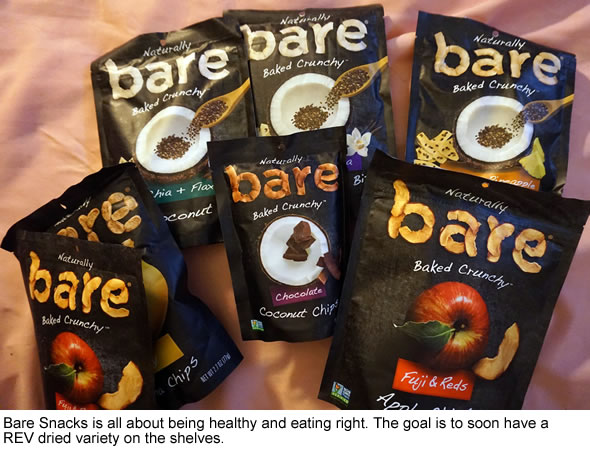 There is also the potential that Bare may expand on its sales output with the purchase of additional machines going forward. Perhaps entirely new products may be developed using the REV process, which may then also generate future royalty payments.
The successful progression from testing through to the formal sales and royalty agreement described above is encouraging given that no fewer than 13 similar TELOA arrangements for product development with other companies are currently in the pipeline.
Development of REV Processing Technology for Cannabis Producers
The second important update issued by EnWave this week relates to the commercial agreement with a major Canadian cannabis player that was signed in October of 2017. An initial 10kW REV dryer was recently delivered to the Authorized Licensed Producer of cannabis, with installation scheduled later this month. Note that the cannabis company also ordered a large-scale 60kW commercial REV machine that will be used to initiate commercial production. This unit is scheduled to be commissioned in May, 2018.
REV technology provides superior processing capabilities and a much shorter processing time in comparison to conventional methods employed to process cannabis. This creates advantages for producers including higher volume output, lower costs, and a more consistent measurable quality of the end product. It is expected that additional testing may further refine the process.
Once again, the delivery and installation of a REV machine contributes to the overall revenue growth targets for EnWave, but the successful breakthrough into this emerging sector promises a much more significant outcome over the long term.
We understand that there are lots of conversations ongoing with other cannabis companies in Canada and abroad to sign up for a license agreement with EnWave. Interesting to know in that regard, is that while EnWave granted the Canadian cannabis player the right to sub-license the REV technology to other Licensed Producers in Canada, there is now also interest from third parties to directly license the REV technology outside of Canada.
Conclusion
EnWave's corporate strategy to work directly with its clients to assist in development, and participate in the creation of new products, is contributing to stronger relationships. These partnerships are as important as the REV technology itself. EnWave is now demonstrating success with the commercialization phase of its REV machines, one client at a time.
The Company is gaining acceptance in the marketplace for its REV technology and the specific advantages offered to various economic sectors. Each new client that makes the decision to purchase REV units serves as a validation of the technology. This in turn creates opportunities as other companies are more likely to consider investigating a technology after it has been successfully tested and commercialized by their peers.
Expect meaningful revenue growth through the rest of the year from these sales breakthroughs into new sectors, as well as from sales to players in existing sectors that don't want to miss the REV dehydration boat. Recommendation BUY.