Natural Nutrition Orders Additional REV Dryer – More Royalty Income Expected for EnWave
Less than a year after the successful start-up of a 10kW Radiant Energy Vacuum (REV) machine at the facilities of Natural Nutrition in Chile, the fruit processor has ordered a second 10kW dryer from EnWave Corp (TSXV:ENW – $0.80 CAD & OTC:NWVCF – $0.60 USD).
In just one year, Natural Nutrition has positioned itself as a leading provider of one-hundred-percent natural (with no additives) dried fruits with colors, shapes, flavors and nutrients very similar to those of fresh fruit. These healthy ingredients are used in the snack food, functional food, nutraceutical and cosmetics industry in Latin America.
They process over thirty high quality fruit products using REV technology, including maquiberries, blueberries, strawberries, rosehip, pineapple, grapes and cherries. These products are sold to local and international customers under the Nanuva Ingredients brand name.
The Chilean company's first REV machine is currently running at full capacity, producing a maximum of about 50 tons of finished product per year. The second REV dryer will double the company's processing capacity and is scheduled to be installed in the fourth quarter of 2016.
The additional order is a clear testament of the fruit processor's success with its dried products. Moreover, it's great news for EnWave as it benefits from selling the REV machine, while it also receives a revenue-based royalty of between 3 and 10 percent.

Retaining Exclusivity
Natural Nutrition holds the exclusive license to process blueberry products using EnWave's REV technology and the non-exclusive right to process apple, plum, strawberry, cherry, peach, grape, raspberry and blackberry products. In exchange, Natural Nutrition must pay EnWave a royalty on the revenue derived from the sale of the aforementioned products.
In order for the fruit processor to retain its exclusive license, it had to purchase a second nutraREV machine within one year from the commissioning of the first machine and a third unit within one year from the start-up of the second dryer.
Because the Chilean company commenced production of dried fruits in May 2015, it was right in time to order a second machine, and as such retain their exclusive rights.
Similar to the deal with Ereğli Agrosan a few weeks ago, the agreement with Natural Nutrition immediately included the obligation to purchase additional REV machines in order to retain their product exclusivity.
Heavy Competition For REV Exclusivity
The food industry is extremely competitive and producers are constantly looking to make the difference. EnWave's unique dehydration technology is making a big difference and is being recognized for its potential.
Consequently, an increasing number of fruit processing companies are realizing that REV is the way to go if they want to maintain their competitive advantage. And because EnWave's business model allows for territorial or product exclusivity, it's a matter of signing an agreement first before a competitor snatches away the rights for a certain country or product.
In the fruits, vegetables, and dairy sectors several companies have already realized what immense value the REV technology can provide. As a result, a growing number of processors from those and other industries have signed an evaluation or commercial agreement with EnWave. This obviously puts pressure on other companies in these areas to close a deal with EnWave as fast as possible.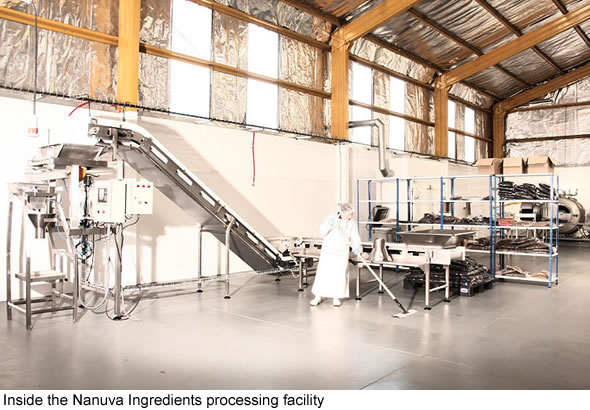 EnWave has a royalty-bearing commercial license in place with these three fruit related companies:
Natural Nutrition Limited d.b.a. Nanuva Ingredients, a fruit processor located in the South American country of Chile. Initial production is going well and they're actively looking for larger customers to justify purchasing additional REV machinery;
Milne Fruit Products entered the REV-dried fruits market a couple of years ago positioning MicroDried products as pure, healthy alternatives to sugar-infused offerings. After an extensive product and market development effort, Milne's MicroDried products have been gaining traction with a growing network of customers. As a matter of fact, the Washington based food processor has recently ramped up its production to satisfy significant orders from several major food companies; and
Ereğli Agrosan is a Turkish company that produces high-value, natural products and derivative products for the food, cosmetic and health sectors. The license grants Ereğli Agrosan the exclusive right to process a variety of fruit, vegetable and cheese products using REV in Turkey. A 10kW REV machine is scheduled to be up and running at Ereğli Agrosan's facility in a few weeks.
In addition, EnWave has signed a technology evaluation agreement with the following fruit processors.
Ocean Spray Cranberries is an agricultural cooperative owned by more than 700 cranberry growers in North America. The company is very actively testing market dried cranberries. A commercial license may be signed in 2016;
Sun-Maid Growers of California is a cooperative, owned by family farmers who grow raisin grapes all located within 100 miles of each other in the Great Central Valley of California. The cooperative is doing specific product development work at the moment; and
California Grape Co is a California based grape producer that has the right to evaluate EnWave's REV technology to develop dehydrated crispy grape snacks. Intensified test work is ongoing. In fact, a commercial decision could be made in 2016.
Stronger Cash Position
In other news, EnWave received $1,020,000 in cash. This is a majority of about $1.25 million that was tied up as collateral in regards to the completion of a machine by its former subsidiary Hans Binder Maschinenbau GmbH.
EnWave, with the assistance of Binder Dehydration GmbH, is working to recover its remaining restricted cash. This recovery is conditioned upon the final completion of a single past project of Hans Binder and is expected to reach final completion in 2016.
These funds will be added to EnWave's already healthy cash position. As of December 31, 2015, the Company had over $5.7 million in cash. We'll find out EnWave's exact cash position at the end of this month, when the second quarter financials for the period ended March 31, 2016 will be released.
EnWave was cash flow positive in the first quarter and its management is optimistic about the Company's pending financials.
Conclusion
With ever more national and international entities becoming aware of EnWave's superior technology, the Company's negotiating position is getting much stronger. As a result, it can enforce bigger and better deals in return for certain product and geographic exclusivity.
The agreement with Natural Nutrition immediately included a minimum of three machine sales in order for the company to retain their exclusivity rights. And the deal with Ereğli Agrosan even included a total of four potential machine sales. This strategy may become EnWave's blueprint for future agreements.
Natural Nutrition has projected growth of at least of 50 tons of finished product per year over the next four years, both as whole dried fruit and powder.
EnWave is clearly on its way to become a big success. It recently turned cash flow positive, and it's constantly increasing its machine sales and royalty income. Buy recommendation.