Global Li-Ion Takes Major Steps Forward
Graphite is a mineral with attractive properties for which there is increasing industrial demand. Ongoing research has led to intriguing new technology advancements that may accelerate this trend even further. For Global Li-Ion Graphite Corp (CSE:LION – $0.41 & OTCQX:GBBGF – $0.31 & Fra:0TD – €0.24) the priority has been about building leverage to graphite resources with ambitions to establish mine operations and generate high value production. In addition, the Company is establishing a partnership that promises new technology breakthroughs and the potential for commercial applications to be developed.
Acquisition of Graphite Mine In Madagascar
Last week, Global Li-Ion reported two important milestones as part of its strategy. The first of these was the announcement of a purchase agreement to acquire 100% ownership of a subsidiary company held by Avana Resources Limited (ARL). The deal effectively transfers control of Avana's graphite interests, coined Ambato-Arana, located in the African nation of Madagascar, to Global Li-Ion.
Avana's graphite interests comprise three mining exploitation licenses totaling 4,375 hectares (10,811 acres), in the vicinity of Andasibe in Toamasina Province.
Under the terms of this deal, Global Li-Ion has agreed to issue 4 million common shares to ARL, along with cash payments totaling US$240,000. In addition, if the Company produces an annualized production rate of at least 5,000 metric tons of graphite oxide for three consecutive calendar months, ARL shall be entitled to milestone payments of (i) US$1,000,000 payable in LION common shares or cash at LION's discretion, and (ii) the greater, in dollar value, of US$1,000,000 payable in LION shares or 1,000,000 LION common shares.
Appealing Economic Prospects for the Resumption of Mining
The transaction may come to be seen as a bargain. Graphite has been mined at this project since 1910. The graphite resources of the property are located within high grade seams beginning from very shallow depths. This enables conventional extraction, using very low cost mining methods.
As part of the evaluation process prior to completing the transaction, sample concentrate material produced from prior mining activity at Ambato-Arana had been submitted for testing at SGS Canada (an ISO accredited laboratory) to establish the metallurgical quality of the production. In February 2018, the Company reported extremely encouraging results. The graphite concentrate was found to be high purity (96%) carbon, and with a distribution that included a large percentage of the graphite particle size falling within the premium value jumbo-flake and larger-flake size categories.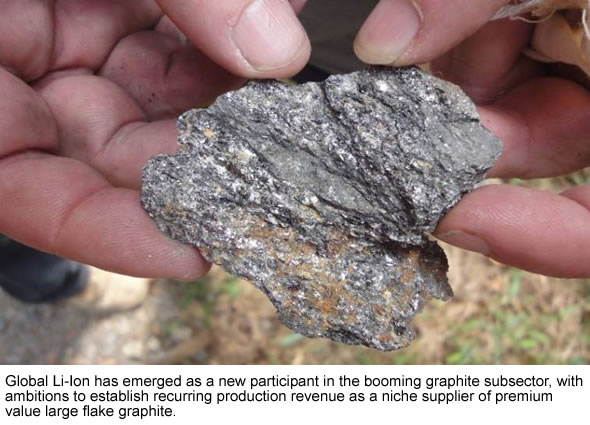 The combination of low projected production costs and the potential to capture premium values for concentrate sales, is an ideal scenario for an emerging junior producer like Global Li-Ion. The project is located within 200 kilometers of a major port facility in Madagascar, with proximity to significant market centers in India and China.
Prices for premium larger flake graphite supply have been rising due to increasing demand. While graphite itself is relatively common, the majority of the market supply is lower purity and smaller-flake size, used in common applications such as the fabrication of pencil lead, or for additives in the processing to forge steel. Meanwhile, the most desirable (and highest value) graphite is the large flake size which is required for leading edge technology development including the fabrication of electric car batteries.
It is difficult for a smaller scale producer of small-flake graphite to achieve favorable economic operating conditions in competition with larger established worldwide producers. However, the potential to deliver the premium value larger flake graphite is indeed a game-changer. Even on a relatively small scale output as a niche supplier the Company may generate much stronger project economics.
Work is underway to move the project forward. A program of confirmation drilling is planned to define and delineate higher grade zones of the graphite veins and establish resources for future mining. With the mining licenses and permitting in place, the Company will first refurbish important infrastructure related to the mine and the processing facility. Global Li-Ion is already working to line up transportation arrangements and sales agreements in anticipation of the resumption of mining activity planned for 2019.
Advanced Testing of Graphene Oxide Validates New Processing Technology
The second important update issued by Global Li-Ion last week featured its partnership with BEGO Technologies Inc (BEGO). Global Li-Ion announced that it had completed its due diligence of BEGO and will be finalizing its subscription for a 16% equity ownership interest in the latter.
Working in collaboration with Colorado State University (CSU), BEGO has developed a circuit to produce Graphene Oxide using a combination of electrochemical and microbiological processing of graphite. In effect, the system harnesses naturally occurring microbes under optimized conditions to enable conversion of raw graphite to a higher value component of Graphene.
The patent-pending technology is attractive because it enables formation of Graphene Oxide using methods that are considered low impact and eco-friendly, and more cost effective than other conventional processes. As reported by the Company, testing of the Graphene Oxide produced using this process has achieved a high degree of consistency for the configuration that provides optimal electrical conduction properties.
In addition to the work at CSU, BEGO is also focusing on engineering Graphene lithium material into electrodes for use as a new battery electrode. BEGO holds its electrode intellectual property under its wholly owned subsidiary, BEGO Energy. Under the terms of the Agreement, Global Li-Ion will fund the development of these products to earn a 49% interest of BEGO Energy through the funding and development of its technology.
Conclusion
While graphite itself is relatively common, demand for high purity, large flake graphite has been growing as new technological innovations have been developed for this much rarer composition of the mineral. Competition to secure supply is driving prices to premium levels and this has created the opportunity for new production to enter the market from smaller mine sources that might not otherwise be economic to operate.
Global Li-Ion has emerged as a new participant in the booming graphite subsector, with ambitions to establish recurring production revenue as a niche supplier of premium value large flake graphite. The purchase agreement reported this month to gain ownership of a low-cost historic graphite mining project in Madagascar is a quantum leap forward in this strategic objective. The Company has now embarked on a defined plan that can enable mining operations to resume within a period of 18 months.
One complimentary avenue for graphite is emerging through research initiatives for the advanced material graphene. Derived from graphite, the lightweight, extremely strong 'wonder material' with exceptional properties for conducting electricity, graphene is expected to become a critical component in many new high tech products that are under development. However, the high costs associated with production of graphene have become a barrier to realizing that potential.
With the processing technology that is under development by BEGO to produce Graphene Oxide, the possibility for a lower cost source to produce graphene may be at hand. Global Li-Ion has recognized this potential and entered into a joint-venture partnership with BEGO to advance commercial applications for this new process. Sample material from the Ambato-Arana mines has already been successfully tested using the process. The development of new electric battery designs based on high efficiency electrodes using Graphene Oxide is one such application in the pipeline with its subsidiary BEGO Energy.
Using an integrated long term strategy to establish production of high value graphite, and to directly participate with new technology opportunities that may be developed for this graphite supply, Global Li-Ion is working to build leverage for shareholders to this booming sector with the transactions reported this month. Recommendation: BUY.