EuroSite Power – Installing Clean, Energy Efficient Units At No Capital Cost
When NIBE Industrier acquired WaterFurnace Renewable Energy a few weeks ago, we started searching for another attractively priced small cap stock in the renewable energy area. Although we made a 50% gain with WaterFurnace, we believe we'll do better with this one.
Our quest led to EuroSite Power Inc. (EUSP – $0.45), an on-site utility Company, which engages in the ownership, operation, and distribution of on-site energy systems in the United Kingdom and Europe.
Its systems supply electricity, heat, hot water, and cooling solutions to properties, such as healthcare facilities, hotels, multi-family housing facilities, leisure centers, schools, and colleges. The Company was founded in 2010 and is headquartered in Waltham, Massachusetts.
EuroSite Power has developed an innovative financial solution that provides significant economic and operational benefits to organizations in both the public and private sectors. It basically installs, pays, owns, operates and maintains highly efficient low carbon technologies such as Combined Heat and Power (CHP) or natural gas fuelled air source heat pumps or chillers. The Company assumes all operating risk and even pays for the gas consumed by the unit. The customers benefit from the certainty of low cost without having to invest capital or assume operational risk. EuroSite calls this approach an on-site utility.
On-site energy provided by EuroSite Power costs 5% to 15% less than the rate charged by a regular energy provider, saving customers between $250,000 and $3,250,000 per building over the term of the agreement.
EuroSite also offers On-Site Utility Lite, which delivers an operation and maintenance service that optimizes the return from existing Combined Heat and Power, Chiller or heat pump installations. Unlike traditional maintenance contracts, where the customer pays for the gas used by the equipment, EuroSite Power's team of experts operates and maintains a plant taking responsibility for all aspects of ensuring it runs at optimum efficiency.
Financials
Revenue from energy contracts is recognized when electricity, heat, and chilled water is produced by the cogeneration systems on-site. The Company bills each month based on various meter readings installed at each site. The amount of energy produced by on-site energy systems is invoiced, as determined by a contractually defined formula.
So the more systems EuroSite has in operation, the more revenue the Company generates. Currently it operates 19 systems with a total contract value of $53 million and has a backlog of 13 systems with a total contract value of $38 million. Based on these numbers, it's clear EuroSite has some tremendous growth ahead.
Three Months Ended
June 30

Six Months Ended
June 30

2014

2013

2014

2013

Net Sales

416,559

190,754

848,645

307,862

Net Loss

(353,471)

(557,225)

1,388,140)

(961,967)

Net Loss Per Share

(0.01)

(0.01)

(0.02)

(0.02)

Most important income statement data for the quarters and six months ending June 30, 2014 and June 30, 2013. Source: Company Press Release
Revenues in the second quarter of 2014 were $416,559 compared to $190,754 for the same period in 2013, an increase of $225,805 or 118.4%. The revenues during the quarter included energy revenues from existing systems, and increased primarily due to new sites and more sites being fully operational for a longer period of time in the second quarter of 2014 as compared to the second quarter of 2013.
Cost of sales, including depreciation expense, in the second quarter of 2014 was $396,652 compared to $193,700 for the same period in 2013, primarily attributable to the larger installed base of operating systems.
Net loss was $353,471 in the second quarter of 2014, compared to a net loss of $557,225 for the same period in 2013, a decrease of 36.6% from the prior year, primarily due to higher gross margins and lower operating expenses.
Although the Company has experienced net losses since its inception, we foresee that its results will continue to improve significantly in the coming quarters based on its backlog and the demand for greener, more cost-efficient systems.
Balance Sheet
The Company owns the energy-producing equipment at its customer's sites, therefore, the business is capital intensive. So as the Company continues to grow its business by adding more energy systems, the cash requirements will also increase.
EuroSite's balance sheet on June 30, 2014 looked solid with $1.9 million in cash and a current ratio of 4.09. Moreover, just yesterday the Company obtained a five year, $3 million loan with a zero interest rate from John Hatsopoulos, Chairman of EuroSite Power and CEO of American DG Energy, to fund the future growth of the company. The company can pay it back at will before the fifth anniversary or when a substantial funding is completed.
The Company believes that its existing resources, including cash and cash equivalents, future cash flow from operations, its ability to control certain costs, including those related to general and administrative expenses, and the use of capital from its parent company, will be sufficient to meet the working capital requirements of its existing business for the foreseeable future.
Three Technologies
Combined Heat and Power (CHP) or cogeneration is the simultaneous production of two types of energy – heat and electricity. Normally fuelled by natural gas, a CHP unit is more efficient and thus provides not only cost savings but also provides a greener, lower carbon solution than conventional electricity from your utility provider and heat from a boiler.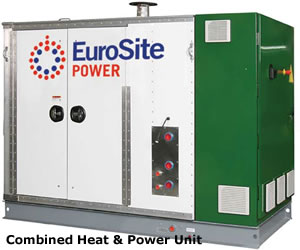 The key parts of a CHP are an internal combustion engine, often referred to as a reciprocating engine and an electric generator. The principals of a CHP are relatively easy to understand – natural gas fuels a gas-fired engine which spins a generator to produce electricity while the heat is generated by the engine as it works.
The electricity generated is used by the customer. The heat that's generated during the process is captured using heat exchangers not only from the engine's water cooling circuit but also from the exhaust gases and even the engine oil itself. This heat is then connected to the existing heating system to supply space heating, heat domestic hot water or to provide heat for swimming pools and spas.
Combined heat and power systems use fuel very efficiently. A CHP system provides electricity and heat at a combined efficiency approaching 90%. This is a significant improvement over the combination of the 30 to 35% efficiency of conventional electricity generated by a power station and a conventional boiler with a seasonal efficiency of, on average, 60% to 65%. As a result, CHP is recognized throughout Europe as an efficient and low carbon technology.
EuroSite Power also offers a number of gas-engine driven chillers across a range of outputs from 90kW to 1,400kW. Unlike conventional chillers that use an electric motor to power a compressor, a gas-engine driven chiller uses an internal combustion engine to power the compressor.
The change in how the chiller is powered creates not only high efficiency but also the opportunity to recover the heat from the engine itself. As such a gas-engine driven chiller can provide both chilled water and hot water simultaneously for even greater energy efficiency. In effect this becomes a form of cogeneration we call Combined Heat and Cooling (CHC).
Although an electric compressor driven chiller is a very efficient system for cooling a building, using a gas-engine to drive the compressor makes it even more efficient – 2.5 times more efficient than the most efficient absorption chiller. As a result, a gas-engine driven chiller cooling system provides greater comfort and savings.
A third system that EuroSite offers are high efficiency heat pumps which use a combination of technologies designed to boost efficiency, save money, and reduce impact on the environment. Comprised of a natural gas fuelled hot water heater, our heat pump systems combine traditional boiler technology with the power of the heat pump to make a dramatic leap in heating efficiency.
This clean technology equipment extracts thermal energy from the atmosphere and uses a cutting edge natural gas fuelled engine to "pump" this heat to useful temperatures. The synergy of advanced heat pump and engine technology results in twice the efficiency of a gas fired boiler.
For locations with substantial hot water requirements the cost savings and environmental impact is significant, reducing the carbon footprint with an average of a 50% reduction in greenhouse gas emissions.
Conclusion
It has become generally accepted that when someone installs renewable systems, energy efficiency measures and modern heating equipment that there is a payback period which requires initial capital outlay. This investment is usually recouped over a number of years after the initial installation.
But obviously with that approach there are no guarantees that the technology will continually reach target performance levels, that the equipment will not break down and that the costs of maintenance will not increase.
With the EuroSite Power On-Site Utility Solution, however, you don't have this capital outlay which means that a customer starts saving from day one. EuroSite takes full responsibility for all expenses, from the cost of gas to run the unit through to maintenance. There is no impact on a customer's overhead and no additional staff required.
The customer simply has to pay for the generated energy, which comes with a guarantee that it will be significantly cheaper than the displaced energy which would otherwise have been consumed from the National Grid. In addition, while saving money, EuroSite's systems help to conserve energy, reduce emissions and improve the environment.
EuroSite's on-site utility systems are a no brainer for thousands of hotels, leisure centers, schools, and colleges in the United Kingdom and the rest of Europe. In addition, the Company is backed by its parent American DG Energy and its founders Dr. John and Dr. George Hatsopoulos, the founders of Thermo Electron Corporation which is now Thermo Fisher Scientific (NYSE: TMO), a $49 billion company.
EuroSite has a little less than 57 million shares outstanding and has a market cap of $25.6 million. The stock's 52-week low is 35 cents, so this might be an excellent time to get on board.