Cannabis is Ready for Its Definite Breakthrough – Find Out Which Company We Prefer
There is a key moment in the life cycle of every world-changing product. A moment where a small industry is suddenly mainstream and becomes timeless.
It happened for personal computing in the early 1980s, as the machines went from novelty toys to ubiquitous tools. Thirty years before that, it happened for television. And thirty more years before that, it happened for automobiles.
Today, we're on the eve of a booming marijuana market, as more and more countries around the world allow the use of the product for medical, recreational and industrial applications.
So far, the cannabis industry has gone through the typical pattern for new gigantic industries. Back in 2014, it experienced the initial bubble where investors were wildly enthusiastic about marijuana being decriminalized. Consequently, tens of millions of investment dollars flooded into the industry, driving valuations of companies sky high. Subsequently, the inevitable decline followed as investors realized everything was not yet rosy, from banking issues, to taxes and legal matters. Now with more States in the US, and plenty of other countries worldwide passing regulations, marijuana is set for its resurgence and definite breakthrough.
2016 will be a major year for the industry's future, as it will set the stage for immense growth in subsequent years. Many nations that legalize cannabis use this year, will likely come online in 2017 and increase industry revenues by billions of dollars.
It typically takes at least a year, and often two or three, to get an industry up and running after legalization. So we'll likely start to see an immense spike in sales, with retail revenue soaring as high as $7.8 billion in 2018 and $9.6 billion in 2019. Overall, retail cannabis sales could rise nearly fourfold from 2015 to 2020, and that's a conservative estimate.
We are ready to benefit big time from this new legalized industry. We've done plenty of research and have analyzed over a dozen companies. We believe Canadian Cannabis Corp (CCAN – $0.74) stands to do very well in the coming months and years as it has set up a unique distribution network for medical marijuana.
Marijuana Prohibition
To understand why marijuana is being legalized all over the world and why its medical benefits are apparently only now being discovered, we have to go back in time.
Cannabis is indigenous to Central and South Asia. Consequently, the earliest use of cannabis as a tool, such as thread or rope, but also for medicinal purposes, can be traced back to those regions.
As early as 2737 B.C., the mystical Emperor Shen Neng of China was prescribing marijuana tea for the treatment of gout, rheumatism, malaria and even poor memory. The drug's popularity as a medicine spread throughout Asia, the Middle East and Africa. Ancient physicians in those areas prescribed marijuana predominantly for pain relief.
That all changed in 1923 however when cannabis was made illegal. One of the main reasons that lead to this decision was a book called The Black Candle by Emily Murphy. This book portrayed an outrageous and shockingly racist account of the evils of marijuana use without any scientific evidence. However, because Murphy was a judge, her voice was heard, with far reaching consequences for cannabis use.
In more recent years, that decision is being reversed. Many countries have started to legalize the production, or decriminalize the use, of marijuana because they have the blessing of a majority of the voters.
According to the most recent Gallup poll, 58% of Americans are in favor of legalization, a ten-point increase since 2012. This record level of support reflects accelerating momentum in favor of legalization.
Next to strong voter support, a second, and even more obvious reason to legalize marijuana is money. A NerdWallet report from 2014 suggested that a legalization of marijuana in the United States would net approximately $3.1 billion in tax revenue annually. Legal marijuana sales could provide much-needed funds for education, law enforcement, and drug abuse programs in all states.
In the next few weeks, the US Drug Enforcement Administration (DEA) is expected to rule on whether it will reschedule marijuana away from its current schedule 1 classification. Schedule 1 substances are considered to have a high abuse potential with no recognized medical use.
If the regulatory agency were to reclassify marijuana as anything other than a schedule 1 substance, then medical marijuana would immediately become legal throughout the U.S., thus opening the door for medical marijuana businesses to prosper.
Moreover, reclassifying cannabis will make scientific research easier and will send a strong signal that the US government is finally ready to acknowledge that marijuana has medical value.
Cannabis Use For Medicinal Purposes
As a direct result of the century-long prohibition of marijuana, very little research has been conducted on the therapeutic benefits of cannabinoids. Only in recent years, actual research studies found that cannabinoids interact with the natural endocannabinoid system, which helps regulate cell homeostasis, inflammation, neural signaling, behavior and oxidative stress, and can induce psychoactive activity.
As such, cannabis has been used to treat conditions including severe pain, epilepsy, CINV, inflammatory diseases, neurodegenerative diseases and post-traumatic stress disorder (PTSD). Further, cannabis can prevent heart attacks and cognitive decline through its anti-inflammatory properties. In fact, when considering the medical opportunities, cannabis may prove to be one of the most curing plants known to man.
To find out much more, cannabinoid-based drugs are in clinical trials for several conditions. For example, GW Pharmaceuticals currently has a liquid cannabidiol-based formulation, known as Epidiolex, in stage 3 studies. It has helped to reduce seizure frequency in patients with Dravet syndrome. Two other late-stage trials are ongoing on patients with Lennox-Gastaut syndrome.
The need for solutions is high. According to the Institute of Medicine, about 100 million Americans suffer from chronic pain, more than those living with diabetes, heart disease, and cancer combined.
Many people with chronic pain turn to opioid-based drugs, but those lead to drug addictions and overdose deaths. The pharma industry is doing everything it can to come up with alternatives, but with little results so far. Between 2009 and 2015, 33 experimental medicines for chronic pain went into clinical trials, but all failed. Medical marijuana use is likely to be a solution for many of these patients.
About one million people are currently medical cannabis users in the US. To give an idea of the potential of the market, about 0.48% of all residents in legalized states are registered medical marijuana patients.
In Colorado however, which has been on the forefront of adopting legal cannabis, already 2.13% of the population is a registered patient. Based on the Colorado figure, it's clear that many states still have a way to go and are just ramping up registration for medical marijuana use.
According to the Journal of Managed Care and Specialty Pharm, the average cost of pain management – about 93% of patients are registered as using marijuana for severe pain – is estimated at $240 per month per patient.
Based on a comparable price tag for any daily cannabis medication and one million patients, current medical marijuana revenues reach $2.9 billion in the United States alone. This number will undoubtedly grow as more patients are registered and as more states legalize use.
By 2024, Health Canada projects that the medical cannabis market in Canada will reach $1.3 billion and have ~450,000 patients. The Canadian medical cannabis market's last reported patient count was 43,342 for the month ending January 2016, up from 16,682 from January 2015, which translates into patient growth of 159.81% year over year.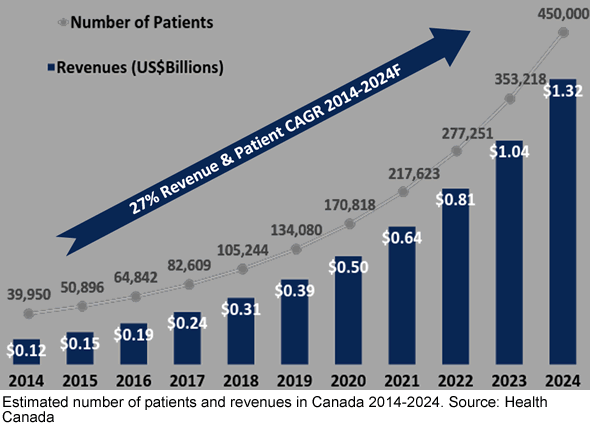 Similar growth is expected in Europe and the rest of the world as well.
The patient growth is being fueled by a multitude of factors including: doctors are more willing to prescribe cannabis, the stigma is fading, and medical research is validating cannabis' medicinal properties. Accordingly, the door has opened for growth in the cannabis-based drug market with support from patients, physicians, drug developers and politicians.
Cannabis Oil
It's important to distinguish the delivery method of cannabis in the treatment of a disease. Often, the assumption is that cannabis should be inhaled into the lungs, which of course isn't advisable. Ingestion is a way better transmission method for cannabis as a therapy.
Cannabis oil is a thick, sticky, resinous substance made up of cannabinoids, such as THC and CBD, that is extracted from the cannabis plant. It's obtained by separating the resins from cannabis flowers using a solvent extraction process.
Cannabis oil is the most concentrated form of the three main cannabis products, being cannabis flower (marijuana), resin (hashish), and oil (cannabis oil).
Although CBD and THC act on different pathways of the body, they seem to have many of the same medical benefits.
Unlike THC, CBD however does not cause a high. While this makes CBD a poor choice for recreational users, it gives the chemical a significant advantage as a medicine, since health professionals prefer treatments with minimal side effects.
CBD is non-psychoactive because it does not act on the same pathways as THC. These pathways, called CB1 receptors, are highly concentrated in the brain and are responsible for the mind-altering effects of THC.
Having exactly the right mix of THC and CBD in cannabis oil is essential to treat disorders, as many conditions require a different mix.
Worldwide Decriminalization
2016 might go down as one of the biggest in history on the legalization front. A handful of states in the US are expected to legalize recreational marijuana this year, with some major potential markets such as California, Nevada and Massachusetts among the leading candidates. Additionally, Florida will likely legalize medical cannabis, and Ohio could as well.
To date, there are four states, as well as the District of Columbia, that have legalized the plant completely — for both medical and recreational consumption. Twenty more states have legalized cannabis for medical use only.
Nearly twenty other countries have legalized cannabis possession and consumption to some degree (primarily for medical purposes), including Canada, Switzerland, Croatia, Czech Republic, Colombia, Jamaica, Italy, Spain and Uruguay.
And the list continues to grow. Germany, for example, recently passed legislation authorizing the use of cannabis for medical use. It is expected for the new law to take effect sometime next year.
Australia is another country that has approved limited cannabis cultivation for research purposes and has indicated it could move forward with a full medical marijuana program in the near future.
The shifting regulatory environment in favor of legalizing marijuana, combined with the increasing demand, has led to the legal marijuana trade becoming one of the fastest growing industries. In the United States, for instance, the estimated value of this burgeoning industry was approximately $4.6 billion in 2014 growing to $5.4 billion in 2015.
Based on the information above, it's unmistakably clear that especially companies focusing on medical marijuana use will be the big winners in coming years.
The medical community has implicated marijuana in a broad range of therapeutic indications as the endocannabinoid system has become more understood. The Illinois Dept. of Public Health, for example, has published a list of no less than 38 qualifying indications for medical marijuana registration.
Distribution is Key
Currently, there are hardly any established brands in the cannabis industry, which is due to the early stage nature of the industry and a lack of focus on channel development with the majority of cannabis companies.
With legalization progressing forward in multiple countries, the way cannabis consumers approach their purchasing decisions are beginning to shift. Consumers will be faced with choices about what cannabis to consume, and just as with alcohol, tobacco and food categories, branding and marketing will influence their choices.
Marketing a specific brand in such a huge and diversified market will cost tens of millions of dollars. One company however has found a solution to get tens of thousands of patients without spending any money on marketing.
Canadian Cannabis Corp. (CCAN) through its subsidiary, The Clinic Network has established an exclusive partnership and ownership position in 56 separate clinics across Canada. The clinics are comprised of 52 rehabilitation centers, 3 cannabis specific clinics, and the largest interventional pain management clinic in the country. Patients in these clinics have a predisposition to seek alternative pain management such as cannabis as a result of existing illness, for example chronic pain, oncology, or post-operative rehab.
Patients are given a recommendation by their health practitioner to receive cannabis education after receiving a prescription. In the clinic, a cannabis educator provides all patients with recommendations to treat their condition based on medical marijuana cannabinoid content. The patient then receives a prescription for medical marijuana, and fulfills the order online through the clinic's system tied into the licensed marijuana producer.
Consequently, Canadian Cannabis Corp. is uniquely positioned to benefit from the medical cannabis boom in Canada.