CanAlaska Uranium's Project Generator Strategy Provides Solid Foundation For Increasing Shareholder Value
Nuclear power generation is expected to become more important to meet electricity demand as conventional fossil fuel power generation is gradually being phased out. It is expected that by 2050 nuclear power will represent 25% of electricity generation. This implies that the global nuclear generating capacity must triple during that time frame. Consequently, new sources of uranium supply will need to be developed in the years ahead in order to meet the rising demand.
CanAlaska Uranium Ltd. (CA:CVV – $0.20 & US:CVVUF – $0.15 & GER:DH7N – €0.11) is well-positioned to participate in this growing market. The Company controls 12 uranium exploration projects with a combined area of approximately 214,000 hectares. These property holdings are concentrated within the Athabasca Basin and Wollaston areas in the Province of Saskatchewan, Canada.
A robustly profitable uranium mining sector is already established in these areas. This is highlighted by the MacArthur uranium mine operated by Cameco Corp [COO], which is considered the richest uranium mine in the world. The combined uranium output from producing mines in the district accounts for such a large percentage of total worldwide supply that the area is referred to as "The Saudi Arabia of Uranium."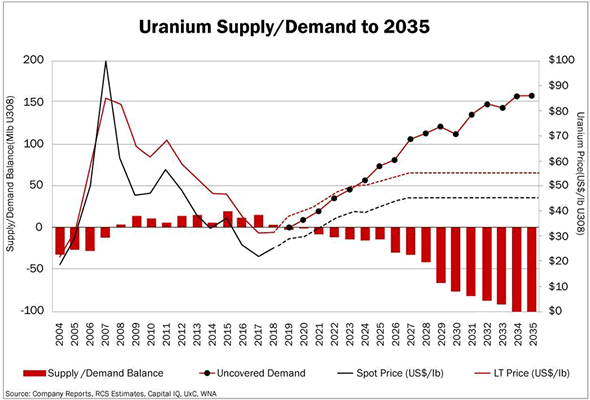 CanAlaska has concentrated its efforts towards the strategic acquisition of early stage property assets, followed by focused exploration objectives to advance projects along the value curve. An experienced participant in the core operating areas, CanAlaska is well positioned to recognize value. New property holdings are acquired through staking as land positions become available. This affords a low cost of ownership, despite the location in some of the most attractive uranium exploration districts of Canada. Thereafter, the Company operates under the project generator business model to arrange transactions and partnership opportunities with other companies to fund the ongoing exploration process.
Joint-Venture with Cameco
One such JV partnership is ongoing at the West MacArthur project, with the aforementioned Cameco. This project is located on trend within an established structural corridor of uranium deposits. For example, the nearby Fox Lake uranium deposit held by Cameco has a defined resource of 68 million pounds with an average grade of 7.99% U3O8.
At West MacArthur, a new uranium discovery has been achieved. Intervals have been encountered in drill holes with grades above 5% U3O8 in previously completed exploration drilling work at the Grid 5 target area. In addition to the high uranium grades and similar geology within a structural trend, Grid 5 also demonstrates uranium haloes extending to near surface. The presence of lower grade haloes encountered in the surrounding sandstone host rock is noted at other high grade uranium deposits within the district, including Eagle Point, Cigar, MacArthur and Millennium. This promising similarity builds confidence as work continues. Pathfinder elements boron and arsenic are also encouraging indicators that are commonly observed within suites of alteration associated with other advanced uranium deposits in the district.
The project is ideally situated for continued advancement. West MacArthur is located immediately adjacent to Fox Lake, and just 12 kilometers from the MacArthur mine. Proximity to large producing uranium mines affords advantages, with access to infrastructure and support services. This will contribute to a more favorable economic scenario if the deposit advances to a development candidate. West MacArthur could potentially be developed as a satellite deposit that would provide ore feed to the established Key Lake milling facility at the nearby MacArthur mine.
Additional Resource Property Interests and Royalty Holdings
Another JV is progressing within the Athabasca Basin. The Moon project is just to the southwest of West MacArthur. This property, comprising an area of 2,716 hectares, is in close proximity to the advanced Phoenix and Gryphon uranium deposits controlled by Denison Mines Corp [DML]. Denison recognized the potential to build greater leverage in this important uranium belt in 2016, entering an option agreement with CanAlaska for the property. This transaction was completed this year as Denison earned 75% ownership of Moon, and the project is now advancing as a JV arrangement with CanAlaska controlling the remaining 25% ownership.
The Waterbury uranium property was initially comprised of three claims. The largest of these claims was sold to Cameco. CanAlaska maintains ownership of 2325 hectares of holdings in the adjoining claims. In addition, the Company retains a 2% uranium royalty for the remainder involved in the Cameco transaction.
Promising Projects Available for Joint Venture Transactions
Located to the southwest of West MacArthur, along a well-defined structural trend, the Cree East property is a promising prospect that has advanced from $10M of Korean Consortium investment. Geophysical surveying and early drilling, has outlined several large potential target areas within a trend extending roughly 4kms along the property. Near surface halos of lower grade uranium have been measured in the upper rock layers, indicating underlying zones of uranium mineralization.
Further to the northeast along the same structural corridor, CanAlaska has acquired five new properties through staking earlier this year. These early stage prospects are located peripheral to the Athabasca Basin district, but on the trend of the existing uranium mines. A similar geological setting has been interpreted further along this trend extending to the northeast in Manitoba. Drilling programs completed by CanAlaska's JV partner in Manitoba have encountered uranium alteration hosted in the basement rock layers typical of the Athabasca unconformity.
Among the newly acquired properties, previous exploration work at the Watson project defined strong targets. An electromagnetic survey completed for the project was interpreted to outline two new uranium targets. Soil sampling work provided confirmation of uranium and a grab sample was collected from this zone that yielded a promising assay of 1.41% U3O8.
Another of the Northeast Wollaston properties is also gaining prominence. The Maguire South project was acquired to secure leverage to extensions of the previously identified Maguire and Collins Bay regional fault corridors. These conductors are prospective for shallow depth uranium targets. Boulders and outcrop within the project area are mineralized with uranium. This potential is confirmed by historic surface sampling data that reported up to 0.629% U3O8. The Rabbit Lake, Eagle Point and Collins Bay ore bodies, located further to the south along this regional fault structure, have contributed more than 200 million pounds of combined uranium production.
Base Metals Leverage
Nickel is another commodity that is currently in high demand. The transition towards electric vehicles is contributing to increased industrial consumption. Nickel is a critical component in the batteries for these cars. Projections for worldwide electric vehicle sales suggest this demand is going to remain firm for many years. CanAlaska has recognized this trend and is positioned to benefit through ownership of three projects in the Province of Manitoba, including the previously mined Manibridge nickel deposit.
The Manibridge property spans 4,368 hectares surrounding the past-producing Manibridge nickel mine. This land package is within the Thompson Nickel Belt, a district of sulphide hosted nickel deposits that ranks among the top-5 nickel producing areas worldwide. A geophysical survey completed for the property outlined untested exploration target areas in addition to the historic resource zones from previous mining activity.
CanAlaska completed a drill program in 2019 that encountered attractive intervals bearing high grade nickel. Several new nickel zones have also been indicated from drilling at the Manibridge mine. These were not known when the mine. The project is available for joint-venture under the project generator model successfully employed by the Company. Two other Manitoba projects controlled by CanAlaska are attractive for copper-zinc resource potential hosted within volcanic massive sulphide settings.
At the North Thompson project, which has been optioned from CanAlaksa by Fjordland Exploration, a company 29% owned by mining entrepreneur Robert Freidland, drill programs are being planned for first quarter 2021 as part of a $9 million option earn-in. The targets are all within 25km of the Thompson nickel processing facilities owned by Vale.
The Company also controls the Quesnel copper-gold project in British Columbia. The exploration potential for Quesnel is highlighted by a zone of porphyry showings extending for a strike length of 1.5kms within the project. This attracted a JV partner to engage in an option deal with CanAlaska. In September, Omineca Mining and Metals Ltd. agreed to fund an exploration program and issued shares to CanAlaska as part of a commitment to earn 50% ownership of the property. Drilling is expected to commence before year end.
Finally, CanAlaska also owns 100% of several Western Athabasca diamond prospects, located north of Patterson Lake, Saskatchewan. Well defined targets on these holdings include kimberlite-style showings that have yielded diamond deposits elsewhere in the province. The Company had an option agreement with DeBeers Canada in 2016 on these properties. Transactions that year involving diamond interests were also arranged with Fjordland Exploration Inc. and Canterra Minerals Corporation.
Conclusion
CanAlaska has assembled an attractive portfolio of property assets with diversified resource leverage and the potential for significant discoveries. The Company aspires to advance these properties through successful exploration activity that may also attract JV partnership opportunities. Under the project generator business model, CanAlaska has successfully completed transactions with senior uranium producers. Option deals have also been arranged for copper and nickel projects in British Columbia and Manitoba. Thereafter, CanAlaska remains leveraged to further exploration activity funded by partners to advance the properties. Several other high-quality projects are available to enable similar transactions in the future.
The Company continually reviews land packages in emerging districts and has been able to secure prospective exploration holdings through staking. As the intensity of exploration activity in these areas increases, the projects become more attractive for partnerships. These option agreements serve to build shareholder value.
CanAlaska provides shareholders with a balanced profile to participate in the discovery and development of resources. The Company has demonstrated the capacity to advance property assets, and to attract partners that fund further exploration. Leverage to royalty interests provides another longer term opportunity for shareholder value creation.
Many investors clearly have the same opinion, as the Company announced a private placement on October 15th to raise $600,000 and only four days later increased that amount to $1,200,000 due to overwhelming demand from existing shareholders.
As the positive fundamentals for uranium and nickel suggest even higher price objectives in the years ahead, the attractiveness of the properties available for transactions will also increase. CanAlaska is well positioned to continue its winning streak, advancing high quality properties and building long term value. Smallcaps Recommendation: BUY.
Interested English and German speaking investors can find out much more about CanAlaska Uranium on the International Precious Metals & Commodities Show website, where the Company has uploaded German translated and subtitled, videos and presentations. More videos and presentations are available on our website at www.canalaska.com.
For important disclosures, please read our disclaimer.