CanAlaska Uranium Ltd. Commences An Active Exploration Plan for 2021
Speculative interest towards junior resource companies is gaining momentum. Driven by increasing price trends for many underlying commodities, exploration activity is on the rise. Encouraging hints for a trend reversal in the uranium sector were evident last year. After a very long drought, it now appears a new uranium bull market is underway. This is very good news indeed for the beleaguered junior explorers that remained committed to the sector during the lean years.
For CanAlaska Uranium Ltd. (CA:CVV – $0.40 & US:CVVUF – $0.31 & GER:DH7N – €0.29), tangible indications of improving conditions are already on display. In December of last year, the Company reported that it had closed a private placement, in which it raised $2 million. The placement was over-subscribed and the majority of participants were existing shareholders. This is a positive factor going forward as strong shareholder support demonstrates bullish expectations for the future performance of the Company.
The additional funding also supports ambitious exploration activities for CanAlaska. A busy slate of work programs is set to kick off during the year, including drilling programs for at least three of its exploration assets. Two of the programs will be paid for under the terms of existing JV partnerships.
This week the Company reported that the first drilling program of the year has now commenced at the Mouse Mountain project located near Quesnel, in British Columbia. CanAlaska announced a JV deal for the project with Omineca Mining and Metals Ltd. (OMM) in the fall of 2020. The agreement requires OMM to complete at least 2000m of drilling work within 12 months to earn 50% ownership of the property. With the diamond drilling now underway, OMM is moving forward with the first part of that obligation.
Active Drilling Programs Planned for Multiple Projects
OMM is a good choice to partner with in advancement of Mouse Mountain. The property is situated within the Quesnel Terrane, a significant regional mineral belt of established gold-copper-molybdenum porphyry deposits. Several of the largest and most productive mine developments in the province are located within this district. OMM already controls a large property area in close proximity to Mouse Mountain and has demonstrated its exploration proficiency in the region.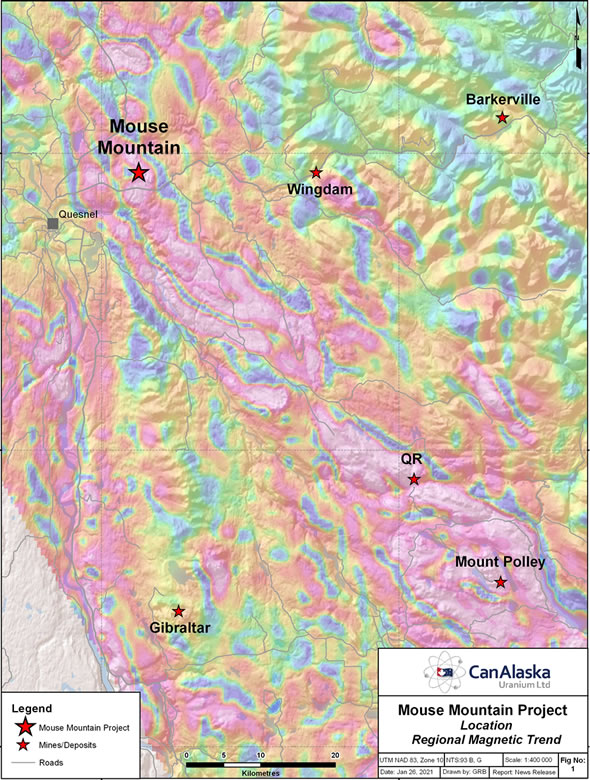 A review of historical exploration work completed by previous operators, along with historical geophysical data records for the project area, contributed to the definition of drill targets. A program of at least 1,600m of diamond drilling is now underway. The activity will focus on previously untested exploration targets and some newly outlined showings. The priority will be a chargeability target extending for 800m along the western slope, as defined from a geophysical IP-survey.
CanAlaska is also anticipating drilling to commence at two other projects this year. At the North Thompson Nickel project, several near surface nickel targets have been identified as potential resource zones that hold the potential to increase the total deposit area. These high-profile targets were selected on the basis of consultation with option partner Fjordland Exploration Inc.
Through an option deal completed in May 2020, Fjordland may earn up to 80% ownership of the project by funding a series of exploration programs, in addition to payments of cash and shares. CanAlaska will be the operator of this project and has applied for drilling permits. The advanced project is located just 25km to the north of Thompson, Manitoba. Attractive exploration potential for the property area is highlighted by several untested targets that were defined based on geophysical interpretation. The Thompson Nickel Belt is recognized as one of the most productive nickel producing districts worldwide.
Planning Underway for Uranium Exploration in Athabasca Basin
Exploration drilling work will also be completed at the uranium property holdings in the Eastern Athabasca Basin. Five separate property claim blocks comprising the NE Wollaston project span more than 39,000 hectares. CanAlaska identified extensions of the Collins Bay fault, related to high-grade uranium defined at the Collins Bay – Eagle Point deposits, and staked open property to build leverage to this regional corridor in May 2020. Drill targets have been identified to test the intersection of the Collins Bay and Maguire fault structures.
Meanwhile, planning is advancing for a drill program to commence later this year at two wholly-owned property claims comprising the nearby Waterbury project. These claims, acquired by staking in 2005, cover attractive geological formations that yielded successful uranium zones encountered in drilling work completed in 2007. A geophysical survey was completed in the area that outlined conductors and anomalies that are often associated with uranium deposits. The Company recently launched an aerial EM survey and has reviewed historical data to generate updated drilling targets for the project. Two separate target areas have been selected at Waterbury for drilling work in 2021.
The Athabasca Basin is among the most productive uranium producing districts in the world, and is well-known for several extremely high grade deposits located in close proximity. CanAlaska is excited to commence exploration on these wholly owned property holdings. The Company also retains leverage to other attractive property holdings within the Athabasca Basin through JV partnership.
The West MacArthur project is advancing with JV partner Cameco Corporation. Numerous target areas have been outlined for follow up drilling within this advanced project. CanAlaska is anticipating substantial exploration work to be completed in 2021 at West MacArthur, funded by Cameco.
Conclusion
Many smaller exploration companies opted to conserve cash and were inactive during the bear market years. In contrast, CanAlaska achieved remarkable success to accumulate attractive land holdings in some of the most productive districts with leverage to multiple resources that are now in demand. Several of the projects were vended to JV partners, where work is accelerating and funded by other companies. CanAlaska is able to concentrate its exploration spending on wholly owned prospects to advance work and create shareholder value independently.
The timing for this activity is optimum as more bullish conditions are returning to the sector. Active explorers with leverage to uranium are under accumulation by investors. This speculative interest has contributed to increased share values, and CanAlaska has more than doubled in market cap during the last few months. The trend is set to continue, with ambitious exploration objectives planned for the year in the highly prospective Athabasca Basin.
The launch of drilling by partner OMM at Mouse Mountain in BC is another promising catalyst. Gold and copper have also been trending higher through 2020 and an exploration boom is in process within the province. The project-generator strategy employed by CanAlaska has created this opportunity to advance the property as funded by its JV partner. A similar outcome may be awaited as JV partner Fjordland works to earn its ownership interest at the North Thompson Nickel project in Manitoba.
CanAlaska shareholders may expect a number of positive catalysts to build value through the coming year. With leverage to some of the most prolific resource districts in Canada, the Company is well positioned to participate in the resumption of exploration and the renewal of bull market conditions now underway. Smallcaps Recommendation: BUY.
For important disclosures, please read our disclaimer.