Breakthrough for EnWave with Initial Commercial Agreement in Europe
After signing commercial licenses for various parts of the world, EnWave Corp. (TSXV:ENW – $0.86 CAD & OTC:NWVCF – $0.63 USD), this week, landed its first partnership in Europe.
Dominant Slice Lda, a Portuguese snack company, received an exclusive license that allows it to produce and sell dried cheese snacks in Portugal and Spain using EnWave's patented Radiant Energy Vacuum (REV) dehydration technology. Not much information is available on Dominant Slice, but we were able to find out that it has an extensive distribution network in the Spanish and Portuguese markets.
In return for the license, Dominant Slice bought a 10kW commercial-scale nutraREV machine, which is scheduled to be installed at its Portuguese facilities late 2015. In addition, the company will pay EnWave a 5% royalty on all products sold that are processed using REV technology.
Moreover, within 18 months, the Portuguese snack firm must purchase additional REV machines in order to retain its exclusive license for Spain and Portugal. This again indicates that EnWave's negotiating position is becoming stronger. In earlier agreements, EnWave would never have been able to include such terms. But now, with more contracts signed, and many more in the pipeline, the pressure on food and biotech companies is increasing to close a deal before a competitor snatches away the exclusive rights for a certain country.
Fifth Dried Cheese Snack License
Dominant Slice is EnWave's fifteenth commercial licensee and the fifth one for dried cheese snack products. Since 2013, EnWave, through its 51% owned daughter NutraDried LLP, manufactures, markets and sells 100% all-natural cheese snacks under the Moon Cheese brand.
The availability of Moon Cheese at thousands of retailers across the US and Canada, along with the instant success* of the cheese snacks at more than 3,400 Starbucks locations, show potential customers that the snacks are a big hit. So it's no wonder that more and more companies close a deal with EnWave to manufacture and sell cheese snacks in their own country.
* Interim results from the sixteen-week trial program at Starbucks probably won't be announced, but comments on social media, blogs and forums have been overwhelmingly positive. All these reviews indicate that Moon Cheese sales are going well at Starbucks.
At this moment, EnWave has exclusive licenses to process cheese snack products with the following parties:
NutraDried LLP for the United States;
Umland LLC for high kosher products in the United States. Production and distribution of the snacks are scheduled to commence in late 2015;
Gay Lea Food for Canada. First royalties from this deal are expected in the early fall of this year;
Lake Blue Spa for Chile. First production is expected late 2015; and
Dominant Slice for Portugal and Spain. Also in this case first production is expected late 2015.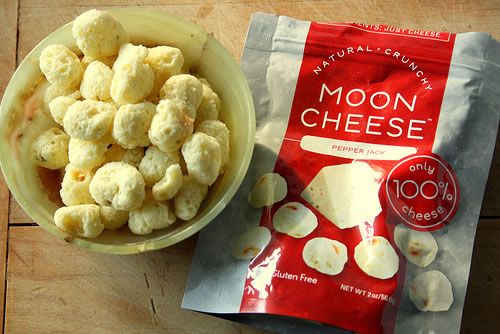 Maple Leaf Foods Agreement
Also this week, EnWave signed a technology evaluation and license option agreement with Maple Leaf Foods Inc, a major Canadian food processing company that employs approximately 12,000 people and exports to more than 20 global markets including the US and Asia.
The agreement grants Maple Leaf the right to evaluate EnWave's technology for the potential production of a variety of food applications.
We heard that Maple Leaf has a distinct focus to produce high protein REV-dried products and that it's highly motivated to move forward with this deal.
We'll undoubtedly find out in a few months if Maple Leaf wants to proceed. If so, it will have to purchase a commercial REV machine. When they do, we presume the $3.3 billion company will order a large unit to process significant amounts of food.
Conclusion
This first commercial license in Europe is an important step for EnWave. The Company can now leverage this relationship and the upcoming commercial start-up to encourage further European adoption of the technology.
We're convinced more cheese snack agreements for other territories will be signed in the coming weeks and months. Moon Cheese is an obvious success and food companies worldwide are eager to launch new innovative products.
For anyone who still has doubts about EnWave's progress, check out the long list of commercial licenses and technology evaluation agreements it signed in recent weeks. Buy Recommendation.